PetSafe Easy Walk Dog Harness
---
About This Item
This no-pull harness was created by a veterinary behaviorist in 2004 and is paw-fect for dogs who pull during walks.
The patented martingale loop design safely stops pulling by placing gradual pressure on your furry friend's shoulders.
Unlike collars, this harness rests across your dog's chest, so you don't have to worry about him gagging or choking. The leash attachment on the front lets you direct your dog during walks.
Designed with quick-snap shoulder and belly straps for easy fitting. The different color belly strap makes the harness easy to put on.
With less coverage than many other harnesses, this breathable harness keeps your canine companion cool during your walks.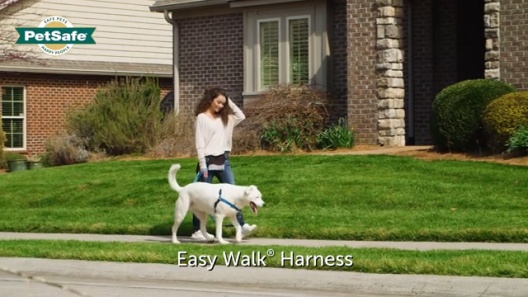 Learn More About PetSafe From Our Team of Experts
---
---
Keeping Pets Happy & Safe Since 1998
PetSafe has helped millions of pet parents care for their pets through every stage and season of life.
US-Based Customer Care
The PetSafe team of customer care experts is available 5 days a week via live chat, email or phone.
Healthy Pets, Happy People
PetSafe is dedicated to helping pet parents keep their furry family members healthy, safe and happy. From irresistible toys to life-protecting pet fences, their innovative products are designed to help bring pet families closer, for a lifetime of love.
Pick of the Litter
What sets PetSafe apart is a team of pet experts who come to work every day with one goal: making the world a happier place for pets and their people. They work with professional trainers, veterinarians and pet behaviorists to keep up on the latest research and insights and use that in developing their products. They rigorously test every product for safety, quality and efficacy, too – because your pet deserves the best!
About PetSafe
PetSafe has been a global leader in pet care since 1998. They pride themselves on empowering pet parents through innovation, education and experiences. Their goal is to strengthen the bond between people and their pets, providing them with thoughtful products, expert advice and compassionate support. PetSafe's US-based customer support team is always ready to help you get the most out of your life together with your pets!
Shop PetSafe
Compare Similar Items
| | | | | | |
| --- | --- | --- | --- | --- | --- |
| | | | | | |
| Customer Rating | | | | | |
| Price | | | | | |
| Material | Nylon, Synthetic Fabric | Nylon, Synthetic Fabric | Nylon, Synthetic Fabric | Polyester, Synthetic Fabric | Polyester, Nylon, Synthetic Fabric |
| Harness Type | No Pull, Front Clip | No Pull, Front Clip | No Pull, Front Clip | Front Clip | No Pull |
| Leash & Collar Feature | Waterproof | Waterproof | Reflective, Waterproof | Dual Clip, Reflective | Reflective |
| Breed Size | Large Breeds | Large Breeds | Large Breeds | Large Breeds | Large Breeds |
| Lifestage | Adult, Puppy | Adult | Adult, Senior, Puppy | Adult | Adult |
| Pattern | Solid | Solid | Solid | Solid | — |
| Closure Type | Quick Release | Quick Release | Quick Release | Quick Release | Buckle |
---
Questions & Answers
37 Customer Questions
---
The process for the chest measurement isn't clear. Am I measuring the chest from the front of one foreleg to the other? Or from the back of one foreleg to the back of the other?
Answer by SarahMcLeanagain • Oct 10, 2022
Around
---
My baby is a chi jack with a 5.5 chest and 17 girth. What size is best?
---
Are these Recommened for puppy's?
Answer by • Jul 13, 2018
A harness may be worn by a puppy, adult or senior dog.
---
Can you turn it so the leash clips on the back?
Answer by • Jul 02, 2018
It's not recommended to alter this harness in any way. The D-ring is meant to be in the front. The martingale loop at the chest prevents twisting and The chest strap rests across your dog's chest instead of putting pressure on the delicate throat, so there's no choking or gagging.
---
---
---
By Jackie on Dec 3, 2022
Not for Stout Barrel Chested Dogs Like Bassets
I was so excited to try this out with my beagle/basset mix that can't stop pulling on walks, but sadly it did not fit him. We even went down to a size M thinking it might fit since his measurements could have gone either way, but it just didn't work as each adjustment we made to one strap would make the other straps do something the instructions said was ill-fitting. Either the back and belly straps continued to make a Y shape rather than the proper horizontal line or sideways T shape, the O-rings would be in his armpits rather than behind his shoulder, the back strap was falling down his back, or the chest strap was drooping and not staying in the proper horizontal position across his chest. Very disappointing.
---
By Bailey on Nov 9, 2022
Nice harness but did not fit
The harness is of Petsafes usual quality, but unfortunately did not fit my dog despite careful measuring. Also, the raspberry was actually a hot pink. The absolute best part? Chewys fabulous customer service dealing with my return. Thanks chewy, you guys rock!!
---
By EmRL on Sep 14, 2022
Effective, but weird
This harness has definitely reduced my anxious little dog's pulling on walks. If we walk alone, he even acts like he's been to a trainer-- walks right next to me the whole time. The way the harness is designed works best if your dog is walking next to you, or just a few feet in front. If they're farther away than that, the harness is against their side. My dog does a neat little dance move where he either walks completely sideways like a little tap dancer, or just tries to walk with his butt out to one side. Any excess strap at the front of the harness pulls out to the side as well. The asymmetrical nature of the harness is so horrifying to my FIL that he puts the harness on upside down, with the lead coming from behind the shoulders. This works in a pinch. Overall, this harness has improved our walks.
---
By EasyWalk on Oct 14, 2022
Great harness!
I have a 1 year old GSD who PULLS. I've tried several things before this harness, a martingale collar, pinch collar and a different type of harness. None of those stopped her pulling, this harness works! I'm 5'3 110lbs and I can walk her with ease. We're working on her heel but I'm the meantime I am very grateful for this harness. She likes it too!
---
By Jaine on Oct 29, 2022
Petsafe easy walk Harness
I bought a size medium which is what was recommended for the weight and size. It fit but the metal circles on the shoulders left the buckle right under my pups front leg which caused rubbing. It might be better if it could click close in the middle of her back or belly
---
By Chester on Sep 9, 2022
Great Harness
I have a big dog. He is 80lbs and can be a bit unpredictable because he is still a puppy. I have a tethered system for him in the backseats. He loves the sun roof and loves the center console to lay his head on. The problem that I have been dealing with is that I attached the tether to his collar because he hates wearing harnesses. That can be fatal in a car accident. Therefore, I decided to give this harness a try for the tether system. To my surprise it works perfectly. My dog doesn't attempt to take the harness off and he can now be safe and comfortable in the back seat of our car. I bought a Large and it fits about two fingers loose which for us is perfect since he is still growing.
---
By Cathy on Nov 19, 2022
Excellent Harness
This harness is the best I have found. My dog is between a petite and a small. This small is totally adjustable for her. I really like that it does not go her neck.
---
By Toasty on Sep 17, 2022
Works Beautifully!
The Easy Walk Harness was recommended to me by a Save A Pet foster "mom". We adopted a 3 yr old Great Dane who needed a home, did not walk well on a leash and weighs 166 lbs. He responds well to it and it has been a pleasure to walk with him and not feel like his neck is being yanked at. It is easy to put on and off. The straps are labeled for shoulder & chest thank goodness. Once I had it adjusted to our dog, I now try to only unclip the chest strap to remove it each time. Then it is easier to put on for next time. Proper fit is key, I measured and re-measured in order to make sure it is comfortable for him. Wish I had this for the two Danes we had years ago!
---
By Alks on Sep 4, 2022
Not durable
We finally opened up the package and got it on my sister's dog. Fit great, she's a 60 lb pit mix. We didn't even make it past the front door. She chewed the strap and broke it. This was in less than a minute. We didn't even see it happen it was so fast. Disappointed it was so easy to break. This dog is a menace lol.
---
By Jason1 on Dec 5, 2022
Harness minus chest d ring
Not the same as I bought before. Before it had the d ring on the chest & back this only had the ring on the back. No Bueno!
---