PetSafe Generation 2 ScatMat Electronic Dog & Cat Training Mat
Frequently Bought Together
---
About This Item
LCD display shows the correction level, battery level and a counter to help you keep track of your paw-tner's behavior.
When your pet steps on the mat, she'll feel a safe yet surprising correction or hear a tone that discourages her from entering the no-pet zone.
Simply place the ScatMat on countertops, furniture, doorways or other off-limit spots.
7 correction modes let you choose the setting that meets your best buddy's needs.
When it's time to clean your mat, just remove the controller and wipe the mat with a damp cloth.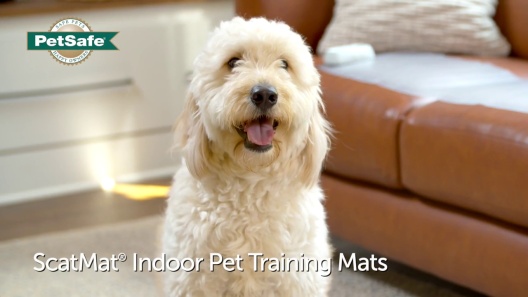 Learn More About PetSafe From Our Team of Experts
---
---
About PetSafe ScatMat Pet Training Mat
Install The Battery
The ScatMat only requires one 9-volt battery (not included).
Place On A Flat Surface
Attach the controller and place the mat wherever you need it. For best performance, keep the mat clean.
Turn On And Select A Mode
Power the mat on and allow the controller to calibrate to the newly protected area. Choose the right mode for your pet's temperament.
Safe Home, Safe Pets
Whenever your pet's paw touches the embedded wire, the ScatMat issues a safe reminder to stay off. It also keeps count of every contact.
Furniture
Prevent your pet from jumping on forbidden or dangerous furniture.
Counters
Keep your pet from counter surfing and exploring tabletops.
Couches
Train your pet not to lay on the sofa for a cleaner, fur-free couch.
Any Indoor Space
ScatMat comes in five convenient size options to keep any area pet-free.
Compare Similar Items
| | | | | | |
| --- | --- | --- | --- | --- | --- |
| | | | | | |
| Customer Rating | | | | | |
| Price | | | | | |
| Collar Type | Remote Training - Static | Remote Training - Static | Remote Training - Noise, Remote Training - Static | Bark Control - Noise, Bark Control - Vibration | Bark Control - Vibration, Bark Control - Noise, Bark Control - Static |
| Breed Size | Large Breeds | Large Breeds | Small Breeds, Medium Breeds, Large Breeds | Large Breeds, Medium Breeds | All Breeds |
| Material | Nylon, Synthetic Fabric | Nylon, Synthetic Fabric | Polyurethane, Plastic | Nylon, Plastic | Nylon, Plastic, Synthetic Fabric |
| Lifestage | Puppy, Adult | Adult | Adult | Adult | Adult |
| Compatibility | Plug-In Power, Battery Powered | Battery Powered, Plug-In Power | Battery Powered | — | Rechargeable |
| Leash & Collar Feature | — | — | — | Waterproof | — |
| Closure Type | — | — | — | Buckle | Buckle |
---
Questions & Answers
17 Customer Questions
---
Can I place this strip at the top of my stairs to prevent my dog from going downstairs? What if the width of my stair case is narrower than the strip? Is it adjustable?
---
What happens when a 250lbs man steps on it, like in a doorway?
Answer by • Mar 15, 2021
If any pet or person were to step on the mat with bare feet, the ScatMat will activate its static correction. If it's possible that someone could come into contact with the mat by accident, it would be best to place it in a spot where they can easily avoid stepping on it. Keep in mind, however, that the static correction itself would not be harmful, but would certainly be surprising.
---
What's the difference between the original and generation 2? Is there a medium size generation 2?
Answer by • Mar 27, 2021
The difference between the original and the generation 2 mats is that the transmitter now comes with an LCD display screen and soft rubber buttons. The display screen shows correction type, static level, battery status, and activation counter. There are still 3 strength settings of correction. The second generation also has closer wires in the mat that works more consistently. At this time, there is no medium size offered for the second generation mat.
---
My dog rubs against the sofa and actually moves the sofa. If I drape this over the side of the sofa will his rubbing activate the correction?
Answer by • Nov 10, 2021
A pet rubbing against the ScatMat will not trigger the correction. In the mat, there are two wires woven into the material. When a pet steps on the mat and touch the two wires, they complete a circuit, and this is what causes the correction. The pet's hairless pads are what allow them to feel the correction; the pet rubbing their fur-covered body against the mat won't trigger the mat.
---
---
---
By dragonfire on Aug 30, 2022
Well, I can't say I'm happy ...
So, I needed to replace my old scat mat (which I loved .. it worked very well for many years). And considering the $$, it was a big deal for me. Now, it's been several MONTHS (note: not years), and this "new" one is not working at all. Well, I take that back, the "unit" makes noise and says it's working, however it is not zapping anything or anyone. Not even a fly, which my old one would do. Besides that, having to remove the unit every time you need to replace the battery is a hassle, awkward, and sometimes literally a pain if you accidentally hit the side-mounted button that turns it on while trying to re-install the unit on the mat. Which is almost inevitable. Additionally, I had ordered a previous "new design" but received the wrong size. Tried to use it in a different, larger area, and after an even shorter time, the wire started detaching itself from the mat. So, money wasted on that one, too. I am so very disappointed in this "new design" I want to give it one star, I just can't make myself do that because it *did* work and deter for a limited time. Just not my $$'s-worth. Wish they'd change it all back.
---
By Skater on Sep 9, 2022
ScatMatt##
This is a great product. I had one years ago and it did what I wanted, however, it had a cord and had to be plugged in to an electric outlet. This is much better since it is battery operated. I can place it anywhere I need it. The mat works great. My cats have not been able to open my sliding door since I started using the mat. They have quickly learned not to walk on it. Now they leave the door alone. Great product.
---
By Mary on Jul 13, 2022
poor design
The old version was much better. I turn these on and within 5 minutes it will count 30 to 40 times. I'll be standing right there nothing is on it and it will just keep detecting. All 3 of them that I have does that. I still have one of the older ones and it works flawlessly. Big waste of money. The photo is after 5 minutes no cat was on it and it is clean
---
By CatOwner on Jun 15, 2022
Works, but broke fast
This item worked well but I bought two for two different doors that the cats kept clawing at. Both of them broke within months. The wire that runs through it separated from the mat on both. I even made sure to move it out of the way when it wasn't on so that it wouldn't get walked on so I don't understand why it broke so quickly. Because of how much it costs I can't justify buying two every few months.
---
By SCWTX on Jun 11, 2022
Fantastic!
These saved my sofa from the beast! He ruined the first $1500 sofa with his fine cat hair coat! I miss my old sofa! These did the job and now he sleeps on his very expensive bed, he never touched. It's a win win for both of us. Only took one zap! It got my son worse than the monster! Would definitely purchase again, but hopefully I don't need them!
---
By Puppyshirt on Jun 30, 2022
Cat scat mat
I'm a breeder with a house full of cats so I needed something to keep them from jumping on the counters I bought 2 of these and it works like a charm. It only took a couple times and they don't jump up there anymore.
---
By KittyDeterer on Apr 24, 2022
Tiny shocker and beeper
We got 2 new rambunctious kittens who do not seem to mind us screaming our lungs out or the water sprayer to stop them from doing something. In fact sometimes it becomes a game to them... they will do something, we will spray them, they will run away and run right back, standing in front of the sprayer, expecting us to spray them again.... they even have made our older 9 year old cat bolder about 'rule-breaking' They are allowed essentially everywhere in this house, because they decided so... but we just wanted a bare minimal sanctity of our kitchen counters...so we are using this and the ssscat spray on the counters. I tried this mat's static shock level and at the maximum level it felt like a real shock to me... so we have it at the lowest setting for the two 7 month old kitties. It seems to be working so far.... Fair warning, even tho technically this is static shock so causes no harm...technically.... this is still a good enough shock-shock. If we were not desperate we wouldn't have thought about shocking our poor excitable babies... but here we are........
---
By Erin on May 11, 2022
Happy So Far / Beware the Static Setting
So far, so good. My cats are the ultimate escape artists. This has worked so far to keep them in their designated areas and out of where they are not allowed to go. Be VERY careful with the "static" setting. High is definitely designed for a larger dog and NOT a small/medium cat. When I tested it on myself, I felt the shock from my fingers to my forehead! I'm so glad I tested it on myself before putting it at that setting for them.
---
By SunnyAZ on Apr 16, 2022
Finally! Some relief in sight!
This is my second time ordering this mat. The first time I ordered one was from the first generation and it was made just a little bit different. It didn't stop working but the electronic vibration under my cat's feet pretty much went away even though the mat still turned on. I liked the first generation a little bit better because it was easier to adjust and choose the levels of strength of the electronic vibration and the sound to alert the pet was not annoying. This new matt is harder to read/operate and just doesn't seem as well-made as the last one. But I'm glad I still have it because it works good enough to keep my cat from scratching on the door at night.
---
By GEK64 on Apr 28, 2022
Scatmats are the bomb
We like them, and our dogs stay away from them when they see them on the couch or bed, or anywhere we place them. I'm not sure they are any better than the version 1 mat's because they are more challenging to turn off, and the warning sound is too low to hear. I still like them and use them daily in our home and RV
---