Petstages Fresh Breath Mint Stick Cat Chew Toy
By Petstages
---
About This Item
Lightweight toy can be easily be batted and carried, filled with sweet smelling mint to freshen breath as kitty chews
Durable netting helps remove soft tartar to enhance dental health and won't unravel when chewed
Irresistible combination of sweet-smelling mint (a cousin of highly-desirable catnip) and crinkle material in the leaves encourage chewing behavior
Filled with real dried mint that can be refreshed simply by pressing and rolling the center stem
Petstages Fresh Breath Mint Stick measures 4-3/4" long with 1-1/4" wide leaves and 1/2" wide stem.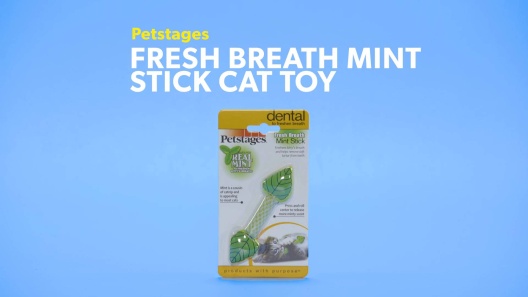 Learn More About Petstages From Our Team of Experts
---
---
About Petstages Toys for Cats
Play Helps Cats Thrive
Cats love to play, and playtime is essential to your cat's health at all life stages. Felines also need to exercise their brains to prevent boredom. You should provide your cat with a healthy amount of attention and stimulation to help avoid bad behavior and unhappiness. Petstages can help keep your cat happily playing. Choose from active toys, calming toys, scratchers, catnip and dental toys!
A World of Fun for Your Cat
Let your cat chew, bat, chase and scratch her way to happiness with Petstages cat toys and products. They can help keep your kitty active and feeling her best.
Catnip And Dental Toys
Great to bat and carry, these toys have catnip and unique netting that helps floss teeth and remove soft tartar as your kitty chews.
Tracks And Chaser Toys
Designed to satisfy your cat's hunting instincts, Petstages ball and track cat toys a fun and interactive way to get indoor cats moving.
Scratchers And Hunting Toys
Scratching is natural for cats, and Petstages offers a variety of scratching and hunting toys to keep cats entertained and nails healthy.
Tower of Tracks
Toys like Petstages' Tower of Tracks are the perfect way to give your curious kitty the mental and physical exercise she needs. Watch your cat paw at the balls and try to dislodge them—but don't worry, the balls won't come loose! Your cat will love the Tower of Tracks no matter how she chooses to use it. It's perfect for solo play or interactive play with you or other cats!
Easy Life Hammock
The Easy Life Hammock doubles as a lounger and a scratcher. Cats stretch their paws to leave their scent and when they stretch, their claws come out and leave their mark. Scratching can also help remove the dead outer layer on your kitty's claws. This lounge scratcher will not only help keep your cat's nails tidy, but it can also help keep her feeling nice and relaxed.
Purr Pillow
If your cat likes to cuddle soft and cozy things, the Purr Pillow may be just what she needs. It has a touch-activated, integrated module that makes a gentle purring noise every time your cat cuddles it. The purring sound lasts for two minutes and can soothe and calm cats of all ages. It is ideal for separation anxiety or any time your feline needs extra comfort.
About Petstages
Petstages is made up of passionate pet lovers. Their mission is to create innovative products that solve everyday problems—whether your dog eats too fast, your cat is scratching something she shouldn't, or you need a little help getting your pup in the water. Whatever you need to make life with your pet a little fuller, Petstages has something for you!
Shop Petstages
Compare Similar Items
| | | | | | |
| --- | --- | --- | --- | --- | --- |
| | | | | | |
| Customer Rating | | | | | |
| Price | | | | | |
| Toy Feature | Dental | Dental, Catnip | Dental, Crinkle, Catnip | Dental, Crinkle, Catnip, Feather | Dental |
| Toy Type | Chew Toys | Mice Toys, Chew Toys | Chew Toys | Chew Toys | Chew Toys |
| Material | Polyester | Polyester | Polyester | Polypropylene | Thermoplastic Rubber |
| Sport Team | N/A | N/A | N/A | N/A | N/A |
---
Questions & Answers
12 Customer Questions
---
Do you only get 1 or is it a 3 pack?
Answer by Kris78424 • Apr 22, 2021
Apparently, it's now a 3-pack.
---
Is it good for kittens or only for adult cats?
Answer by • Jun 17, 2018
This product is safe for cats and kittens 6 months old and older.
---
My cat is on prescription kidney food. Is this product compatible with Hills K/D?
Answer by • Oct 18, 2018
Due to your pet's diagnosed condition, we encourage consulting your Veterinarian to see what treats would be safe for them. Each pet's condition can vary and the vet will be able to monitor them and give the best recommendations according to your pet's tested levels.
---
is this for one time use?
Answer by • Aug 24, 2018
This toy can be used more than once, depending upon length and strength of chewing.
---
---
---
By Roary on May 14, 2022
My cat is picky with toys but she loves this one!
My cat usually take anywhere from couple hours to a couple days to play with new things. I put this toy near her as soon as I got it and she hasn't stopped playing with it since. I was under the impression it would come in a three pack but alas it did not. That's ok though I can't believe how much she likes it! Most of the time she gets zoomies for no apparent reason and doesn't play with toys a ton but she loves this one.
---
By Kaylin on May 14, 2022
Love this toy!
My cat absolutely loves this toy. She likes to chew on bite on things so this ended up being perfect for her. She has been able to tear up quite a few toys but this one is still holding up well. I will throw it in the air and she will catch it and start doing rabbit feet and biting on it. Highly recommend.
---
By Kate on May 8, 2022
My Cat's Favourite Toy
This is my cat's absolute favourite toy. I've bought several of these to replace them after they start to get dirty and roughed up and they're always great quality. The mint has a similar effect as catnip, so she loves to chew on it, roll over it and play fetch with it. My cat Misty highly recommends the Petstages mint stick toy!
---
By Jamie on Apr 17, 2022
Solid chewer
My cat honestly LOVES these and actually uses them (unlike others I've tried). It smells like a sweet mint, but he treats it similar to a catnip toy. When his best friend was over for a visit, we had too buy her some too because she loved his so much. Months later, it's still her favorite. He still plays with his too. Cut back on his doing things like chewing charging cords too. For being a chewer, they last much longer than I expected.
---
By prim on May 2, 2022
My cat LOVE this!
She loves to chew it and chase it around. It smells nice too! Just like any other cat toy it does "disappear" under furniture here and there because it's thin so make sure to check under your fridge, couch, shelves, etc. I want to buy more!
---
By CrazyCatLady on Mar 11, 2022
Kitty likes, doesn't work for bad breath
As a chew toy, my big boy really likes it; as a breath mint, it doesn't do it's job. The fact that Catnip is in the Mint family causes most cats to also be attracted to mint. I knew Sunny would want to play and chomp on this; what very active 1year old catnip hooked kitty wouldn't? The thing is, we needed something to freshen his breath, since he definitely is flunking tooth brushing & this absolutely is not working on Sunny's breath. Won't buy again as it costs too much for just one small, skinny, 3inch chew toy that gets torn apart way too fast.
---
By AnneR on Apr 18, 2022
One cat likes
I don't know how many I was supposed to get. I see posts saying it's a 3 peck. I received two. My one cat likes it. I don't think because the mint. She'll just play with odd toys, even a plastic plant hook. She doesn't even like catnip. It's a cute looking toy so it's good.
---
By MazieMom on Apr 24, 2022
A favorite toy!
I have bought these for many years. The cats love them, and play with them. I also like that it helps with oral health. They get batted under doors, but that only adds to the fun as they try to retrieve them.
---
By Lola on May 3, 2022
Not for Gemma
She's just not interested in this. Maybe its her...you know, different strokes for different folks? But it's always where I saw it last and looking like it came out of the package.
---
By CCCCCC on Apr 11, 2022
Cats weren't interested
Our kittens love to chew so we were hoping this toy would be a favorite. Unfortunately they just sniffed it, tried batting it, and then were no longer interested in it. Least favorite toy we have tried.
---