SmartyKat Cat Caves Catnip Infused Paper Bags, 2 count
By SmartyKat
---
About This Item
Provides a place for your pal to lounge, sleep and play with rustling paper structure cats love.
Inside of bag is treated with a catnip scent that's released every time your kitty touches it.
Touch-activated catnip scent will have your kitty coming back for more purr bliss.
Catnip is all-natural, non-addictive and non-toxic for cats, so it's great for everyday use.
Made in the USA with recycled materials so it's an eco-friendly choice you can feel good about; comes with two bags.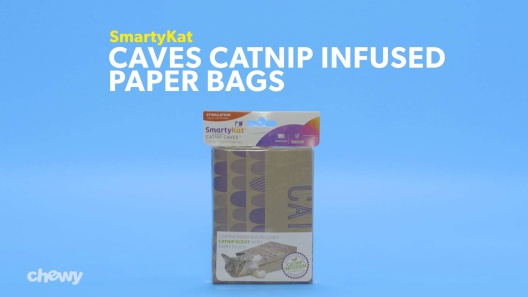 Learn More About SmartyKat From Our Team of Experts
---
---
Questions & Answers
7 Customer Questions
---
Does the catnip bags tear like regular paper bags do?
Answer by • Dec 14, 2017
The paper bags are made with recycled material and can be torn.
---
My cat loves them. How long does sent work before you have to give them a different obe?
Answer by • Nov 27, 2019
The longevity of this product will vary depending on how often your cat plays with it, and how rough the play sessions are. The catnip scent will be released each time this bag is touched.
---
Is the bag safe for the cat to eat?
Answer by • Aug 16, 2019
While catnip is 100% safe for cats ingesting the paper from this bag is not recommended.
---
How big are the bags?
Answer by • Nov 24, 2017
Each bag measures 17 x 12 x 7 inches.
---
---
---
By cats on Apr 15, 2022
Overpriced
Overpriced paper bags sprayed very sparingly with catnip spray. I was an idiot when I bought this and when I got my delivery and saw these bags I knew who ever came up with this idea is an absolute genius to get me to pay $5 for this.. The bags are very thin and when I tried to get the cats interested in them but nothing. I left them in the hallway in their pathway and they just jump over the bags. I ended up tossing them in the recycle bin. Others say their cats love playing with the bags so good luck on your decision
---
By Danielle on Apr 20, 2022
Less then a paper bag
I try all sorts of toys to keep my senior cat active and engaged. She loves boxes, bags, and is always playing with packages so I thought this would be cute. She couldn't be less interested in this bag, even when I added a little extra cat nip and toys inside. The box and plastic packaging made me feel a bit ridiculous too, for just brown bags.
---
Kitty approved
Two out of three of my cats have enjoyed these paper bags, whether it's diving inside them or flopping down on top of them to lay on them. They're holding up well too, there are some punctures from kitty claws poking through when they chase each other over the bags but no obvious rips or tears. My third cat likes to poke her head inside to check it out but doesn't get to enjoy it as much with two wild boys claiming the bags as theirs. Overall, an inexpensive fun little "toy" for the cats to enjoy for however long the bags last!
---
By Lori on Apr 27, 2022
Just a bag
My cats would tell you there's no catnip in this product. So in essence, you are buying two light-weight lunch bags. They have some fun with it, as a bag. But for me it wasn't worth the money - better to make use of used paper grocery bags.
---
By Maribeth on Mar 7, 2022
Our male cat, Skeeter loves bags and boxes!
Chewy sent two of these bags at no cost with an order I recently placed. I was thrilled to see the two bags called cat cave. The minute Skeeter heard me open and fluff out the bag, he came running down the stairs. He immediately jumped in it and tipped it over. He played with it for several minutes. I'm saving the other bag for another day when Skeeter needs to be distracted. He is a curious cat as he gets into everything. Love our little boy, Skeeter and his sister, Sassy!
---
By Mook on Apr 7, 2022
Just another paper bag
My cat is a catnip liver and goes berserk with the least amount. He looked at the bag not smelling it at all or even going inside. He would normally go into any bag and enjoy his hiding place. But nope on this bag. I guess it will make a good trash can liner.
---
By LesterPester on Feb 19, 2022
Worth the $
When I ordered these I thought I was basically paying for a paper bag, but my cat loved them so much I am now waiting for a second set, I found my 14 year old lady sleeping in one, she was so happy, she has now torn them up but still lays on them, they are thinner paper than the regular grocery bags, but they still stand up when on their side, so my cat can still play in them.
---
By ManySpoiledCats on May 6, 2022
Fell Flat to Bag Cat
My dedicated bag cats were unimpressed and so was I. Folded for packaging, it could not stand up as pictured nor remain open when sideways
---
By Judy on Feb 14, 2022
Terrific toy
This was a gift for a friend's cat(Jasper) that, to date, goes into hiding when I visit. My friends asked me to watch Jasper while they went on a trip so I decided to buy her some toys to possibly win her over. Jasper loved this bag! Within 5 minutes, she was hiding in it, rolling on it, or pulling it around. Then Jasper came over to me & jumped on my lap! Now I'm one of Jasper's best friends.
---
By 2Kitties4me on Feb 9, 2022
Not so much…
These were a big disappointment. The description is great, and there are lots of good reviews. My cats didn't agree. Neither of them had any interest in them. I left them out for a few days, but both cats just ignored the bags. I even put out the second one, in case there was something wrong with the first. I ended up recycling the bags, and went back to the usual dried catnip and crinkle toys, which are always a hit.
---