Tidy Cats Breeze Hooded Cat Litter Box System
By Tidy Cats
---
About This Item
The slide-out drawer allows you to to quickly replace the pads below.
Cleaning is easy! Just open the hinged hood for quick, easy access when it's time to scoop the kitty litter box.
Absorb. Toss. Replace. The super-absorbent Breeze litter pads are designed to last 7 days for one cat.
The mess-minimizing pellet litter helps keep down tracking around your kitty's litter box. Neat Floors. Neat Feet.
The pellet litter system separates urine and solids, helping packing a punch of odor control while leaving you with less to scoop.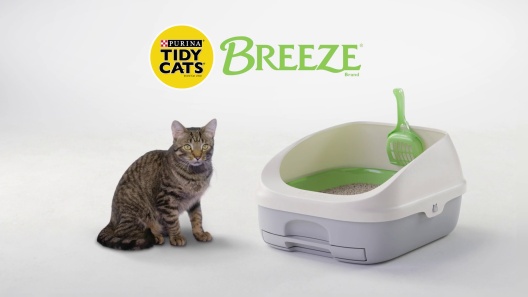 Learn More About Tidy Cats From Our Team of Experts
Related Product
When it's time for fresh litter pellets & pads, get them here.
Shop Prescription Medications from Chewy Pharmacy
---
---
About Tidy Cats Breeze Litter System
Litter Made Easy
The Breeze Litter System provides simple, fast odor control you can rely on. Its anti-tracking pellets repel urine to keep the box dry, isolating solids on top for easy scooping. Urine passes through the grated tray and into the super absorbent pad, while the removable drawer allows for no-touch pad changes. Simply replace the ammonia-locking pads weekly and the mess-minimizing pellets monthly!
A Revolutionary New Litter System
Blocks Ammonia Odors
Each pad stops ammonia odor for 7 days, keeping unpleasant odors at bay so you can maintain a clean, fresh-smelling home.
Neat Neet. Neet Floors.
Anti-tracking pellets repel and wick moisture, keeping solids on top for fast scooping. Just replace the pellets once a month!
Highly Absorbent Pads
Each pad lasts up to one week and is super easy to replace—just use the removable drawer to toss it without touching.
Switching is a Breeze
Each Breeze system comes with easy, expert transitioning tips to help you and your cat make the switch smoothly.
About Tidy Cats
Tidy Cats knows it's their job to follow every road that leads to freshness. That's why they never stop searching for a better litter box experience. For over 50 years, they've fought odor, cut down on dust and helped simplify litter box maintenance. They always have a clever solution that's right for you and the other noses in your home.
Shop Tidy Cats
---
Questions & Answers
47 Customer Questions
---
Can you buy the hood separately?
---
Do I need to scoop the poop every day or is it like a normal box and you can leave it and there isnt much of a smell?
Answer by • Jun 07, 2018
This all-in-one litter system features a hood to give your pal a comfy, concealed place to go potty, and a dual-system that controls odors and keeps the litter box clean.
---
How many additional bags will I need to purchase with this pack? Is 3.5 lbs enough? I've never used pellets before
Answer by • Mar 13, 2018
A 3.5 pound bag will fill your BREEZE Litter System one time. The litter can last up to 1 month.
---
Can 2 cats use one breeze litter box or do I need to buy two?
Answer by • Mar 10, 2018
Most experts recommend having one more litter box than you do cats, so two boxes for one cat, three boxes for two cats and so on. That will make sure your cat always has a place to go.
---
---
---
By DevonRexMom on May 20, 2022
Less scooping and no litter mess!
My kitten was tracking clay clumping litter into every nook and cranny (and bed, yuck) in our house. I had to sweep the room his box was in twice a day and constantly sweep the house. Litter was sometimes stuck to him, too. I finally had enough and a friend told me about this system. It's awesome! I don't know that the odor is much different (when he poops it still smells awful, but I immediately go scoop and I don't spend 5 mins with my head in the box twice a day scooping urine clumps to keep a box clean). The tray below catches all the urine and the pellets don't soak it in. It's easier to clean than a traditional box with clay litter (no searching for clumps, the poo stays on top where you can see it) and the best part NO TRACKING! I haven't swept my floors in a week! Lol
---
By Joyce on May 15, 2022
Best Yet Litter Box System!
This is the best yet cat litter box system for multiple cat household (also if you only have one cat). At one time, I went through a lot of kitty litter to find the best ones for my two cats; then I went through all types of litter boxes, After years of looking I finally found exactly what I needed -- Breeze Litter Box Cat Litter Box system is the best! I bought the kit with the hooded litter box which comes with four pads and one bag of litter. Then bought more pads and litter to have on hand. My cats took no time at all to get use to their new litter box. I highly recommend this product.
---
By Helen on Apr 22, 2022
Good for some cats, not for mine.
I really tried giving this box a chance but when the litter box top cracked and was no longer useful it just ruined it completely. The litter gets stuck in the little grits every time so cleaning it is just an enormous hassle, the parts are plastic and super cheap so they break really easily. I bought one with a lid so that litter didn't get all over my apartment and it seems to actually have gotten worse and doesn't keep any in, plus the fact that the lid is completely cracked now isn't exactly a vibe. Overall I wouldn't recommend I would suggest spending a little more on something more sturdy
---
By katfrog on May 4, 2022
Useless - don't buy
Doesn't work. All my cats hate it and are now peeing outside of the box. I'm on disability and saved up enough money to buy this thing and my cats hate it. I followed ALL instructions and they won't go near it. It's like we're asking cats to NOT be cats in order to use this system. Also, insanely expensive. I don't recommend.
---
By CatJ on Apr 20, 2022
My cats won't use it
I may not have tried hard enough, but my cats used it for #1 only for a couple weeks. And they pick up the little thingies and carry them around and leave them wherever, so I occasionally find them in strange places, but that's true for a lot of things. I love the idea of a litter box that doesn't leave litter all over the place, so I'm not ready to give up yet. Just saying that your cats might not love it.
---
By KaraaaLiz on Mar 25, 2022
Wish I could give 6 stars
Y'all. BUY THIS!!!!! It's so smartly designed, and cute! I love everything about this system. And the pads are unbelievable. NO SMELL and they absorb so much pee. I tried a puppy pad once just to see the difference- Do NOT to that!. (It stunk and didn't absorb well at all) But the system is the best I've ever tried and I will never go back to regular litter ever again!!! Every day, the poop is sitting on top just like they advertise, and there is no stinky smell. Just toss the poop and go on with your life. LOVE IT.
---
By SheilaK on Mar 19, 2022
My cat gets to continue being an indoor cat!
I was getting so tired of smelly litter boxes and messes. I watched my niece's cats for her when she went on vacation. She has multiple cats that share the same litter box. I was amazed that it never smelled. I got the name of the litter box online when I searched to find it and was delighted to see it listed on Chewy. I bought the hooded litter box that came with the litter and pads. I wasn't sure if my cat would use it, but warned her that she would become an outdoor cat if she didn't like it. Thank goodness she likes it! I love the ease of cleaning and the best part.. No stinky smell!
---
By Yoda on Apr 26, 2022
Cleaner house
I'm still using the other litter boxes without the top, however, I like this hooded one better because it keeps the cats from spilling the litter all over the floor.; Which makes it easier for me to keep the house clean. Clumping cat litter has been a mess to keep up with.
---
By Carolynn on Apr 2, 2022
Almost Perfect
Love not having litter everywhere. That's enough to suggest it. I have to change the pad about every 5 or 6 days so I would suggest ordering extra pads. My only complaint- why is there no flap / door on the hooded version? My cat is kicking pellets all over. I'd prefer to pick up pellets 1 foot from the box than all over the house, but still frustrating.
---
By HappyCatMom on Mar 4, 2022
If you are wavering about purchasing at all- DO IT!
I have liked the idea of the Breeze system for years but struggled to get on board with the upfront cost while owning a perfectly functioning litter box. Finally- I hit a point where I was tired of the litter tracking and lugging the heavy litter to my apartment. The Breeze system is a must for all cat owners in my opinion. There is little to no litter tracking, minimal scooping because it is only poop and cats maybe poop once a day, and dumping the pee pad is really easy. Wish I would have switched years ago.
---