Zymox Otic Dog & Cat Ear Infection Treatment with Hydrocortisone
Autoship
(Save an extra 5%)
Choose Autoship at checkout for regular deliveries.
Why Autoship?
FREE access to chat with licensed vets 7 days a week.
Save 5% on all future Autoship orders.
No fees, no commitments - cancel Autoship anytime.
---
---
Try This Similar Item By Chewy
---
---
About This Item
Effectively treats acute and chronic otitis externa due to bacterial, fungal and yeast infections. This liquid solution acts as both a cleaner and a treatment, in just one easy application daily.
Contains three active enzymes that have shown to be antibacterial, antifungal and antiviral.
Hydrocortisone helps to provide relief from itching and inflammation.
Three-point enzyme system destroys antibiotic resistant microorganisms, including Staphylococcus.
Made in the USA.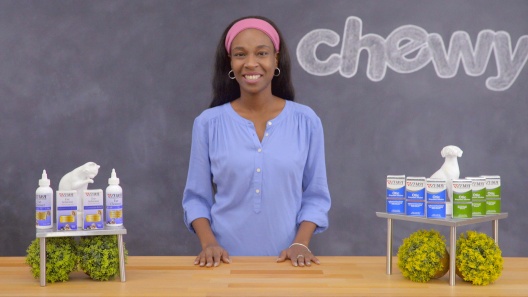 Learn More About Zymox From Our Team of Experts
---
---
About ZYMOX Enzymes for Healthy Ears and Skin
Antimicrobial and Antifungal Care
ZYMOX empowers pet parents with patented formulations of natural enzymes to help treat chronic infections in dogs, cats and horses. Their products are formulated to be safe to use on any age pet. ZYMOX packs a potent antimicrobial punch that targets the source of infections—bacteria and fungus(including yeast) to provide therapeutic relief, care, protection and prevention, without any antibiotics or harsh chemicals. Proudly made in the USA and endorsed by TICA (The International Cat Association).
Committed to Healthy Ears, Skin and Coat, and Smiles
To ensure overall health from snout to tail on all four-legged pals, Zymox has developed products that are specially formulated for all the areas that commonly need infection relief, like the ears, teeth and gums, and skin and coat.
Ear Care Solutions
Effective, non-toxic solutions with special enzymes and mild cleansers to keep ears clean and fresh, and combat microbes that can cause ear infections.
Oral Care Solutions
Brushless solutions with unique enzymes to dissolve plaque and prevent its buildup, boost natural "good bacteria," and protect against gum disease to keep kitty and doggy smiles healthy.
Skin and Coat Health
Topical sprays and shampoos for dogs, cats and horses that form a powerful protective barrier against minor skin inflammations from bacteria and fungi, while cleaning and conditioning the coat—with some formulas utilizing hydrocortisone.
100% Safe, Gentle and Easy
Because Zymox formulas are made with 100% naturally derived enzymes from dairy, they are safe for anytime use, both for immediate soothing relief and to prevent infections. The powerful enzymes work to eliminate problem single-celled organisms such as bacteria, fungi and yeast, while leaving healthy cells untouched. This means no irritations for your pal!
Enzyme-Based and Antibiotic-Free
Zymox products use a patented, gentle formulation that combines three potent, naturally occurring enzymes—lactoperoxidase, lysozyme and lactoferrin—that are sourced from milk products. These enzymes are proven to work together to eliminate the source of infection on your pet, without any toxins or antibiotics that can irritate or cause antibiotic resistance.
About ZYMOX
Zymox was founded in 1998 by Pamela Bosco, who sought to change the way that people treated and managed ear, oral and skin infections with a safer alternative to antibiotics. Enlisting the help of her brother—a scientist that developed the enzyme technology in Biotene—Bosco formulated a powerful enzyme-based solution to help treat infections in dogs, cats and horses with no toxins, chemicals or antibiotics. Committed to keeping all four-legged pals healthy, they offer USA-made and sourced products to treat, soothe and protect against bacterial and fungal infections gently and 100% naturally.
Shop ZYMOX
---
Questions & Answers
56 Customer Questions
---
Is this safe for cats as well ?
Answer by Suzanna • May 14, 2021
Yes
---
Will the 1.25 ounce bottle be enough to treat 1 dog, both ears?
Answer by • Oct 08, 2017
The 1.25 ounce bottle will provide more than 2 weeks worth of daily maintenance to both ears.
---
how long do you massage the base of your pet's ear and keep the liquid in the ear canal?
Answer by • Aug 24, 2018
Massage the base of your pet's ear until the treatment has coated the infected area.
---
Is this safe if ingested? I have three dogs that like to lick/clean each others ears and want to ensure this is safe.
Answer by • Oct 02, 2018
Because Zymox formulas are made with 100% naturally derived enzymes from dairy, they are safe for anytime use.
---
---
---
By FullerandDee on Jun 21, 2022
Wow is all I can say!
This was recommended last time to me from my dogs foster mom. I didn't listen and chose to bring Fuller to the vet. Long story short in six weeks he went to the vet three times countless meds later a bill totaling $600.00 before he got better. We all know how expensive the world is right now so I've been saving my money for a bill like that again. His foster mom text me asking how we are doing (4 years later we have kept in contact this whole time) anyway I remembered her recommendation from his last ear infection. We are now half way through his week treatment and he's almost 100% better. After the first two days 75% of the swelling and smell was gone. He's no longer shaking his head or clawing at his ear. This stuff is a miracle! I can't even put into words how happy he is now compared to just last week. If you have a pup that gets tough ear infections definitely try this before you break your bank. Lesson learned.
---
By 4130 on Jun 18, 2022
Poppy of South Street
Our Puppy has floppy ears, very prone to infections. We treated them a few times with prescriptions from the vet. I found this product and did a seven day course with excellent results. Now I carefully smell her ears every few days - a little gross but necessary. One a week she gets a preventative Zymox treatment. If we miss a week, her ears will gunk up and the smell returns. Used every week, her ears wipe clean and look pink and healthy. No scratching. We do have to be vigilant and use it weekly, but it absolutely works. No infections. Ears always smell neutral. Get to know your dog's ears!
---
By HappyCamper on Jun 12, 2022
Ear Problems
My Chi was scratching at her ear the previous night. Next day as I was rubbing her ears, which she usually enjoys, she yelped. Afraid that she was maybe getting an ear infection, I added a bottle of Zymox to her Chewy auto ship order & requested that it ship. Within 2 days I had the order containing the Zymox. Zymox is a great product and only required to use once daily. My dog seemed to like the feel of the Zymox when applied to each ear. After several days of application her ears seemed fine. As always I'm happy with Chewy's product, price and customer service. Thank you, Chewy!
---
By Hoskins on May 24, 2022
Lifesaver!
My dog developed an ear infection & I tried everything to help him feel better, but nothing was helping. I decided to research his symptoms & this product came up. I noted that it helped with bacterial/fungal infections & I was shocked that it wasn't a prescription. I ordered right away & it got here fast! I started with the 7 day dose, but decided to continue to 14 days to be certain the infection cleared up. Within the 2 day, all the gunk in his ears was coming out & the smell of infection was gone. I honestly say a difference within days, but as I said before I wanted him to be fully cleared of this. Today is day 14, & he no longer shakes his ear, no infection smell & his ear is clean as a whistle. I am so glad I was able to find this & not have to go to the vet & then charge me an arm & a leg. Thank you Chewy for having great products & fast shipping to help my baby feel better!
---
By Naqui on Jun 17, 2022
This stuff works!
Rescue kitten gave all our cats resistant ear mites. Once that infestation was under control all three got horrible yeast infections in their ears. We tried everything. It had been over a year fighting it. Two weeks of this stuff for 3 cats is pricy but it works! Their ears are beautiful and they aren't miserable anymore!
---
By Vicki on May 25, 2022
Zymox Otic
This stuff is amazing! I wish I knew about Zymox months ago. My Coonhound suffers with constant ear infections and with all the shaking and scratching she cut the tip of her ear. The very first treatment with Zymox Otic she stopped shaking and scratching at her ear and the cut is healed. The stuff the Vet gives you not only works temporarily but also hard to put in the right amount. Not to mention the cost! I can't say enough good things about Zymox. THANK YOU!!
---
By towgunner11h on Jun 17, 2022
Now 'Ear this!
Zymox ear infection solution works. Followed directions exactly. It was a bit difficult, as my dogs ear was very tender. He would yelp upon application, and after the under ear massage. But after the 7 day treatment- infection is gone and he loves having his jowl/ear area rubbed again. Great stuff!
---
By Amanda on May 14, 2022
it really really works!
So in short my dog had a yeast infection in his ears verified but a vet, it cost $300 for the appointment, testing, and then antibiotics and cleaner. The meds they gave me ran out in the week user error probably and they were sapposto last 2 weeks. The infection stayed one of the ears I asked for a refill and they said I had to spend another $300 to get him meds and appointments and testing again. I struggled for months trying to come up with the money. His ear infection became worst that ever. My mom found these meds. I have been using once a day as directed for 7 days and his ear looks healthy I can't believe it. For all of those pet parents out there who are struggling and my heart goes out to you and I will be buying this for my dog when he get ear infections in the future. This product is a God send. Just remember not to clean their ears the meds work best with the dirt.
---
By blue1 on May 11, 2022
Finally, something works!
Both of my cats had filthy ears, despite a clean check up from the Vet, and frequent cleanings with facial wipes. They had both been on Flea, Tick and Ear mite preventatives, yet their ears were constantly dirty with waxy and brown exudate. My female cat in particular was constantly scratching her ears despite several different ointments and drops. One treatment of the Zymox Ear Treatment worked like MAGIC! now their ears are pink and clean and they are not constantly scratching at their ears!
---
By MaryAnne on May 21, 2022
Cure for ears
After 3 years of taking our dog to the vet and spending thousands, I discovered Zymox at Cheweys and ordered it. Our dog is a poodle, and has never had her ears plucked. The ear problems NEVER stopped until I treated her with Xymox, and she has never scratched or shakes her head since! It's been about two weeks. None of the vet medicines worked!!!
---