Doc & Phoebe's Cat Co. Indoor Hunting Cat Feeder Kit
Frequently Bought Together
---
About This Item
Veterinarian-designed system works to improve scarf and barf, night waking, litter box "hit and miss" and more by allowing your cat to act on her ancestral desires.
3 interactive feeders allow cats to hunt for small portions of food twice a day, instead of relying on you to fill a large bowl once-a-day.
Durable plastic and textured fabric appeals to cat's senses while she grabs and claws her prey.
Easy to use—just scoop your cat's favorite food into the 3 mice and hide morning and evening.
BPA-free plastic is top-rack dishwasher safe plastic while the fabric skins are machine washable.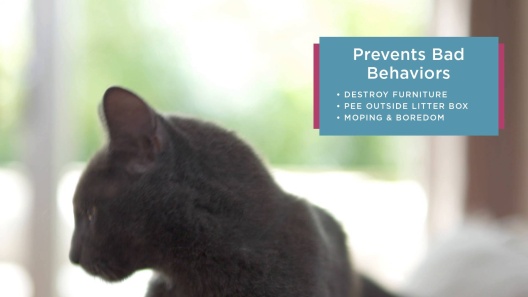 Learn More About Doc & Phoebe's Cat Co. From Our Team of Experts
---
Make treat time even more exciting by placing scrumptious Vital Essentials Mini Nibs in the Doc & Phoebe's Cat Co. Indoor Hunting Cat Feeder!
---
Compare Similar Items
| | | | | | |
| --- | --- | --- | --- | --- | --- |
| | | | | | |
| Customer Rating | | | | | |
| Price | | | | | |
| Bowl & Storage Feature | Portion Control, Dishwasher-Safe, BPA-Free, Lead-Free | BPA-Free, Lead-Free, Tip-Resistant | Portion Control, Dishwasher-Safe, BPA-Free | Non-Skid, Dishwasher-Safe, BPA-Free... | Non-Skid, Dishwasher-Safe, BPA-Free... |
| Material | Plastic, Microfiber, Nylon, Synthetic Fabric | Plastic | Rubber | Plastic | Polypropylene, Plastic |
| Capacity (Max) | 0.094-cup per feeder | — | — | 0.5-cup | 3/4 cup |
| Lifestage | Adult, Kitten | Adult | Adult | Adult | Adult |
| Assembly Required | No | No | No | No | No |
| Toy Type | — | — | — | Treat Dispensers, Games & Puzzles | — |
---
Questions & Answers
16 Customer Questions
---
Are the tails of the mice removable? My cat is a string eater! I have to cut tails, etc off of toys and keep all shoes with strings out of reach. Vet bills for obstructions are no joke not to mention the stress on my kitty and our family.
Answer by • Nov 04, 2018
While the fabric skin is removable altogether, the tails cannot be removed separately. However, if your cat is determined, they might be able to pull the tails off. This is not intended as a toy for other animals or children. Remove from cat if any part becomes loose or damaged.
---
We have two cats. Do we need to purchase two sets? So we have 6 instead of 3?
Answer by • Nov 28, 2018
It would be recommended to get a set for each pet. Each mouse feeder holds approximately 1.6 ounces.
---
I have two cats, what if one cat finds all the food, How do I know which cat has been eating?
Answer by • Feb 22, 2019
These feeders may be used within a multi-cat household, with each cat having their own set. We recommend supervision of pets during feeding time to ensure each are receiving their own amount. It is also a possibility to feed in separate rooms if this may be an issue between cats.
---
Will these work with pea size kibble?
Answer by • Nov 21, 2018
This product was designed specifically to be used with dry cat food.
---
---
---
By tracip on Nov 7, 2022
Good concept, flawed execution
The idea of the puzzle feeder that you can hide around the home is good. I had hoped to keep my cats preoccupied during the night. However, the sound of the hard plastic hitting wood floors each time the cat tries to get a snack is nerve-wracking. And, in an apartment, it's not practical with downstairs neighbors. Therefore, I could only hide one mouse in the common area away from the bedrooms. But, as soon as I left the room, the cats started working on it instead of discovering it at night. If the plastic were soft silicone, it would not only be quieter but also have more of the squishy feel of a mouse.
---
By Reee on Nov 20, 2022
Disappointed
I tried it over and over hoping that it would work like the instructions said but it didn't. I normally only get food and litter from here so maybe i should just continue to do that. I have reached out to the company to find out how to return the item plus the other items but have not heard back yet.
---
By Shannon on Sep 2, 2022
Skeptical but willing to give it a try. GLAD I DID!
I couldn't wait to try overnight like is directed. I started with the 'skin' on but hole open fully. Kibble + some treats. I set them down an put a treat beside the hunter. They ate the treat sniffed the mouse. I demonstrated moving it with my paw and some food spilling out. They ate the spillage and walked away. Not long after my big boy had it down pat. Little sister came and watched and then tried it herself. I'll close the opening some and hide them around tonight and see what happens. I'm working from home and Ferdinand is always asking for something. I hope this will provide something for him to do and that he'll drop some pounds. :)
---
By HopeandMisosMomma on Aug 7, 2022
Fun toys that germy kitten hunting!!!
These are great! I saw them on the YouTube channel, BilliSpeaks and Billi really likes them. I bought them for my couple months old Miso and he really likes them!! (As does my senior dog, lol. For next months auto refill I added a treat/food toy for her!) I saw reviews that say the cat can't adjust the slide button to the size of the food/treat portion that comes out. Of course not!!! Lol. That is for the human to do! Adjust it so the food/treat that you pour into it will easily fall out of the hole as the toy is whacked around, and both you and your cat (possible dog as well, lol) will enjoy it!!
---
By MamaCita on Oct 4, 2022
Mouse Feeders
I'm sure these are great for other furbaby owners; however, my 3 cats are older and weren't interested in them at all. My vet highly recommended them.
---
By Emily on Jul 15, 2022
Not as pictured
I got a set of these for my first cat and loved them, she started grazing throughout the day instead of scarfing everything at once and then complaining all evening. However when we got our second cat I bought a second set, and the new set has a slider on top instead of the two holes, and is way too small for the kibble we use. There was no indication that we would be getting a different product than the one pictured, and it is now useless to me now that we've moved the second cat on from kitten chow. If you're going to send a product other than what's pictured then you're going to lose confidence from your customers. I've previously been very happy with Chewy products but this has made me hesitant to buy anything that I need to be made to certain dimensions.
---
By PamN on Jul 24, 2022
Definitely Not As Pictured
I purchased this and was excited to use it with my 1 yr old kitty! However when I received it today, it is not as pictured on the Chewy site. These mice have sliders on top instead of 2 holes as pictured (like Emily's review dated 7/15/22). There's no way he will open the sliders it'll be way too hard for him. I've got a few treat puzzles for my other cat and he can't even open those to get treats out. Very disappointed with Chewy for not having what's pictured on their site. I will be returning this item.
---
By Andy on Jun 21, 2022
Keeps my cat busy and entertained
My one year old cat seems to really enjoy these mice, we use them every day to add some interest to his routine and let him engage differently with food. He's developed a technique where he nudges the mouse with his nose to roll it over and systematically dispense pieces of food. Every once in a while he'll get a little wild and fling the mouse around, and I'd like to think that he's enjoying combining food and foraging/hunting/play behavior. He's a very active and demanding little dude, so it's nice to be able to feed him in a way that engages his brain, gives him some physical activity and some autonomy. He figured them out right away, and we didn't need to use the plastic trainer.
---
By Pamela on Oct 28, 2022
My cat doesn't like it
My cat shows no interest in this at all, I've tried different things with it and he's just not interested
---
By AB33 on Sep 11, 2022
great for awhile, my cat is bored with them now
I bought these years ago(no sliders) from the people who make them. Cat loved them for about 2 years then got bored. Still use them occasionally though.
---