Doc & Phoebe's Cat Co. Indoor Hunting Cat Feeder Kit
Frequently Bought Together
---
About This Item
Veterinarian-designed system works to improve scarf and barf, night waking, litter box "hit and miss" and more by allowing your cat to act on her ancestral desires.
3 interactive feeders allow cats to hunt for small portions of food twice a day, instead of relying on you to fill a large bowl once-a-day.
Durable plastic and textured fabric appeals to cat's senses while she grabs and claws her prey.
Easy to use—just scoop your cat's favorite food into the 3 mice and hide morning and evening.
BPA-free plastic is top-rack dishwasher safe plastic while the fabric skins are machine washable.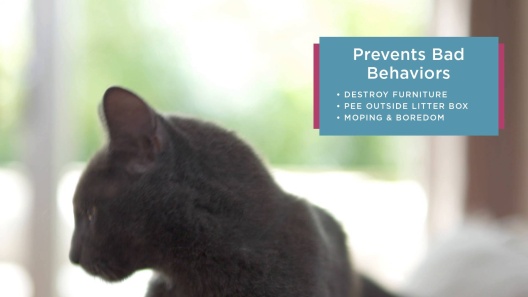 Learn More About Doc & Phoebe's Cat Co. From Our Team of Experts
Make treat time even more exciting by placing scrumptious Vital Essentials Mini Nibs in the Doc & Phoebe's Cat Co. Indoor Hunting Cat Feeder!
---
Compare Similar Items
| | | | | | |
| --- | --- | --- | --- | --- | --- |
| | | | | | |
| Customer Rating | | | | | |
| Price | | | | | |
| Bowl & Storage Feature | Portion Control, Dishwasher-Safe, BPA-Free, Lead-Free | Non-Skid, Dishwasher-Safe, BPA-Free... | BPA-Free, Lead-Free, Tip-Resistant | Portion Control, Dishwasher-Safe | Portion Control, Dishwasher-Safe, BPA-Free |
| Material | Plastic, Microfiber, Nylon, Synthetic Fabric | Polypropylene, Plastic | Plastic | Plastic | Rubber |
| Capacity (Max) | 0.094-cup per feeder | 3/4 cup | N/A | 0.66-cups | N/A |
| Lifestage | Adult, Kitten | Adult | Adult | Adult, Senior | Adult |
| Assembly Required | No | No | No | No | No |
| Toy Type | N/A | N/A | N/A | N/A | N/A |
| Pattern | — | — | N/A | — | — |
---
Questions & Answers
16 Customer Questions
---
Are the tails of the mice removable? My cat is a string eater! I have to cut tails, etc off of toys and keep all shoes with strings out of reach. Vet bills for obstructions are no joke not to mention the stress on my kitty and our family.
Answer by • Nov 04, 2018
While the fabric skin is removable altogether, the tails cannot be removed separately. However, if your cat is determined, they might be able to pull the tails off. This is not intended as a toy for other animals or children. Remove from cat if any part becomes loose or damaged.
---
We have two cats. Do we need to purchase two sets? So we have 6 instead of 3?
Answer by • Nov 28, 2018
It would be recommended to get a set for each pet. Each mouse feeder holds approximately 1.6 ounces.
---
I have two cats, what if one cat finds all the food, How do I know which cat has been eating?
Answer by • Feb 22, 2019
These feeders may be used within a multi-cat household, with each cat having their own set. We recommend supervision of pets during feeding time to ensure each are receiving their own amount. It is also a possibility to feed in separate rooms if this may be an issue between cats.
---
wonder if you could use this for soft food?
Answer by • May 12, 2022
This kit is to be used with dry food.
---
---
---
By Andy on Jun 21, 2022
Keeps my cat busy and entertained
My one year old cat seems to really enjoy these mice, we use them every day to add some interest to his routine and let him engage differently with food. He's developed a technique where he nudges the mouse with his nose to roll it over and systematically dispense pieces of food. Every once in a while he'll get a little wild and fling the mouse around, and I'd like to think that he's enjoying combining food and foraging/hunting/play behavior. He's a very active and demanding little dude, so it's nice to be able to feed him in a way that engages his brain, gives him some physical activity and some autonomy. He figured them out right away, and we didn't need to use the plastic trainer.
---
By sadiencharlie on Jun 14, 2022
Not the best
Hard to believe a vet designed this. The food falls out, and the cats have trouble opening them. Occasionally they will throw one in the air. They're having fun, which is good, but dry food flies out. They don't hunt for these at all, food or no food.
---
By Perfect on Apr 20, 2022
Great for lazy and fast eaters!!
My cats were eating too fast and throwing up all the time. Not anymore! I was nervous that they wouldn't be able to get all of the food out, but they do, every last kibble! Toy mice are their favorite and they love these even more cause they get food out of playing with them! Keeps them active, 110% recommend. Hunting for these during feeding time is MUCH better than cleaning up vomit every day.
---
By Michelle on Jan 18, 2022
Great for fast eaters
Originally got this to stop my cat from eating too quickly and throwing up his food. He didn't really get the point of the training capsule, so we moved straight to using the mice on the easiest setting. We would fill the mice, show him how to tip them over for food, and then leave him to it. We also provided some kibble in his bowl just to make sure we didn't accidentally starve him. A few weeks into having the mice, and he absolutely loves them and prefers getting kibble from the toys over his bowl. He will pout next to the empty toys until we fill them up, while his full food dish is just in the next room. We haven't hidden the mice on him yet, but will probably start doing that once he gets really comfortable. Also, we haven't had an issue with speed eating since introducing the toys.
---
By JayS on Mar 29, 2022
Fun for my cats!
I used freeze dried treats to motivate my cats to figure the puzzle out. It lets me give them treats without losing my fingers! It also takes the guilt of spoiling them away by making them work for their food.
---
By AlyM on Feb 12, 2022
Keeps her in check
My cat has been guilty of the scarf and barf for months. She's also been called overweight by her vet. I got these mice to help slow her down and spread out her portions. She got the hang of them quickly and it's helped . We don't use the trainer anymore but she doesn't seem to mind. It's fun to watch her hunting for them and roll them around to get to the food. Highly recommend for any cat.
---
By Boomeister on Feb 8, 2022
Cats enjoy it
We have two cats, our adult daughter has a cat, all three enjoy this product. We use hard snacks in the "mice" (like Temptations, etc.), easier than cleaning soft / wet food from the "mice" and any wet food the cats might spill on the floor. Their noses usually find them, but they also look in places where the "mice" have been in the past, but they enjoy the mental exercise and the treats.
---
By Marikomeow on Feb 4, 2022
Destroyed by hungry hunter
These mice are great for getting my very food-motivated cat to get some hunting done. He even shook the mice like he was killing them (so cute). But he destroyed them fairly quickly. The insides are still intact but the outside fabric is coming apart after just a few hunts and the faces are completely gone. If your cat hunts less aggressively than mine, it'd still be a great activity. I just think it should come with extra covers instead of an extra insert.
---
By Love on Jan 21, 2022
My cat loves it!
I thought my cat wouldn't like it or use it, but he's overweight so I wanted to give it a try. He loves to play with it and you can tell by his expression he loves the reward after playing with it! I love that it comes with a trainer. My cat is 6 years old and he's not familiar with this, but I placed it by his food bowl and he loves it!
---
By KittysCastle on Jan 19, 2022
My cat loves it
I just recently adopted a 6 year old overweight cat. This product has made life easier. It allows a cat to feed themselves. A wise person said something like If you have an endless buffet you will eat forever until you are sick. If you have to physically work for each meal, you will stop eating once you are full. Before I got this product she was eating .25 cup of food 3 times a day. I would just drop it in her bowl like the chubby princess she is. Total that is .75 cup or 75 percent of a cup of food daily. Now we are down to only 2 feedings a day, me filling the mice up, and she only eats 60 percent of a cup now. That is if she even empties all the mice. She loves them. I love them. I still get that fun bond when I fill up the mice and she gets excited and meows. But now I can sit back and relax while she plays and feeds herself when shes hungry instead of her scarfing down 3 bowls a day. Being she is older I do not hide them. I just have a designated rug for her to feed off of. This way her food keeps clean and my floors keep clean. I save treats for training purposes. Shes learned how to sit and come up up onto things I ask her to. Hope this essay helps!
---