TRIXIE Activity Fun Board 5-in-1 Activity Strategy Game Cat Toy
Frequently Bought Together
---
About This Item
A challenging and stimulating outlet for energetic, curious cats.
Interactive game featuring five different challenges to stimulate your cat's senses.
Fish bowl style globes, pegs, alley, tongue and tunnel all provoke your cat's sense of curiosity.
Non-slip rubber feet keep game in place during playtime.
Rewards your cat for correctly solving various treat-hiding challenges.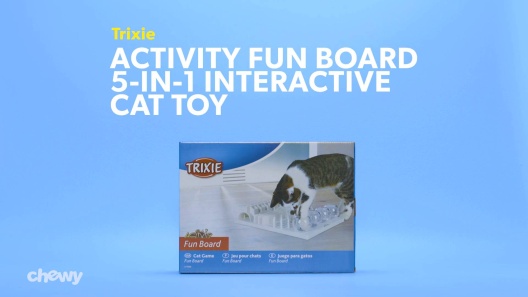 Learn More About Trixie From Our Team of Experts
---
Compare Similar Items
| | | | | | |
| --- | --- | --- | --- | --- | --- |
| | | | | | |
| Customer Rating | | | | | |
| Price | | | | | |
| Material | Plastic | Plastic | Plastic | Wood | Polyester, Synthetic Fabric |
| Toy Feature | Training | Training | Training | Outdoor, Training, Exercise | Crinkle |
| Toy Type | Games & Puzzles | Games & Puzzles | Games & Puzzles | Games & Puzzles | Games & Puzzles |
| Lifestage | Adult | Adult | Adult | Adult | Adult |
---
Questions & Answers
15 Customer Questions
---
One of my cats has 2 extra toes on each of his front paws, and his paws are huge. Will he have trouble fishing treats out of the board?
Answer by • Jan 13, 2018
Your polydactyl cat will absolutely love playing with this board.
---
What are the best types of treats to use with this board? I have 4 cats, all of whom are at least 6 years old.
Answer by • Jan 15, 2019
It's recommended to use dry treats or another option is to feed your cat while playing, by replacing the treats with your regular dry food. This prevents overfeeding and makes mealtimes more fun and exciting.
---
Can a declawed cat use this?
Answer by • Dec 21, 2018
It may be possible for a declawed cat to use this however, it would be more difficult.
---
Is this toy BPA free?
Answer by • Apr 16, 2018
This product, and all Trixie Pet activity games are BPA Free.
---
---
---
By Sharon on Jun 2, 2022
Good interactive toy
My two boys really use this puzzle toy/feeder the 1 yr old prefers the tiny square honeycomb boxes and the 3? Yr old uses the wavelike channels. They will negotiate the "spike forest" for treats or if truly hungry but usually leave plain kibble after fishing a few out. Neither cat has been successful at retrieving treats from the "fish bowls" I have yet to try a soft or larger size treat which perhaps their claw could snag more easily. They usually drop the treat just before it comes over the rim and eventually they get discouraged. Still I'm glad I purchased it. Very durable doesn't slip and slide all over my hardwood floors and it keeps my boys amused
---
By Ohokay on Jun 10, 2022
1 Cat figured out 90% of the puzzle Day 1
I got this as a way to enrich my two 1 year old cats. My polydactyl cat has figured out 90% of the game except for the cube puzzle. They keep biting instead of using their paws for that one. My other cat seems to also be doing well but doesn't seem to enjoy it as much. The puzzle does keep them occupied for a good 5-10 minutes so it's quite nice. I just didn't expect them to figure out the majority of this puzzle within the first thirty minutes.
---
By Louise on May 25, 2022
My cat's paws are too big for this activity board
The board seems to be well made and the idea is great. My large cat (14 lbs., tall and long) has paws that are too large to get into most of the areas. He doesn't have extra toes (isn't polydactyl), he's just a big boy. He can only get to the treats if I put them on the edges of the board, which isn't much fun at all for him. My smaller cat is able to get his feet into some of the areas and is more successful.
---
By Sarah on Apr 13, 2022
It's challenging
My kitten, neutered male 10 months old, gets to "hunt' for treats on the Trixie once a day and loves it. We started out with the easier challenges, what I call the prongs. It took him a few days to figure it out and now he's mastered this challenge. Bit by bit (or should I say bite by bite) he has also mastered the waves and the little boxes on the tunnel. He still has not figured out the globes. I also turn the Trixie around so that he has to re-calibrate his approach. I can see his little brain churning as he tries to get his treats. It's a wonderful toy.
---
By Mbee on May 16, 2022
Best Slow Feeder Around
We've tried several slow feeders in the past few years and this feeder is the first one that our cat hasn't figured out how to hack. The plastic is heavy enough that he can't flip it over. The feeder is wide and flat so he can't shake a bunch of food out instead of pawing one out at a time.
---
By Katie on Apr 5, 2022
Great enrichment for cat
I was a little wary of the price at first, but this has proven really useful for my very playful, high-energy cat. It keeps her occupied in a constructive way while I'm working at my desk, instead of meowing at me to play. I've had it three days now and she's figured out all the modules, but the globes are definitely the most challenging for her. Highly recommend if you're looking to give your cat something to keep occupied while you're working
---
By Rawan on May 16, 2022
mixed feelings
In the beginning it was very challenging for my cat to get his treat which is what I wanted, now he got the hang of it, he knows the trick so it's matter of seconds. However I still use it everytime because it's best to use it instead of giving the treat away directly
---
By LovesLife on Mar 16, 2022
Excellent, just not for my kitty
While I think this feeding board is excellent, my kitty disagrees with me. We have tried to get her interested in it, and while she is certainly happy to try to please us and responds well to treats, she quickly struggles with this board. She has extra toes (polydactile) and I have noticed that with this board, it is significantly harder for her to move treats and access them in the small spaces on the tray, as her extra toes get in the way and make things more difficult. I think if she had less toes, and weren't so sensitive in the extra toes, this would be more fun for her. As it is, that's not the case, and today I received the "really? This again?" look from her as I tried once more to make the tray a fun and exciting food experience for her. We do have another feeding puzzle for her, which she LOVES. We got the leaf & ladybug feeder for her and she adores it. She goes back time and time again to nose at it and gets excited whenever she sees me move it, let alone get food to fill it. She doesn't struggle with that toy, as it offers her the option of nudging the moveable units with either her nose or her paws (she does both). She is a smart cat, but I do think the extra toes is the issue with the feeder board, as she has no issues with other food puzzles either homemade or bought. I personally think the Fun Board for cats is brilliant and very thoughtfully designed, and that for the right cat, it's perfect. My cat just isn't among those it's designed for.
---
By Amazing on Mar 26, 2022
My cat loves this
This puzzle is perfect and my cat loves it. She is too smart for her own good and obsessed with food. It took her some time to figure out the different parts, and now that she's got it down she loves fishing out treats! The design is smart and simple, and unlike previous puzzles with moving parts, this is easy to clean and doesn't fill with crumbs or catch dirt from the floor. She never gets tired of it, and we really enjoy having it in the house.
---
By Beauxpeep on Feb 28, 2022
Excellent for food motivated kitties!
I just got a new kitten who is extremely food motivated. He's also incredibly smart and very mischievous. After getting on my 2 older cats' last nerves one too many times, I got him this fun board as a way to occupy him. It is a huge hit! I sprinkle treats into all of the areas and while he's busy getting the food out, I can feed the other cats in peace without him charging in and trying to play with them or take their food. No one else plays with the board but him, but that's OK because the amount of joy it's given him has meant the board has paid for itself 10 times over. For the right kitty, I highly recommend!
---