Drinkwell 360 Stainless Steel Pet Fountain
By Drinkwell
---
About This Item
Dishwasher-safe (excluding pump).
Ideal for multiple cats and dogs under 60 pounds. Holds up to 1 gallon of water.
The free-falling, 360-degree access stream keeps water fresh, encouraging pets to drink more.
Receiving ramp and adjustable flow control reduce splashing. Rubber feet prevent sliding.
Submersible pump for nearly silent operation. Dishwasher-safe(excluding pump).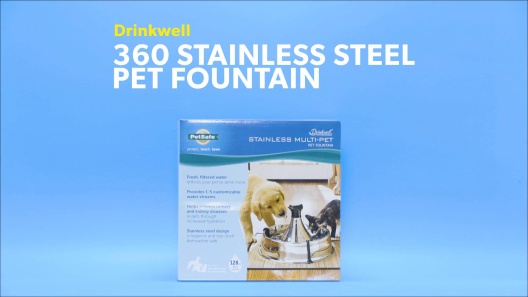 Learn More About Drinkwell From Our Team of Experts
---
---
About PetSafe Drinkwell Pet Fountains (for Small Pets)
Fresher, Cleaner Water
PetSafe Drinkwell pet fountains are designed to encourage your furry friend to drink more water. A continuous circulation system helps prevent bacteria growth so they're a safe oasis of clean water for your pet. They come with replaceable carbon filters that help remove bad tastes and odors. Plus, with a variety of styles and sizes available, you are sure to find the one that's right for your pet and home.
Sized for Petite Pets
PetSafe Drinkwell pet fountains are available in smaller sizes, which means they're perfect for smaller pets, including small breed dogs and most cats. Because tiny pets love a clean stream of fresh drinking water that's on demand, too. The smaller sizes range from 100 ounces to 168 ounces to meet your pal's hydration needs without taking up extra space in your home.
The Classic Style in Plastic
Plastic fountains are a great addition to any home because they can be easily cleaned with the fountain cleaning kit or a non-abrasive cloth or sponge. Most fountains are top-shelf dishwasher safe, too, which means a cleaner fountain with less hassle. Plus, they're all made with BPA-free plastic, so they're completely safe for everyday drinking for your best friend.
The Modern Look in Stainless Steel
Stainless-steel fountains look sleek and stylish in your kitchen, bathroom or anywhere in your home, which is why people love them—and thirsty pets, too. These modern-looking fountains are sturdy and rust-free, while also being easier to clean and keep sanitary. And the best part is, stainless steel is recommended by vets as one of the safest materials for your pet.
Oh, So Chic Ceramic
With elegant designs to match any home decor and colors to brighten your home or blend in, the stylish and chic ceramic fountains keep your pet hydrated and look great anywhere. Plus, they're made with hygienic ceramic that's easy-to-clean and top-shelf dishwasher safe. What more can you ask for in a pet fountain?
About PetSafe
Since 1991, PetSafe has been keeping pets safe and making pet owners happy with quality, reliable products. PetSafe is devoted to innovation with a range of products to help you and your pet share the best moments. They make it a point to consult with top trainers, veterinarians and behaviorists and listen to feedback from pet parents so they can continually improve their designs and processes.
Shop PetSafe
Compare Similar Items
| | | | | | |
| --- | --- | --- | --- | --- | --- |
| | | | | | |
| Customer Rating | | | | | |
| Price | | | | | |
| Breed Size | Large Breeds, Giant Breeds | Small Breeds | Large Breeds, Giant Breeds | Small Breeds, Medium Breeds | Large Breeds, Giant Breeds |
| Bowl & Storage Feature | N/A | Dishwasher-Safe, BPA-Free | Dishwasher-Safe, Automatic | Automatic, Removable Bowls | Non-Skid, Dishwasher-Safe, BPA-Free, Lead-Free, Tip-Resistant |
| Capacity (Max) | 128-oz | 60-oz | 120-oz | 9-cup | 192-oz |
| Material | Stainless Steel | Stainless Steel | Plastic | Plastic | Plastic |
| Assembly Required | Yes | Yes | Yes | No | Yes |
| Compatibility | Plug-In Power | N/A | N/A | Plug-In Power | Plug-In Power |
| Technology Feature | N/A | N/A | N/A | N/A | N/A |
---
Questions & Answers
65 Customer Questions
---
Does this have an automatic shut off in case the water becomes low so the motor doesn't burn up in the pump? If it doesn't, can the pump burn up?
Answer by • Jul 24, 2018
A minimum level of water must be maintained in the fountain in order to keep the pump running properly. The pump will not shut itself off if the water level gets too low. If the pump were to begin to overheat due to a situation like this, though, it will shut itself off. This safety shut-off will typically render the pump inoperable and in need of replacement.
---
How long can you leave it running?
Answer by • May 14, 2018
This fountain is electric powered so the length of use depends on how long it is plugged in for.
---
What is the advantage of the stainless steel over the plastic one??
Answer by • Jan 25, 2018
The advantage is the stainless steel fountain stays cleaner longer and doesn't attract bacteria as quick.
---
Does the fountain splash water on the surrounding floor?
Answer by • Aug 06, 2018
This product holds one gallon of water, making it perfect for multi-pet households, and the stainless steel construction resists bacteria and makes cleanup simple. However, it's possible your pet could knock some water out of the fountain to the surrounding area.
---
---
---
By kail on May 14, 2022
Don't expect replacement parts to be available
I've been trying to replace parts for almost a month through petsafe. I was told that on May 10th their clips would be in and back in stock a couple days after, but I could order by phone and it would go out when the order came in. But i need multiple parts so chose to wait. I contacted yesterday after checking the site religiously with no update and now they're saying its not due until "some time next week" and is on backorder so if i dont order by phone, I very likely may be SOL. It feels sketchy like, how far on backorder are they that they aren't getting enough, why did the timeline change, and why can i only order via phone? If I had ordered by phone last week would I be getting them any time soon since i wasn't told about a backorder and the 10th delivery seems to be a lie? Be mindful if you need parts it may be a bunch of hoops to get them. On such an expensive fountain its quite ridiculous imo.
---
By SuperFountain on May 13, 2022
This is AMAZING, large quantity pet fountain my cats love.
I have had the plastic Drinkwell fountains for many years but was excited to try this Stainless Steel one with reviews of staying clean longer and being easier to clean. I ordered it for my 16-yr. old cat who loved to drink from around all angels of a fountain, to have an extra one in the back end of the house. Unfortunately, it arrived 2 days after my precious cat died. My other 2 male cats love the new fountain and I like that it is large and stays clean so long.
---
By Craig on Apr 23, 2022
Happy with the fountain
We had one of the plastic bowl water filters that come with a removable water tank. We like this fountain much better because it is made of stainless steel and it is easy to clean. The plastic options are very difficult to clean which defeats the purpose of a filtered water source for pets. This bowl is enough water for 3 dogs, a 75lb dog, 20lb dog and a 10lb dog, as long as I refill it once per day.
---
By SPENCER on Apr 30, 2022
WATERLICIOUS
Absolutely a great purchase! I've had the fountain about 5 years & my fur babies adore it. Even their cousins love it when they come to visit. My only complaint is the plastic clips, plastic isn't meant to bend for years. Otherwise, the cleaning & maintenance is quite easy & doesn't require much time. A great product!
---
By Annabelle on Mar 27, 2022
Great for regular animals; just not mine.
This is a great fountain, despite its slightly complicated construction. My dogs were wary of it, but slowly understood that it was harmless and provided fresh, clean water. My problem is my cat. I bought this fountain specifically because I thought the pouring water would help reduce his need to splash water out of the bowl. It did not. The capacity of this water bowl is immense, which means there is more water for my cat to splash out on to the kitchen floor and it ponds on one end of our kitchen. We are at the point where if I don't replace it, we will have to replace the entire floor. I really like this bowl, but I will now have to give it away. I hate that I spent so much on this bowl only to have to give it to someone for free because it is clearly used. I really like its capacity and filtration. I also liked that it came with different kinds of spouts so you could have more or fewer streams of water. Unfortunately, my cat has made it increasingly impossible to keep around. It holds too much water.
---
By Katy on Mar 15, 2022
Hard to assemble and clean
The other reviews made me chuckle because I have gone through the same things. I have had this fountain at least 8 years and I think I have now earned a place with the saints! I did not intend to keep this thing for soooo long so need to toss it! I do not have a hard time with the plastic clips that hold the cone in place BUT I do do have a hard time every time getting the cylinder with filter to line up with the pipe inside once the chrome outside cone is put down, can not most of the time to get this to line up. Also does take a lot of time to clean at least 20 minutes and I clean it every 7 days. All new filters. I use the small bristle brush and put it inside the motor where the impeller goes and then I really have to rinse to get the soap out or will have to take all apart again and rinse more. I also take the back plate off where the cord goes in . I have found that area with lot's of mold and slim in it too. I use the edge of a sharp knife to pry that off. I wish they would put a little flange on that area as well for easy removal on back of the motor. ALL fountains need lots of cleaning...cats mouths drop food into water bowel along with bacteria so lot's of cleaning involved. My guys are worth it though but some of this needs improvement. Also we have hard water and the stainless steel has not held up well to this through the years. My favorite one so far is the ceramic Pagoda.
---
By Frenchie on May 2, 2022
Excellent product just not right for my cat
Noiseless operation, simple easy to follow instructions. But I only have one cat. Fountain much too big for it. Also unnecessary to use one that large. My cat didn't take to it. Much better for dogs. Great product for the right pet(s). Returning it.
---
By Cole on Apr 2, 2022
We love it.
It's not very pretty but it's functional. The pets are drinking more. The pump is quiet but you can hear the water so its very pleasant. It sounds to me like a fish tank. It was confusing to assemble at first but actually turned out to be easy once I understood what all the pieces were. I have 2 cats and two dogs drinking from it and the water stays pretty clear. It was easy to clean an reassembled.
---
By Shilo on May 14, 2022
This keeps her healthy and she loves playing & bathing in it
She drinks more and I know the water is clean . This is a great product for all cats & dogs . She is fascinated with the toilet but this fountain problem solved . It is a little big for one cat but I still like it .
---
By NCLinda on Apr 15, 2022
Cats Love It!
We have a wobbly cat who spilled water from a heavy ceramic bowl. The fountain solved that problem. We change/add water 2-3 times/week and thoroughly wash it once per week. It runs quietly and the cats readily drink from it. It's expensive, but it's delivered for us.
---