Frisco Wall Sisal Cat Scratcher
Temporarily Out of Stock
Get notified when this item is back in stock.
---
About This Item
Sisal board provides sufficient resistance for your cat to get the most satisfying scratches in.
Tall vertical surface encourages cats to get in those adorable cat stretches.
Ideal for healthy cat nails, stimulation, and stress relief.
Easy to hang on corners of walls and furniture or you can lay it flat on the floor.
Includes adhesive hook-and-loop or screw in mounting.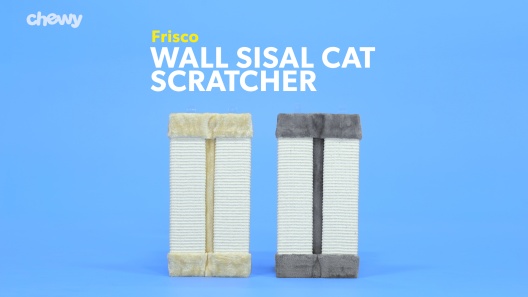 Learn More About Frisco From Our Team of Experts
---
---
Questions & Answers
13 Customer Questions
---
How do you mount this?
Answer by • May 28, 2020
Please refer to the photo below for complete assembly instructions:
---
Can this be safely mounted to furniture, such as couch corners, without damaging said furniture?
Answer by • Oct 26, 2020
This Cat Scratcher is easy to hang on corners of walls and furniture or you can lay it flat on the floor.
---
What is the size I should use for my wall corners?
Answer by • Nov 15, 2020
For the best fit, we recommend comparing the measurements of the scratcher with the measurements of your wall corners. For a complete sizing chart, click on the 'Size' tab, next to the 'Instructions' tab, just under the product photos.
---
I need these for several doorways, but they're wider than than I need, can they be cut lengthwise or are they flexible and can be folded or bent?
Answer by • Nov 23, 2020
It's recommended to follow the assembly instructions and not omit or add any parts. Parts should not be removed or replaced.
---
---
---
By Maude on Aug 5, 2022
I'm giving this a chance
This cat scratcher is well made and the size I needed. I cannot put screws into the surface where it hangs, so I used the velcro strips after cleaning the surface and using alcohol to make sure the contacts were clean. It fell within the first half hour. So I purchased 3M heavy-duty lock strips and rehung the scratcher. If it works, I'll keep it gladly (even though I paid $6.00 for the stronger strips.) If it falls, I'll have to return it. The hang strips on the item are just not sufficient to hold this heavy an item. I hope it works.
---
By NancyD on Jul 27, 2022
Wrap Around Cat Scratcher
Really like this wrap-around scratcher. I have to keep one cat separated from the other as she was feral (TNR cat), and learning to be a house cat and kept scratching on the wall b/c she prefers a vertical scratcher. Bought this scratcher and it wraps around a corner of the wall between a pet gate and works great. She uses it and my wall is protected. Highly recommend.
---
By kittycat on Jul 29, 2022
Picky cat, great product
I have the pickiest cat when it comes to scratching posts. I have tried many like this before and he only goes for the cardboard that he can really sink his claws into. I decided to leave it on the floor, most of the other ones I got where stand up, and sure enough he absolutely loves it. So glad I didn't waste money on another useless cat scratcher.
---
By 3malecats on Aug 15, 2022
Shoddy glue work
When I first got it there was a tiny Gap in the seam along the fur but now that they've been scratching at it just a little bit the entire thing is near ripped off. Extremely loosely glued on knowing that this was something that needs to be strong doesn't make any sense
---
By 4catMom on Aug 16, 2022
they could care less
I do believe it is very important to have cat friendly furniture for the cats. I thought this would be helpful since it is less space but this idea is not used by any of my cats. I will stick with a post type scratcher were they can sit on top.
---
By Cathouse on Jul 6, 2022
Mission Accomplished
This is a great scratcher, whether it hangs on an outside corner or not. Easy to install and appealing to pets who like to scratch while sitting on their hind legs (or not). Mine does both and he's climbed and/scratched on it several times. In my case, I had to fasten using the enclosed screw-washer-wall anchor set. I'd recommend using the screws instead of the tape tabs. They weren't strong enough for my use case. Good value overall.
---
By Daisy on Jul 26, 2022
This scratch pad is great for the floor!
My cats love to stretch across the floor and dig their claws in. This scratch pad is heavy enough to lay on the floor and let the cats dig in. It's also long enough for my cat to stretch all the way out, and he's 36" nose to tip of his tail.
---
By Tini1 on May 29, 2022
Velcro Application
I've been purchasing items frm Chewy 4 years now, n never had a complaint..I bought 2 of these 4 my cats..It came wth 2 ways 2 apply it 2 ya wall..Velcro, or Screws..I don't want holes n my wall, so I tried 2 apply it 2 my wall wth the Velcro option..Not happening tho..The quality of the scratcher is very nice, & it's kinda heavy..My opinion is that why the Velcro won't hold it..If the Velcro was equipped 2 hold that much weight it wud prolly solve the hole issue..
---
By Chindog on Jun 7, 2022
Wish I had gotten this years ago
My cats had shredded the trim work surrounding my hall door. I paid ($$$) to get it replaced and purchased this scratcher to protect the fresh trim. The cats love it! Took about ten minutes to attach it, and they started to use it almost immediately. It appears to be very tough, much tougher than the sisal on their cat tree. A great investment!
---
By Kittykatty on May 27, 2022
Sisal scratch pad
This scratch pad works great on the floor, my cat seems to like it. It appears to be well made although I was shocked it was not wrapped with the sisal it appears to be more of a material type then the rope, and wow it was way larger then I expected appears to be a good quality product. I would buy it again!!
---