Frisco Wall Sisal Cat Scratcher
Frequently Bought Together
---
About This Item
Sisal board provides sufficient resistance for your cat to get the most satisfying scratches in.
Tall vertical surface encourages cats to get in those adorable cat stretches.
Ideal for healthy cat nails, stimulation, and stress relief.
Easy to hang on corners of walls and furniture or you can lay it flat on the floor.
Includes adhesive hook-and-loop or screw in mounting.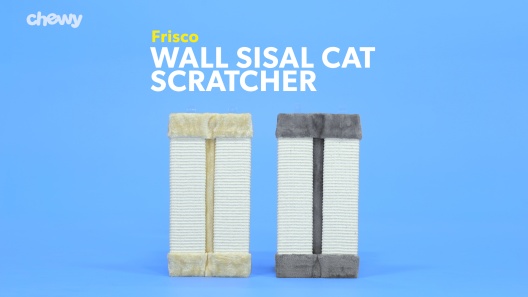 Learn More About Frisco From Our Team of Experts
---
---
Questions & Answers
13 Customer Questions
---
How do you mount this?
Answer by • May 28, 2020
Please refer to the photo below for complete assembly instructions:
---
Can this be safely mounted to furniture, such as couch corners, without damaging said furniture?
Answer by • Oct 26, 2020
This Cat Scratcher is easy to hang on corners of walls and furniture or you can lay it flat on the floor.
---
What is the size I should use for my wall corners?
Answer by • Nov 15, 2020
For the best fit, we recommend comparing the measurements of the scratcher with the measurements of your wall corners. For a complete sizing chart, click on the 'Size' tab, next to the 'Instructions' tab, just under the product photos.
---
I need these for several doorways, but they're wider than than I need, can they be cut lengthwise or are they flexible and can be folded or bent?
Answer by • Nov 23, 2020
It's recommended to follow the assembly instructions and not omit or add any parts. Parts should not be removed or replaced.
---
---
---
By Tini1 on May 29, 2022
Velcro Application
I've been purchasing items frm Chewy 4 years now, n never had a complaint..I bought 2 of these 4 my cats..It came wth 2 ways 2 apply it 2 ya wall..Velcro, or Screws..I don't want holes n my wall, so I tried 2 apply it 2 my wall wth the Velcro option..Not happening tho..The quality of the scratcher is very nice, & it's kinda heavy..My opinion is that why the Velcro won't hold it..If the Velcro was equipped 2 hold that much weight it wud prolly solve the hole issue..
---
By Chindog on Jun 7, 2022
Wish I had gotten this years ago
My cats had shredded the trim work surrounding my hall door. I paid ($$$) to get it replaced and purchased this scratcher to protect the fresh trim. The cats love it! Took about ten minutes to attach it, and they started to use it almost immediately. It appears to be very tough, much tougher than the sisal on their cat tree. A great investment!
---
By Kittykatty on May 27, 2022
Sisal scratch pad
This scratch pad works great on the floor, my cat seems to like it. It appears to be well made although I was shocked it was not wrapped with the sisal it appears to be more of a material type then the rope, and wow it was way larger then I expected appears to be a good quality product. I would buy it again!!
---
By Kale on Apr 19, 2022
Scratching material is not scratch-able
My cat has attempted to scratch on this post multiple times a day however on average it lasts about 2 or 3 seconds. Her nails become caught/difficult to remove resulting in the inability to repeatedly claw like most scratchers. She will pass by, go for a scratch, get a claw caught, and leave. I believe the woven material is not quite tight enough. Very unfortunate. Two stars for good quality structure otherwise. I will not purchase again and will now be more diligent while looking at the material of the scratcher.
---
By Katie on Jun 18, 2022
Answer to a prayer
After trying a number of other cat scratchers, this was the one she actually uses. It's out of the way on a corner and our kitty gets her claws exercised in a way that saves our furniture.
---
By Love on May 6, 2022
Game changer!
I have spent hundreds of dollars on cat scratching posts, cat trees, scratching mats, sticky tape for my furniture, sprays and this $16 investment is what I was looking for the entire time. It's the only thing that has detoured my kitty. I actually bought new furniture. Happy kitty, happy human, beautiful furniture!
---
By Stephanie on Apr 16, 2022
Better than I thought!
I was expecting a tiny scratching pad just to get my cats by so I can get something else. Not small at all. The fact that it can fit almost anywhere on the wall and a space saver really helps. My cats like to stretch when scratching and it resulted in my future getting used as a scratching post. Not anymore, I love it and plan to get more.
---
By harness on Jun 4, 2022
Already a favorite!
My cat loves this. Great quality and he's loving it. I screwed mine into the wall because the sticky strips didn't seem strong enough. It looks like part of my room design.
---
By BAk2924 on Mar 25, 2022
Should have bought these earlier
These are great! I should have bought these earlier. My two new cats started scratching at three wall corners in my house. I tried a few other things to distract them but they ripped wallpaper off of the wall, ugh. I decided just to buy these and hang them, the walls were already destroyed. The cats love them. Not too hard to install. I did use a heavy duty wall anchor for the top two attachments just to be safe but used the included wall anchors for the bottom attachments.
---
By Jenny on May 29, 2022
Furniture saver
My cat loves this wall scratcher. It's bigger than I thought it would be, and love how it can hang on the corner of a wall. I'm going to need to buy one for every room.
---