K&H Pet Products Thermo-Kitty Mat
Frequently Bought Together
---
About This Item
Affordable heated sleeping mat constructed of soft foam to make a comfortable napping place for cats.
Includes a dual thermostat 6‐watt heating unit to make this the perfect warm and cozy hide away.
Convenient size fits almost anywhere and is recommended for indoor use only.
Features a 5.5-foot cord that's MET listed for safety for indoor use. Easy-to-clean, just remove the heater and wash on gentle cycle with cold water and hang to dry or use the no-heat cycle on your dryer.
Available in 2 different colors for your cat's inner fashionista.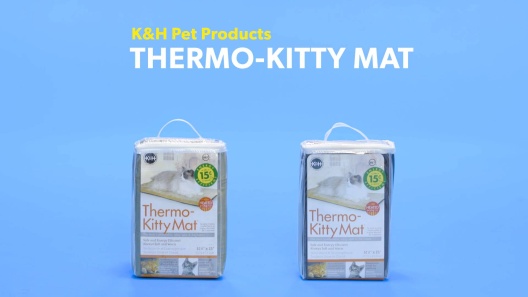 Learn More About K&H Pet Products From Our Team of Experts
---
---
About K&H Heated Cat Products
K&H Heated Solutions
K&H offers a variety of products designed to make your pet more comfortable. Their wide range heated products are all MET certified, making them a safe and comfortable solution for keeping your furry friend warm, indoors or out.
Safety
Safety for your pet is K&H's number one priority. They work closely with MET Laboratory to ensure their products are safe for your pet and home.
Soothing, Eco-Friendly Warmth
K&H products provide therapeutic warmth for your best friend, and they are energy-efficient and easy to care for, too. Your pet will love the muscle and joint relief they provide and you will love knowing they are green and easy to clean!
Green & Energy Efficient
Many K&H products cost less to run than a night light. They use foam from bio-based materials and poly fill made from recycled bottles.
Machine Washable
K&H beds are either machine washable or made with a machine washable cover, to make keeping your pet's bed fresh convenient and easy.
Vet Recommended
Veterinarians and pet experts use and recommend the traditional K&H bed line as well as their heated line of bed products.
Therapeutic Relief
K&H beds and mats provide warmth to relax the muscles of active pets, and to soothe the joints and muscles of aging and arthritic pets.
About K&H Pet Products
K&H has over 20 years of experience making products for pets with the goal of making their lives—and yours—better and easier. They know how much you care about your pets and are dedicated to designing innovative, quality solutions that enhance their comfort and well-being.
Shop K&H
Compare Similar Items
| | | | | | |
| --- | --- | --- | --- | --- | --- |
| | | | | | |
| Customer Rating | | | | | |
| Price | | | | | |
| Cover Material | Suede, Natural Fabric | Polyester, Synthetic Fabric | Wool, Natural Fabric | Fleece, Synthetic Fabric | Wool, Natural Fabric |
| Bed Feature | Machine-washable, Heated | Heated | — | Outdoor, Machine-washable, Heated | — |
| Bed Type | Pillow | Pillow | Covered | Replacement / Cover | Covered |
| Bed Shape | Rectangular | Square | Round | Rectangular | Round |
| Fill And Frame Material | Plush / Fiberfill | — | — | — | — |
| Assembly Required | No | No | No | No | No |
| Lifestage | Kitten, Adult | Adult, Senior | Adult | Kitten, Adult | Adult, Kitten |
---
Questions & Answers
24 Customer Questions
---
What is the size of the actual heating element inside of the 12.5 X 25 inch cover?
Answer by • Oct 18, 2018
The mat measures approximately 12.5 x 25 inches with a thickness of 1/2 inch.
---
Does this have an automatic shut off?
Answer by • Jun 26, 2018
This product doesn't automatically shut off. The pad is always on when plugged in.
---
how many watts does it draw when cat is on it
Answer by • Nov 17, 2017
The Small draws approximately 4 watts, the Medium approximately 6 watts, and the approximately Large 13 watts. This product is made to have very low energy consumption.
---
Can this mat be used on top of my bed/sheets?
Answer by • Jul 18, 2018
This mat is safe for use anywhere indoors for 24/7 operation. If leaving for an extended period of days however, it's suggested to plug it out.
---
---
---
By MegD on Jan 27, 2022
Cozy cats!
I bought two of these for my two indoor cats. It's been incredibly cold here and my rental is old and not well insulated so it's always chilly inside. My cats absolutely love these and lay on them for most of the day, although they leave them at night and hang out on the bed instead. One of them didn't seem to like the texture at first and wouldn't use it, but I put a blanket over it and now he'll curl up on the mat. It doesn't feel like it's heating much at first, but if I put my hand under the cats or touch the mat after they've jumped off, it's very, very toasty. I've also used the mat as a back warmer for myself and I'm debating buying another one for that purpose. Overall I'd recommend, and if your cat seems to avoid it, maybe try a blanket or shirt or something on top. Also, I pre-warmed them at first with a stack of books so when I introduced the cats they'd feel that the mats were warm.
---
By her13 on Feb 5, 2022
Not Warm Enough
During the winter time my cats love a heating pad. I always put out my human heating pad that has 4 settings (from low 1 to high 4). I wanted a heating pad designed for cats, so I bought this mat in green. Unfortunately, Katniss still prefers the human heating pad. This product doesn't get warm enough. It is destined to feel warm after sitting on it for at least 20 minutes. That's not how my cats are drawn to snuggling on surfaces. This product is not warm to the touch when you plug it in and There are no settings to increase heat. The quality itself of the product is nice, I'm not disappointed in the production. Side by side, my cats prefer the human heating pad because it is warmer immediately. They investigate the cat pad but almost never prefer it. I don't recommend because it isn't warm enough immediately and my cats don't use it.
---
By sonnenmuffel on Feb 16, 2022
17yr old cat loves these
My cat alternates between my lap and two heat pads. He sleeps all night on one of them. Very nice for a cold climate and a senior cat. My only complaint is how the internal foam gets a little bunched up and needs to be straightened when my cat has used it for a while. I also leave the zipped end open so the cord can be better placed in the middle of the pad, so the heating element can be where my cat likes it. Apart from these changes admittedly made by me and not my cat, he loves his "toasty pads"
---
By Liza on Feb 22, 2022
Soft warm bed for kitty to stretch out on
Got this bed for my big boy to lay on, but he liked the round one with high sides better, so I gave this one to my girl cat instead and she loves it. Put it in her favourite chair and she immediately started kneading it. Alternates between curling up on it and stretching out. It's a bit longer than I like it, as both ends hang over the sides of the chair. But its fine and she enjoys it.
---
By sarose on Feb 6, 2022
Welcome warmth
This isn't the first K&H Thermo mat I've purchased; I bought this one to have an additional mat. My cats are all getting up in years and the strictly outdoor ones appreciate warming beds in the cold weather as much as the indoor/outdoor gang. I have used this mat in dry sheltered areas as well as indoors (I have others for outdoor use with protected cords). In the past cats sought out warmth on my DVR--no longer. This soft mat gives them a warm, comfy bed as long as someone else doesn't beat them to it.
---
By KKosnar on Feb 1, 2022
My cat is obsessed with this mat
I bought this because I have a big fat snowshoe cat who seems to be part lizard. He loves anything warm: heater vents, heating pads, laps, other cats, anything. I didn't feel secure having my medical heating pad plugged in all the time so I bought him this. He loves it. Before I even got it heated up the first time he was already making biscuits on it and started his 2nd breakfast nap (part hobbit I guess too) but he loves it. I haven't noticed my power bill going up significantly and anyway it's a small price to pay for our not-so-wee beastie to be warm.
---
By ShirleyK on Feb 7, 2022
Max loves it
Max, my 26 pound cat seems to enjoy this heated pad under his blanky on his favorite bed which happens to be the guest room bed. The pad is large enough for him to stretch out on and heats up quickly. He seems happier and seems to sleep more soundly. Max is a re-homed 9 year old cat who has been struggling to adjust to my other 3 male cats for a year. This heated pad seems to help him feel secure, rest comfortably and be less aggressive to his housemates.
---
By Mooch on Feb 27, 2022
Barely works
This barely works. I wasn't even sure if it was actually on and working that's how little warmth is generated. It is also kind of lumpy, the heating element is smaller than the sleeve it goes in, and doesn't have a lot of padding. Not a great product and I will be on the search for one that actually gets warm.
---
By Nicole on Jan 22, 2022
Thermo-Kitty Mat
I have two old cats, one is 17 and the other is 18 and wanted the heated mat to help them with arthritis on the colder days. The cover on both the front and back was nice and both cats liked the covering but the amount of heat is almost non-existent. Also wish it was a little bigger, and the cord a little longer. We only bought one to see if they would like it and would have bought a 2nd if they did. Considered returning this item, but more trouble returning than keeping. This is the first item we have bought from Chewy that we did not like.
---
By jlth on Feb 15, 2022
bed warmer
PIglet loves her bed warmer. She was feral and now is spoiled rotten, but still prefers to be outside. She sleeps in the garage and I worry about the cold as she gets older. I looked all over for a bed warmer, but should have started at Chewy. The warmer arrived in just a couple of days, and she loves it. We can always depend on Chewy.
---