LitterMaid Automatic Multi-Cat Self-Cleaning Cat Litter Box
By LitterMaid
---
About This Item
Paw-cleaning ramp prevents tracking throughout the house.
Includes 4 waste receptacles & 4 carbon filters as well as a scoop & rake.
Compatible with an AC adapter with battery backup.
Carbon filters quickly absorb odors and moisture.
Features an extra-large basin which is ideal for a multi-cat household.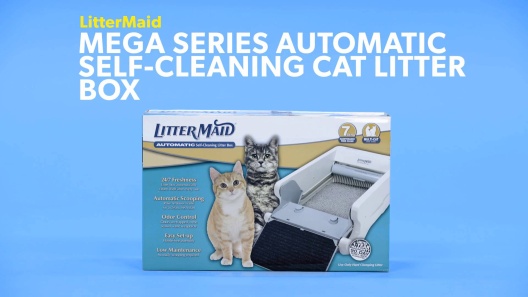 Learn More About LitterMaid From Our Team of Experts
---
Compare Similar Items
| | | | | | |
| --- | --- | --- | --- | --- | --- |
| | | | | | |
| Customer Rating | | | | | |
| Price | | | | | |
| Litter Box Type | Automatic | Automatic | Automatic | Automatic | Automatic |
| Material | Plastic | Plastic | Plastic | Plastic | Plastic, Silicone |
| Litter Feature | N/A | N/A | N/A | N/A | Odor Control |
| Compatibility | Plug-In Power, Battery Powered | N/A | Plug-In Power | N/A | Plug-In Power |
| Assembly Required | N/A | N/A | N/A | N/A | Yes |
| Tools Included | N/A | N/A | N/A | N/A | No Tools Required |
| Packaging Type | N/A | N/A | N/A | N/A | Box |
---
Questions & Answers
30 Customer Questions
---
Are the containers for the clumps reusable or disposable?
Answer by • Feb 03, 2018
This litter box pushes all the waste into the container with a bag in it. Simply dispose of the bag containing waste, and replace the bag.
---
My cat is very skittish and I'm worried this will scare her and she will never use it. Does it make weird noises while the cat is using the pan? Or even right after they are done that might scare her?
Answer by • Nov 25, 2017
Once initiated the Cleaning cycle will officially begin after 10 minutes to ensure your cat is no longer in the box. If you cat re-enters the box during the wait time, the sensor will trigger again and the 10 minutes will start over.
---
Can I get a reusable pan to catch the cleanings? I hate to waste the resources and throw away a litter pan every time.
Answer by • Oct 04, 2018
At the moment, there are no reusable waste receptacles for this litter box. The last approximately 5–7 days each for single-cat homes, and 3+ days for multi-cat homes.
---
My cat tends to dig to the bottom of his litter box a go right on the plastic. Will this cause the LitterMaid to not pick it up?
Answer by • May 30, 2018
The rake does dig all the way to the bottom of the box, removing everything your cat has left behind.
---
---
---
By Missy on May 11, 2022
Littermaid
This box is awful! I purchased it to save myself time and to make cleaning easier. I now spend more time cleaning this box than I ever did with a regular litter box. It gets stuck at the end by the receptacle every single time it runs. The rake doesn't go down far enough and the motor isn't strong enough to pull it up to dump into the receptacle. As a result of its poor cleaning, the cat pee accumulates in the litter and it's like trying to scoop cement. I'm using the recommended "premium" litter. Solid waste gets stuck in the rake constantly. It makes a bigger mess than my regular box and is much more time consuming to deal with. I am extremely disappointed in my purchase and absolutely do not recommend this product. For reference, I have 2 medium sized older male cats. I would give no stars if I could.
---
By Winter on May 13, 2022
Waste of money
I bought this product Feb 2022 doesn't work. The machine has struggled since I bought it. Thought it was going to make my life & my two cats life easier wrong. I was better off scooping the little out of the cat litter box myself. I wasted over $110, because now it doesn't work at all. The rake getting stuck is the first signs that this machine is going bad. The second is the noise it makes gets louder & louder every time it self cleans. Third is doesn't work. Save your money do it the old fashion way or spend the $400-$700 if you want a good self cleaning cat litter box.
---
By Josie on May 7, 2022
Not worth the trouble
This litterbox is not worth the trouble and has to many design flaws to be worth the price. Litter gets stuck in the grate and on the track that requires extra cleaning along with having to empty the compartment it dumps into has gaps and always spills litter down the sides, it just adds extra work on top of scooping. Its does not make cleaning easier as intended because it adds so many extra divets and spots for litter to spill and get caked in, it just creates a mess. They also break really easily and I've only had it 5 months, the piece on the track no longer works and won't position right, so its now useless. Do not buy this box, it only adds to the frustration of having to cleaning out a litterbox.
---
By Amberdawn on May 13, 2022
Not worth money
I bought mine 2 months ago & it doesn't work already. I have 2 cats. The sensors didn't always work right from start & now it keeps blinking to clean for no reason. I've reset it & cleaned it. It just keeps cleaning, over & over them it gets stuck. You unstick it & it keeps going & going a few more times til it's stuck again. Plus I can't find the replacement for the receptacles for the 3 rd generation.
---
By Espresso on Mar 23, 2022
Great product!
Does what it says and does it well. I empty it every three days for two cats and scrape in case a little was stuck and wipe off dust. Tried a couple of litters. The one that almost gone caused clumps to be on the sticky side and heavier. The one I'm using now seems to work great and there never is a bad smell as the liter takes care of that. The liter you use seems to be key. I have two cats, both are picky about using a not yet cleaned litter box, so now rather than needing to clean two boxes twice a day I clean one every three days. Totally worth the price for me. I really wanted one that did not need to buy expensive litter replacement for. The waste holder you can just empty out and reuse or the better option I read in a review is just use a bag in it and throw that away, thus eliminating extra cost of buying those. A number of negative reviews I'm guessing was due to the liter or just a bad one. I'll update my review if it does not last even up to its one-year warrantee. I think it is going 6 to 10 times a day due to my cats wanting to use it after it cleans so we will see on that. One negative so far is I have more liter on the floor around the machine as I did with my large sized high walled box. That is more a function of my hyper cats and them really wanting to make a mountain to cover their 'stuff'.
---
By Brianna on Apr 2, 2022
Great for the price
Overall I am very happy with this automated box. A couple of notes + It is a touch loud but nothing a closed door can't help + Sometimes matter sticks to the rake and needs to be knocked free. +When scooping it does get some litter on the floor between the mat connector and the box itself. + If your cat pees against the rake you may need to knock that litter free since the rake won't get what's behind it. My cats got used to it quick and honestly only use the automated box even tho they have a regular one as well. Ever since getting this box my cat who has had previous peeing out of the box issues has stopped the behaviour.
---
By Tarah on Apr 6, 2022
works well
I have an indoor/outdoor cat but needed a solution to replace the Breeze litterbox I had previously. Whenever my cat was inside, if he went #2 once and it was not immediately cleaned then the next time he had to do business it would be on the floor. We are 2 weeks in and the LitterMaid is working perfectly. The motor does sound a little weak so if I had a cat that was only indoors I may invest in something that seems a little more solid, but so far so good!
---
By wac1 on Apr 25, 2022
Rake motor purrs
We just got a second cat, so we needed a second box. I've been using LitterMaid litter boxes for decades, and I am a huge fan. With each new model, the motor gets much quieter and smoother. I especially like this model has a rubber cover over the power switch, in case the cat misses. These boxes really make cleanup so much easier than traditional boxes.
---
By AmyL on Feb 28, 2022
Great box for our huge cat
We owned an original Littermaid automatic box 20 years ago and it was awesome. We decided to try it again even though we are not fans of the blue color and some of the reviews are a bit harsh. When we received the machine, it went into faulty mode right out of the box. It took several resets for it to finally go into normal mode. Since then, it has worked great! No more smell coming from the box, has worked like a charm, we LOVE it! It's reasonably priced and worth every penny. Our 3 year old cat went right to it despite having a normal litter box prior to this, so no issues with adjusting to a new box. Areas that could be improved include: would be nice to have a lid, gray color rather than blue, the ramp has a removable rubber mat that gets caught in our cats claws every now and then because he is not declawed the original Littermaid had a hard caret ramp that was never an issue and worked better for cats with claws. If you are looking for a reasonably priced, automatic box, buy it! It's saved us from constant cleanings and odorous litter.
---
By Alexsameg on Mar 14, 2022
Not worth it
I've had this litter box for about a year now and its completely broken. It was great at first but after a few months it started making loud squeaking noises despite me cleaning the track regularly. Then one day i was getting and error that the track was blocked, but I cleaned it and no matter what i did it would give me an error and now its completely unusable. Littermaid customer service wont respond back to me emails, so in the end i don't think it's worth the price
---