Pioneer Pet Big Mouth Litter Scoop, Blue
---
About This Item
Designed to make litter box cleaning efficient with is unique design. Cleaning your cat's litter box has never been easier or faster!
With its wide-mouth profile you only need a few scoops to thoroughly clean the litter.
Handle is placed such so that your hand never touches the litter.
Scoops litter in such a manner as not to cause dust displacement. This will help you keep a cleaner and healthier home.
Made with the very best materials available, this product is meant to stand against the test of time.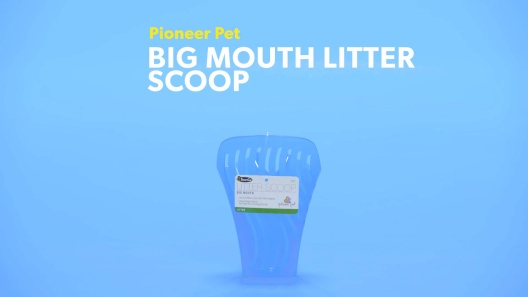 Learn More About Pioneer Pet From Our Team of Experts
---
---
Questions & Answers
2 Customer Questions
---
If using feline pine litter pellets, do they fall through this litter scoop?
Answer by • Aug 19, 2018
This scoop is used best with fine clumping litter granules.
---
How many cups does this hold?
Answer by • May 07, 2019
The scoop will approximately hold 3-4 cups of litter at one time.
---
---
By Jenn on Feb 23, 2022
Good for small jobs, otherwise way too messy
It leaks litter all over the floor when I try to transfer to trash. This is because the litter never seems to stop sifting! It's great for small jobs, like scooping a few poos, but it's terrible with large pee clumps. I use it in my king sized litter box to bring waste to the front of the box (because it gives me better reach than other scoops do), and then use a different scoop to actually remove the waste from the box.
---
By Amanda on Feb 4, 2022
Much easier than our traditional scooper
We have... two cats. One is a BIG BOY and he pees a lot (don't worry, he is healthy, just loves water). So cleaning the box with my typical scooper means tons of stuff falling everywhere. This takes a little more time to use yes, but a lot less mess in the end and so much easier on the hands (and the floor!) I wish they would make an even bigger one!
---
By maxane on Dec 10, 2021
Nine Big Cats
I have broken many long handle scoops but this on is perfect for the litter of nine big cats
---
By Kathy on Aug 16, 2021
It's Smart & Efficient
Idk why I didn't pick up this litter scoop YEARS ago! It's like a cup you drag thru the box & works a little better for me than the little shovels. Very tidy & does the job well.
---
By Marie on Jun 12, 2021
They have the right idea
The design is great. It easily scoops the urine clumps that go to the bottom on the sides of the pan and the handle is nice for hanging it on my bucket. But it needs more slots for clean litter to go through. I hate shaking used litter because of the dust so I end up throwing away a lot of good litter with this.
---
By Sandra on Apr 27, 2021
Litter scoop
I needed a new scoop and thought this might be good because of its configuration, might be easier to hold and use - and it is. There is something I see as a problem though - the open slots that let free litter fall back out into the box also let litter fall out on the floor between the litter box and the container you're dumping the dirty litter in. Even when you shake and shake to try to get all the loose bits to fall out, there are still numerous small particles falling. So while this is a comfortable scoop to hold, it fails in use. Perhaps the slits need to run only half way back to rear?
---
By Gretchen on May 11, 2021
Best. Scooper. EVER.
You need this, especially if you have a big kitty that needs a bigger litter box if you know what I'm sayin'. This is the easiest litter scooper to use in the fastest time and it really gets ALL of the messy parts in a flash instead of sifting thru the box with a shovel. Very satisfied. would recommend... an its cheap$$!
---
By lilbit on Sep 3, 2021
good for my litter
its a lot better than the other kind, i can hold it better and it sifts the litter better
---
By Grandma on Sep 20, 2021
Great product
I have arthritis in my hands abd this is the best scoop I have used.
---
By fleur on Jan 31, 2021
Better than Expected
I bought this to replace my previous litter scoop of a similar design that was warping after a year of use. I thought this wouldn't be as good, but I am happily surprised. This is not just as good, but better. The length of the scoop is perfect so it takes less effort to scoop the big " treasures" out of the box and the shiny coating reduces the amount of residue left on the scoop. I'm definitely buying another to put in our emergency bag!
---