Vet's Best Indoor Flea & Tick Home Spray for Dogs
---
About This Item
Formulated with certified natural ingredients to kill fleas, flea eggs, and ticks by contact.
Whether you are dealing with an active infestation or are applying for routine prevention, this spray is scientifically proven effective against pests but gentle enough to use around the whole family.
The steam-distilled essential oils are selected for their potent pest-fighting properties and are 100% certified natural.
Applies easily on surfaces, indoors and out, including dog bedding, crates, furniture, blankets, upholstery, carpets, outdoor surfaces, and more. It is also gentle enough to be applied directly on dogs and puppies 12 weeks or older.
Manufactured in the USA with quality domestic and internatially sourced ingredients.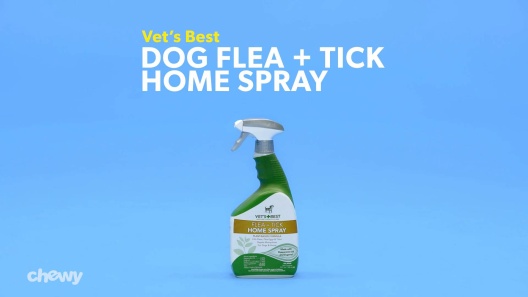 Learn More About Vet's Best From Our Team of Experts
Important Information
Fleas rise to the top of your pet's coat as they die, so consider it a triumph if you start seeing more fleas at first, after treating your pet. If you're still seeing fleas after application, it may be because your pet has picked up new fleas from the environment, which may include other pets, surfaces and outdoor areas. It may take up to 30 days to break the entire flea life cycle. Additionally, you should also treat sources of new fleas (i.e., carpet, yard, etc.) to ensure complete flea control.
---
---
About Vet's Best Flea and Tick Remedies
USA-Made, Plant-Based Protection
Vet's Best flea and tick remedies contain carefully selected, potent ingredients to kill adult fleas and flea eggs. Not only will these 100% made-in-the-USA flea and tick products effectively get rid of pests, but these plant-based formulas also provide long-lasting repellent to maintain and support external wellness.
Soothing Relief
Vet's Best flea and tick remedies offer safe solutions to common pet skin problems with key essential oils, including peppermint oil and clove extract. These solutions don't contain any harsh chemicals, as these can be drying to your pet's skin and potentially cause a multitude of other side effects. These potent solutions offer protection for your pet, your home and yard, without any worry.
Holistic Remedies for Dogs and Cats
Keep your pet, home and yard pest-protected with the help of a variety of flea and tick deterrents.
FLEA AND TICK PET SHAMPOOS:
Anti-Flea Easy Spray Shampoo is a spray-on shampoo made with plant-based oil, including peppermint oil and clove extract as key ingredients for effective pest relief. Just spray on, lather and rinse. It's formulated to kill fleas and flea eggs immediately on contact and leave your pup smelling wonderfully fresh and clean.
FLEA AND TICK PET WIPES:
These wipes will help your pet stay free from fleas for an extended period of time. They're perfectly formulated using certified natural essential oils like clove leaf oil, thyme white oil and cinnamon. Simply wipe down your pet to leave a light layer of the solution on his coat. These pet wipes can also be used on household surfaces, like flooring and countertops, too.
FLEA AND TICK SPRAYS:
Flea + Tick Home Spray is a non-staining formula that effectively kills fleas, flea eggs and ticks and also repels mosquitoes. This formula can be used on your pet and also around the house on surfaces like furniture, carpet, flooring, bedding and more. Vet's Best Flea + Tick Yard & Kennel Spray for Dogs & Cats is a plant-based spray that's perfect for use around the yard and in your home. The Flea + Tick Home and Go Spray is ideal for use while you're out and about—whether on vacation or just enjoying a morning walk.
MOSQUITO REPELLENT:
Vet's Best Mosquito Repellent Spray for Dogs and Cats contains a unique blend of plant-based ingredients like lemongrass and geraniol oils, which work to repel mosquitoes and keep your pup safe while spending time outdoors. This spray has been tested and proven effective at repelling mosquitoes without using harsh chemicals like DEET. It is even safe to use on dogs and cats that are 12 weeks or older.
About Vet's Best
Vet's Best is a part of The Bramton Company, LLC pet care products and solutions. These holistic products were developed by veterinarian Dr. Dawn Curie Thomas in the 1980s to help fill the market needs for more natural pet care solutions. Through dedicated research, Dr. Thomas created formulas that promote wellness without the use of harsh chemicals.
Shop Vet's Best
Compare Similar Items
| | | | | | |
| --- | --- | --- | --- | --- | --- |
| | | | | | |
| Customer Rating | | | | | — |
| Price | | | | | |
| Autoship | — | — | | | — |
| Top Ingredients | Peppermint Oil 0.30%, Eugenol (Clove Extract) 0.70%, Sodium Lauryl Sulfate 2.70%... | Peppermint Oil 0.60%, Eugenol (Clove Extract) 1.40%, Sodium Lauryl Sulfate 3.45%... | Clove Oil, Lemongrass Oil, Cedarwood Oil... | Active Ingredients: Sodium Lauryl Sulfate...1.20% , Cinnamon Oil...0.50% , Cedar Oil...0.20% ... | Active Ingredients: 2-Phenethyl Propionate 5.00% Clove Oil 0.50% Rosemary Oil 0.50% Thyme Oil 0.25% Inert Ingredients 93.75% Total 100%, Inactive Ingredients: Deionized Water, Wintergreen Oil... |
| Lifestage | Adult | Adult | Adult | Adult | Adult |
| Breed Size | N/A | N/A | N/A | N/A | N/A |
| Health Feature | N/A | N/A | N/A | N/A | N/A |
---
Questions & Answers
53 Customer Questions
---
96.3% inert ingredients, so its not so natural then is it??
Answer by • Aug 24, 2017
The inert ingredients in this formula are water and sodium benzoate. Inert ingredients is an alternative term for inactive ingredients.
---
The information above says that it can be used on bedding, but can it be used directly on mattresses? I was my bedding regularly, once or twice a week, but I don't think it is enough. I have 2 cats and 2 dogs that all have fleas, and are all well over 12 weeks old.
Answer by • Sep 26, 2017
This Spray can be used directly on mattresses. Vet's Best Flea and Tick Home Spray is a no chemical solution made with natural extracts and natural ingredients specially formulated to kill and repel pests.
---
can I use this spray on my cat and dog if they are around my son 4yrs old he loves to pet them? is it safe for him if he touches them right after applying this product??
Answer by • Dec 30, 2020
It is recommended to allow the coat to dry completely before touching the pet or allowing them to groom themselves or other pets to groom them.
---
I don't see that this has the "IGR" in it That they say you need to kill the eggs and larvae. Am I missing it?
Answer by • Jun 17, 2021
This product contains Peppermint Oil 0.30%, Eugenol (Clove Extract) 0.70%, Sodium Lauryl Sulfate 2.70%, Inert Ingredients (Water and Sodium Benzoate 96.30%. It includes peppermint oil and eugenol from clove plants which is proven to kill fleas, flea larvae, flea eggs, ticks and mosquitos on contact.
---
---
---
By Stella on Jun 11, 2022
Works great!
Love all their products. I have flea issues and don't like chemical stuff. I spray my teacup chihuahua with this every few days as well as house and yard once a week and I have noticed no fleas. This sounds nuts but I swear my head would itch even though I didn't see any but noticed with this product that seems to have also gone away so maybe we had baby fleas lol. I definitely recommend. This dog refused to wear the collar. She doesn't' seem to mind me spraying her. She actually rubs herself playfully on the carpet after and does this weird dance they do after they pee to cover dirt so doesn't bother her.
---
By Marjorie on May 16, 2022
Disappointed in Refill
Use a lot of this product, and usually order 2 bottles at a time. Few weeks ago, ordered large refill jug because it was cheaper. However, with the regular bottles, once you screw in the dispenser top, it snaps and locks onto the bottle. Found that it is impossible to remove, so cannot refill the spray bottle. Tried a cheap spray bottle at dollar store, but the product does not hold its scent in that bottle. Useless, because the repelling scent is the whole point of this product. Infuriating. Why sell the refill jugs if you can't remove the top of the spray bottle to refill it? This product is not cheap, and now I have to order more individual bottles right away.
---
By Alexis on Jun 7, 2022
Was Broken
The cap was broken and when it was on my carpet all of it spilled out. In no way was the cap ever working as when you spray it it leaks out and onto your hands. It's very messy and it doesn't have a chemical smell but it doesn't have a great smell either.
---
By Hank on Jun 12, 2022
It doesnt Work
Bought this product and it doesnt kill anything. It does seem to knock them out but then a few minutes later they bounce away. It gives my dogs a momentary peace so they can sleep and then I can sleep. But, Kill, nah.
---
By Doglady1114 on May 13, 2022
Smells so GOOD and it WORKS!
We love this product, it can be use anywhere. It works great and smell fantastic. I even put splash in my crosswave when I clean floors. We treat our entire back yard with it by putting in in the soap bottle for our pressure washer. This product makes everything smell so great and works even on the grass.
---
By Chris on Feb 17, 2022
It is CRAZY this product says it "kills ticks"
As I really, really wanted to find a natural tick repellant / killer - we decided to try Vet's Best Home Spray. I sprayed my dog and his bed every day with it. After a few days, again I found 3 ticks on him. One fell off as I brushed him and so I decided to do an experiment: I sprayed the tick directly until he swam in a pool of this stuff for 10 minutes. After pulling it out and seeing that it was still alive -- I then put the tick in toilet paper soaked in Vet's Best. 15 minutes after that, I unraveled the soggy paper only to find the tick walking away, happy as can be. THIS STUFF ABSOLUTELY DOES NOTHING TO TICKS (they may even like it)
---
By frugalsinglemom on Jan 22, 2022
Effective!
kills the ugly flees...is just the smell is a bit strong for me, Im sensitive.I have like a dog nose. Maybe you wont feel the odor as I do.besides that, is efective and we all want not guessing and waste money. I think they are good to trust because i have spray it on my dogs sweater in the inside and help immidiatly. I also have spray their beds and so far I haven't seen any symtopms to indicate they are stomach sick or something . But they also not a fan of the smell. The smell goes away fast to be fair. I like it and I will keep buying it. i have being using like four times in a month. sounds like savings to me.
---
By Food on Feb 27, 2022
Dog Flea spray
It is a really good product, my dog seems to like it but at first not so much. I would suggest using the mist mode so that it won't soak your dog like the regular spray mode. The smell is really good so its like a nice perfume mixed with a flea prevention spray!!
---
By Krista on Jan 30, 2022
FINALLY!!!
I've been fighting fleas for months and this products paired with advantus oral treatment is the way to go! My only problem after this was getting my dogs to stop scratching their irritated skin (from the flea bites) but coconut oil helped fix that issue(:
---
By SLICK on Dec 3, 2021
Pretty good
It seem to work great as far as killing the fleas on contact, but it has a funny smell to it and it stays on whatever you spray it on for weeks or unless you wash it. Like I said the product was great and it did kill the fleas on contact immediately but the smell was funky, and once I sprayed it in my dog's bed to kill what maybe in there she refused to get in it for all last week. Which is funny cuz she's always in her bed and never ever wants to go anywhere but her bed but she acted like she was scared of it and I know it's because of the smell.. I would definitely recommend this item for anybody to buy if they are trying to kill fleas on contact cuz it works immediately. Just put on your Corona mask before you do it. LOL!!!
---