Bravecto Topical Solution for Cats, 6.2-13.8 lbs, (Blue Box)
This item requires prescription approval.
---
Medications ship separately. Delivery times may vary.
---
---
---
About This Item
Bravecto is a topical solution for cats prescribed by veterinarians to help provide 12 weeks of protection against fleas and ticks and 8 weeks of protection against Lone Star ticks. It may also help to prevent and treat flea infestations. This topical medication is designed with an easy applicator that makes application extra easy for you and your cat. This medication also comes in a topical and a chewable tablet version for dogs.
Proudly sourced directly from the manufacturer or their approved distributor. Guaranteed genuine and backed by the manufacturer.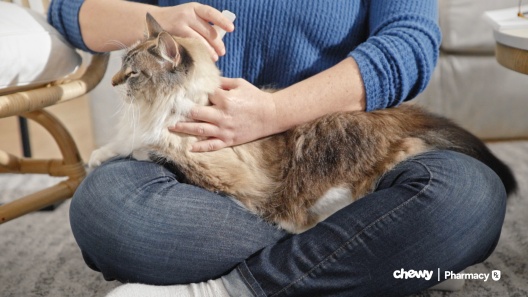 Learn More About Bravecto From Our Team of Experts
---
---
---
By Kristin on Jul 31, 2022
Better than Revolution
My cat Lola was on Revolution for years but this season she would come inside from hunting and I would find ticks crawling on her so I switched to Bravecto because of my vets recommendation. We've been using it for 3 months and I haven't found any ticks yet!
---
By Mummum9 on Aug 3, 2022
Great product - no side effects note
We had experienced side effects of listlessness and poor appetite with another flea treatment - but, this one did not haveany side effects at all- noted that treatment is now every 3months instead of every other month
---
By Nicole on Jul 21, 2022
works great!!
I have been using this on my cat since I adopted her a year and a half ago. I have had no problems with fleas. It does make her neck somewhat oily for a couple days she also doesn't like when it's applied but otherwise she's a happy, no flea kitty!
---
By Cricket on Apr 24, 2022
Perfect for outside cats
I chose this because it lasts longer than other brands (and my vet recommended it). I take care of a feral colony and the one cat who actually lets me touch her has a flea allergy (horrible for an outside baby!). She loses hair, gets dermatitis sores, and is just miserable. We put Bravecto on her, and though she is a little mad for a few days, by the end of the week she acts like she's feeling better, a couple weeks later all her sores have healed up and her hair is growing back. This works so well. I know we have tons of fleas in the yard from both the cat colony and the wild critters who visit nightly, and this stuff manages to keep her safe for so long! It's nice to see her happy and enjoying life again.
---
By Pgall on Jun 4, 2022
It works amazing!!
It works great! I love how it protects him for 90 days so i don't have to re-apply that often. Buy it you won't be disappointed
---
By HappyFur on Jun 10, 2022
Maybe too much
I was concerned that the heavy dose at first to last 3 months would be too much for our very small 2 year old cat. And she did not manage it well. Going back to Revolution Plus.
---
By CatOwner on May 11, 2022
Waste of Money
This product worked great for 4 years and then stopped. It didn't even work for one week, much less 3 months. So disappointing! Big waste of money.
---
By Ownedbyaseniorcat on May 16, 2022
Very convenient
Our prescription is always in stock, they have super fast shipping, good payment options. My favorite online vendor right now!
---
By George on Mar 19, 2022
Bravo to Bravecto
Wish this would have been around 20 years ago so I wouldn't have had to use fenthion and hope I didn't overdose my pets. Having a 3 month flea/tick preventative that actually works in the woods of Maine is a big plus.
---
By Ginger on Jan 13, 2022
Dont recommend
My cat really hated this! I thought it would be less traumatic for her since it doesnt have to be put on her every month. But after we put it on her, she hid in my house for 2 days. Plus it was really greasy and didn't absorb very well. Her fur was oily and matted for a few days. I couldn't detect any odor but my cat could. As soon as I took it out of the box, she sniffed it and took off. I switched to Revolution Plus and had no problem.
---