Capstar Flea Oral Treatment for Cats, 2-25 lbs
Autoship
(Save an extra 5%)
Choose Autoship at checkout for regular deliveries.
Why Autoship?
FREE access to chat with licensed vets 7 days a week.
Save 5% on all future Autoship orders.
No fees, no commitments - cancel Autoship anytime.
---
---
Powerful Prescription Protection
---
---
About This Item
Kills adult fleas to help prevent infestations on cats and kittens weighing between 2-25 pounds.
Capstar is formulated to start killing fleas within just 30 minutes to help give felines fast-acting relief.
This treatment can also help quickly treat flea infestations.
Capstar can be given to your cat companion as often as once a day.
Easy-to-give tablets are mess-free and odor-free, unlike some topical solutions.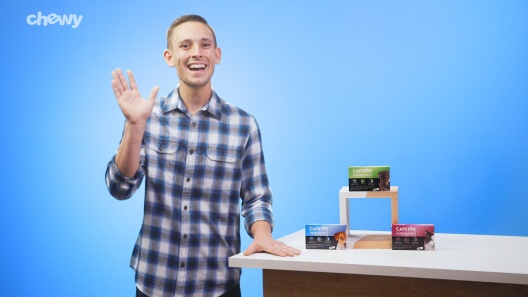 Learn More About Capstar From Our Team of Experts
---
This product was previously sold as Capstar Flea Treatment for Dogs & Cats. Dog parents, Capstar for Dogs is now available—it's the same great results in a brand new package.
---
---
About Capstar Oral Flea Treatment
Start Killing Fleas in Just 30 Minutes
When you have a flea infestation, you need to act fast! Capstar starts killing fleas within 30 minutes and is available without a prescription, so you don't have to wait. One tablet kills 90% of adult fleas in 4 hours for dogs and 6 hours for cats, offering quick relief for your pet.
Easy Oral Delivery
Capstar oral tablets go to work quickly to protect your pet from the inside out and start killing fleas in just 30 minutes! To give Capstar tablets, place the pill directly in your pet's mouth or hide it in food. If you hide the pill in food, watch closely to make sure your pet swallows the pill. If you are not sure that your pet swallowed the pill, it is safe to give a second pill.
Treat Every Cat & Dog in your Home
Capstar is available in two dose strengths for dogs and one dose strength for cats. Capstar is for dogs and cats 2 pounds or greater and 4 weeks of age and older. Each box of Capstar contains 6 fast-acting tablets, so you can treat all the pets in the household. Fleas can reproduce on untreated pets and allow infestations to persist. Stop your pet's flea infestation dead in its tracks with Capstar.
Quick Relief with One Dose
Treatment of flea infestations in dogs and cats
Recommended by veterinarians
About Capstar
Capstar is a fast-acting, oral flea treatment for dogs and cats that kills adult fleas before they can start an infestation. One tablet kills over 90% of fleas within 4 hours for dogs and 6 hours for cats. Unlike topical treatments, Capstar works from the inside out-- there's no mess, no chance of rubbing off and no need to isolate your pet. Treat the pets in your home with the flea killer that starts working in just 30 minutes. Always read, understand and follow label and use directions.
Shop Capstar
---
Questions & Answers
32 Customer Questions
---
can you administer this pill and also being using a topical flea product as well ?
Answer by • Sep 11, 2019
If you are currently administering a monthly flea infestation preventive and your pet still gets fleas, you may administer Capstar treatments daily, as needed, for quick relief against a flea infestation. Capstar may also be used with flea shampoos, as well as heartworm preventives, antibiotics, vaccines and de-worming medications.
---
How many tablets per order?
Answer by • Dec 24, 2019
The Capstar Flea Tablets for Cats 2-25 lbs, 6 count includes 6 tablets.
---
Is it normal for my cat to get dehydrated after consuming the pill?
Answer by • Aug 01, 2019
Being dehydrated typically isn't a normal side effect and we recommend you consult with a vet.
---
can you cut the pill in half for smaller cats?
Answer by • Sep 01, 2021
This treatment comes in tablet form and measures approximately 6 millimeter in diameter and 1 millimeter thick (see attached for reference). It is suitable for cats 2 pounds or greater and 4 weeks of age and older. While it is possible to crush or cut this treatment in half the full dose should be given.
---
---
---
By FeralMomma on Nov 19, 2022
Essential for rescue cats
I rescue outdoor cats and have found it essential to keep these on hand. All of my rescues are given one pill as soon as they are comfortable enough to start eating. The pills are easily crushed between 2 spoons, after which it can be sprinkled on slightly moistened food. I have never had a cat refuse to eat them when administered in this way - and I have never had a problem with fleas.
---
By Sherry on Nov 25, 2022
Excellent Product
I have used Capstar before when I needed a quick flea treatment. It works very well and is fast so there is more time for my cats' regular monthly flea treatment to start working. I crush the pills and mix them into wet food to get the cats to eat it.
---
By jmax15 on Nov 3, 2022
We'll see if it works
Sparkie has been taking this for 30 days now. She still has fleas. The pkg says it can take effect in as little as 1 day..nor so much for my cat. I would not recommend this & won't be re ordering but will finish off the box. If things change I will be glad to change my review.
---
By Vicki on Sep 21, 2022
People need to read the about info for the product!!!!
Everyone makes me mad leaving one star reviews. This product only works for 24hrs and IS NOT a monthly flea prevention!!!! It works amazing to get the fleas gone quickly and use WITH a monthly flea preventative!!! This is for cats that are allergic to fleas and get dermatitis from them. It's for fast acting relief from flea related dermatitis WITH a monthly preventative so they aren't suffering while they wait for the monthly preventative to start working effectively. Once again, Capstar is for infested cats (or dogs) with dermatitis allergic reactions from fleas, IS NOT a monthly preventative, and NEEDS to be used with a monthly preventative!
---
By Lisa on Oct 27, 2022
Amazing flea treatment for your cat.
My cats have been suffering from A flea infestation and staying on the tables and counters only for weeks while we were spraying and bombing. 1 day after getting 1 pill each. They are back to normal. Sleeping with us, sitting and lounging around. Highly recommended...
---
By Jess on Oct 17, 2022
This product works!
I was a little skeptical at first but we've been dealing with fleas for over a year. Frontline and flea collars don't seem to be working (either that or they're just really really persistent this year) for my two cats and a dog and no matter how much we vacuum, Steam clean, wash laundry or bag things up, they just keep coming back. I have a 3 story house too. Figured we had nothing left to lose, lol. I bought this one and the dog variant, since we have 2 cats and a dog, gave them each a pill and the corpses just started dropping! It says it works within 30 minutes but I work from home so I was on my 15 minute work break, gave it to them (I crushed it and mixed it in with a little bit of wet food) and had to go back to work. Came back upstairs roughly 3 hours later on my second work break and started petting one of my cats and the corpses were just falling off and onto the table. Some were lying there dead, bigger ones were dying and squirming but unable to jump. Must've had about 10-15 fleas within a couple of minutes of petting and combing her (yes I've tried the flea comb too and that helps as well). I feel like I should reiterate multiple peoples comments but this is not a once a month preventative like Frontline. This is to be administered once daily as needed to kill off all current live flea adults and should be used with a monthly preventative and yes, this product actually does work! Definitely would recommend this product! I am impressed and super happy to FINALLY be able to give the fur babies some relief. Thank you!!
---
By LeahBia on Sep 18, 2022
STEP #1 IN GETTING RID OF FLEAS!!!! Read my review for 3-STEP COMBO!
A few years ago, I had a HORRIBLE infestation. Here's what got the problem SOLVED after trying numerous products and being unsuccessful. I've always known about Capstar and have sworn by it, it's definitely a necessity. STEP #1: CAPSTAR is good for killing the LIVE fleas on your pets. They'll bite them excessively and all be dead within an hour! It's kind of amazing (and sad) to watch happen. Your pet will be going bonkers as it's happening...but then to see them rest without biting- it's worth it. I personally love this product and use it first before applying the topical flea treatment. You HAVE to follow up if you're seeing fleas. You got the live ones on their body with this...but that doesn't stop them from getting back onto your pet from the carpet, areas where they lay, or once they hatch. STEP #2: Advantage II is a good topical treatment that kills both flea & tick. This includes adult fleas, flea larvae and flea eggs as well... (most don't get larvae/eggs, just adult fleas). Capstar and Advantage II go hand in hand. Capstar kills all the LIVE fleas on their body, then you apply the Advantage II, that prevents them from getting back on their body! Capstar is safe to give daily, but I've never needed to give it more than once- twice when it was a horrible infestation I did it 2 days in a row just to make sure they were all gone. STEP #3: RAID Flea Carpet & Room Spray (Purple Can). This stuff is AMAZING as a spray for the carpet, or you can even get the foggers if you want to bomb the house. It's really not necessary, this stuff works so good. The final step after I've done the Capstar and Advantage II...I vacuum REALLY GOOD, then spray each room that has carpet/they go in, with this RAID Flea Carpet & Room Spray. Again, it's the only thing that worked for me when we had an OUT OF CONTROL, fleas biting our ankles every time our feet hit the ground, issue. ONE TIME using this and they were GONE. I really hope this review helps someone, because I spent HOURS reading and reading and reading trying to find the perfect solution. THIS IS IT!!! I'm going to put it under each product I've mentioned. Good luck!
---
By Fiesty on Oct 23, 2022
Works fast
I have strays in y hose who have never allowed me to pet them. I needed to flea treat and this was easy and quick. I just smashed the pill up in the wet food and saw results within the hour I will definitely buy again.
---
By Erinea on Sep 26, 2022
Great quick flea killer
We used Capstar recently when our systemic medication wasn't working well and we got a pretty bad infestation. Capstar is a single use medication that just kills fully formed fleas (not larvae or eggs), but it seems to work really well. It takes a few hours, but by the next day when I combed them I didn't find any live fleas. We will continue using a monthly treatment, but it's really amazing that there is an option for quick relief! For those reviewers who are disappointed that fleas came back; this is not a systemic medication; it's only meant for one use for current fleas. It will not prevent flea eggs from hatching or kill future fleas!
---
By Jenn on Oct 26, 2022
Bad reaction
Gave them to both my cats, one reacted fine, the others paws, ears and nose got really hot and started acting very strange. After two hours past he seemed to be back to normal..
---