Droll Yankees 20-Port Finch Bird Feeder, 36-inch
Frequently Bought Together
---
About This Item
Features multiple perches and 20 feeding ports to attract multiple birds to eat simultaneously.
UV-resistant polycarbonate construction means it can stand up to daily outdoor use without fading.
Yellow powder coated metal cap and base resists scratches, chips, and damage from squirrels.
User-friendly design with included threaded base to add a tray and stainless steel bail wire for easy hanging.
Proudly made in the USA and is backed by a lifetime warranty against squirrel damage.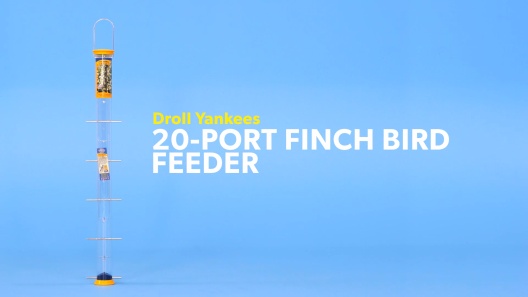 Learn More About Droll Yankees From Our Team of Experts
---
Compare Similar Items
| | | | | | |
| --- | --- | --- | --- | --- | --- |
| | | | | | |
| Customer Rating | | | — | | |
| Price | | | | | |
| Bird Type | Finch, Wild Bird | Wild Bird | Wild Bird, Hummingbird, Songbird | Wild Bird | Wild Bird |
| Material | Plastic | Steel, Plastic, Metal | Glass | Plastic | Stone |
| Capacity (Max) | 3 1/2-Ib | 1-lb | up to 3 stackable seed cylinders | 3.5-lbs of seeds | 810 cubic inches |
| Lifestage | — | Adult | — | — | — |
---
Questions & Answers
6 Customer Questions
---
Is there a seed catch tray for this feeder?
Answer by • Aug 07, 2018
The Droll Yankees 6-Seed Bird Seed Tray is compatible with this product.
---
Can this feeder be washed. I noticed others I have get cloudy and I like it when they are clear.
Answer by • Aug 01, 2020
To clean, it is recommended to soak all parts in a 50/50 solution of white vinegar and water.
---
Will this feeder allow sunflower seeds and other wild bird seed?
Answer by • Oct 23, 2019
The feeding port openings are designed to dispense nyger seed economically and will be too small to allow sunflower or other larger seeds.
---
Can the Omni bird seed tray be afixed to the 20 port thistle feeder?
Answer by • Jan 15, 2019
This product is compatible with the Droll Yankees Omni Bird Seed Tray.
---
---
---
By Linda on Apr 11, 2022
Huge feeder is perfect to feed goldfinches
I love this feeder. It holds so much thistle that I do not have to fill it very often. The feeder is very well made, not flimsy . I also purchased the seed waste tray to screw onto the bottom of the feeder to help avoid waste. The goldfinches love this feeder so much that I now have a backyard of these beautiful birds, not just a few gold finches, but a flock! It's an amazing beautiful sight to see. I now own 2 of these feeders . My backyard has the prettiest golden yellow goldfinch birds eating from these feeders. I give this buying experience a solid 10, the best
---
By Jocelynn on Jan 26, 2022
Disappointed
I read the reviews, and decided to take a risk. Maybe the timing is wrong, but there are NO takers. A few finches stopped by, but as the reviews point out, even the smallest seed seems to be impossible for them to get. They give up after a few pecks, and go over to other feeder. I did try removing the main bird feeder, as I read that might help, but even after 2 days, the Finch Bird Feeder was full of seed. No takers. I tried taking a pair of scissors to broaden and widen the holes, and still no takers. Disappointed, because the advertisement looked like such a fun view to have from my back porch.
---
By Danemom on Aug 16, 2021
Frustrating for birds
I was very excited about this feeder, because I have about a dozen Gold Finches that use the finch feeder in my yard. I thought this would be nice because it would take longer before I needed to fill it. Unfortunately the holes in this feeder are too small. The birds would work at it by using a few different holes, but became frustrated and flew away. The number of finches I was getting dropped significantly, so I put the old feeder back out and they have all returned.
---
By Orangie on Jul 18, 2021
Squirrels destroyed it
Those small little holes turned into large gaps big enough to fit your hand in once the squirrels learned the feeder was there. Feeder lasted two weeks.
---
By 2manymovies on Mar 28, 2021
Extra large, extra maintenance
This feeder seemed like a great idea. The finches, chickadees, and everything else were ignoring the socks I put out, but flocking to the cheap little tube feeder that came as part of a package. I frequently have 6 at a time on this feeder, so it's definitely got the stamp of approval from the birds in this (verrrrry rural) area. However, I recommended to my sister that she get two smaller feeders so it would be less of a hassle for her. Pros: 1) The short perches and tiny, TINY feeding ports are perfect for keeping the bigger birds away. They simply cannot access the food. 2) It holds a lot of food! Fill it and forget it. (Not really, see Con #1 below.) 3) I love the solid metal caps and how snugly the top cap fits. Squirrels, eat your hearts out, because you're not getting a free lunch here! Cons: 1) When moisture gets inside, it's something of a struggle to clean up the problem. You can rotate the tube and shake it and try to get a straight stick past the gauntlet of perch rods inside the tube, and it'll probably be fine (personal opinion) if you get out there before the damp seed has a chance to start rotting. It's just more time and effort than I anticipated spending. *I was disappointed when the driving rains common to springtime in the Ozarks got in through the ports, and astonished when even the gentler rains managed to seep in and soak small portions of seed. 2) It's-so-big! It holds SO much seed! I worry that the seed on the bottom is getting old or going rancid or (insert your own).
---
By Birdlovers on Mar 12, 2021
Finch heaven
2 finches landed on it immediately after hanging it up! The finch population is increasing daily, changing from their winter drab colors to the vibrant yellow and reds! We love to watch them and hear their song. Hubby hung it between 2 oak trees, using a rope and pulley to easily lower it and fill. Super fast delivery ! It arrived overnight. But a little more packing material would have been appreciated, as a few posts came loose during shipping, an easy fix however. Overall very satisfied.
---
By Honey on Feb 1, 2021
My goldfinches LOVE this feeder!
We just moved to a new house, and I missed my birds. We put up two Droll Yankees finch feeders (the short ones) with the tray underneath and domes on top and they were mobbed by goldfinches! I decided to get this 20 perch feeder (with tray and dome) to alleviate squabbling, and it worked ... mostly. :-) All 3 feeders are busy all day and the trays catch any falling seed. I know people complain that their birds can't get nyjer seed from this feeder, but I use Lyric Finch Small Songbird Mix Wild Bird Food and not one single bird has issues with it. Even sparrows can pick seed out. This feeder is well worth the $$ - according to my wild birds.
---
By Wnace on Mar 8, 2021
I love it, birds love it!
I have so many finches this year that I couldn't keep my finch feeders filled up. This one, like my older droll yankee finch feeder needs larger holes. I took my husbands drill and carefully made the holes just a little larger and now this too is hard to keep filled.
---
By Chanel on Feb 4, 2021
Wonderful feeder!
My finches LOVE this feeder! They were eating from it without 5 minutes of me hanging it outside. I learned the hard way that you do need to bring it in before any rain comes, or else all your seed will get wet... But if you can remember do that this feeder is perfect!
---
By Feeder on Feb 12, 2021
The finch love it!
Item arrived on time and as described. I purchased this 20-port finch feeder after my much smaller one fell and broke. It has been so much fun watching so many finch feeding at one time.
---