Elanco Dewormer for Tapeworms for Cats, 3 count
---
About This Item
De-wormer tablet for cats helps to safely remove common tapeworms.
Safe, at-home treatment removes dipylidium caninum and taenia pisiformis tapeworms.
Tablet form is easy to administer directly in the mouth or crumbled in food.
Each tablet contains 23mg of the active ingredient praziquantel. No prescription required.
Safe for cats over six weeks of age.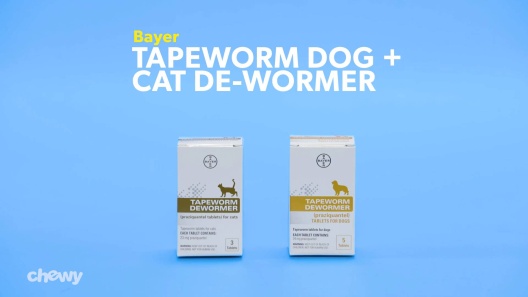 Learn More About Elanco From Our Team of Experts
---
---
Questions & Answers
24 Customer Questions
---
Is this safe to give to a momma cat who is still nursing her kittens?
Answer by catmom • Oct 12, 2022
yes
---
Making sure I read this right. Kittens 6 weeks old can take this pill. What if they are only 2 pounds?
---
Can I put the pill in a medicine syringe with a little bit of water to make it into a liquid so it's easier to give it to the cat?
Answer by • Jul 12, 2019
This de-wormer can be diluted into a liquid and administered via oral syringe.
---
Does it also kill the worms on the outside of the body near the rear?
Answer by • Nov 02, 2018
This will only affect internal tapeworms.
---
---
---
By LuLu on Nov 10, 2022
Pills Could Be Smaller
This is my first time dealing with fleas with my cat. He's 7 years old and has taken well to me giving him his capstar treatment pill. THIS dewormer caused all hell to break loose. He's a large cat, so I had to give him 1.5 pills. The first half pill caused him a lot of discomfort, so I broke the other into quarters. My arms and hands are torn apart from the fight of having to make him take 4 other pill segments he wouldn't gag on! I didn't grind it down to put in his food because I know he wouldn't fall for it. I think I may go another route for dewormer going forward.
---
By Coral on Nov 17, 2022
Tapeworm Medicine Works Fine
I administered this to my cat, crushed up in her food, as I can honestly say that I've never given her a pill and knew I'd have a problem. It worked fine, but I really wasn't keen on having to give a second application. And you get 3 pills in the bottle, so if you have two cats, you'll have one left over for another dose but will have to buy another box to treat the second cat.
---
By Lindee on Nov 4, 2022
Dewormer for cats
We had a flea infestation when we first moved into our apartment because the outside (which our dog HAD to use) was infested and we weren't aware of it until we started seeing fleas on our dog and cats. The fleas carry whatever it is that causes Tapeworms! On the recommendation of a friend, who runs a rescue organization, I purchased this product! It really worked. Now, I keep a full box/bottle on hand all the time!
---
By CatMama on Nov 10, 2022
FOR TAPEWORMS, not an all-around dewormer
I did not read and bought this product thinking it would fully deworm my cats. They all had roundworms and were not benefited by this product - so I cannot speak to its effectiveness. However, I will say it was pretty difficult to give this to my cats - and some tried to fight me on the pill. If your vet could provide you with another option, I would take that instead.
---
By CatMom on Nov 14, 2022
Great product!
We used this at the vet's office I used to work at and I was thrilled to find it without a prescription. I needed it for a stray cat that I could not get to the vet. I love that I could crush a pill to mix into his food. He ate it all up and I haven't seen any tapeworms since. (I'm still going to retreat as recommended to be safe though)
---
By FeralMomma on Nov 19, 2022
Really works!
I have had great success with this product to eliminate tapeworms with a single dose. I always keep these on hand and administer to all of my rescue cats since it seems that tapeworms do not always appear in a fecal exam.
---
By crazycatlady13 on Oct 7, 2022
tough to cut in half
Since 2 if my cats require 1.5 tables for full dosage, you would think when the pill is cut in half, it wouldn't break into small pieces making it impossible to give to a cat. I tried putting the ground up half in much loved yogurt, but the bitter taste caused them to not eat the yogurt either. So waste of money for me because I'm sure just 1 tablet isn't going to work on my big guys!
---
By Cece on Oct 22, 2022
Forget the pill pockets!
All the people recommending pill pockets seem to forget that your pet has to LIKE the pill pocket too. Which is another gamble you are making. So forget those recommendations and just dissolve this pill in some hot water, and add it to a VERY SMELLY dish that your cat loves. Tuna or sardines are a good option. One pill is all you need to fix the problem. Also, liquid is very palatable to most cats, so use it to your advantage as a type of gravy that is medicated. Chicken or beef broth works too.
---
By Roylee1970 on Oct 23, 2022
Worked great first use
Apparently my cat got these worms from chewing fleas I'm struggling to find a product that will control as all the topical flea medicines no longer work. This product worked perfectly first dose and there's still another dose remaining if there's a repeat before I manage the issue.
---
By Bandit831 on Nov 16, 2022
Works great!
I gave my cat 1 tablet and have seen no signs of worms since. Great to have on hand for indoor/outdoor cats that catch mice and other critters.
---