Kaytee My First Home Multi-Level Ferret Cage
Temporarily Out of Stock
Get notified when this item is back in stock.
Compare Similar Items
| | | | | | |
| --- | --- | --- | --- | --- | --- |
| | | | | | |
| Customer Rating | | | | | |
| Price | | | | | |
| Small Pet Type | Ferret, Chinchilla, Sugar Glider, Degu, Guinea Pig | Ferret, Chinchilla, Degu | Ferret | Chinchilla | Guinea Pig, Rabbit, Ferret, Chinchilla, Degu |
| Material | Coated Metal, Metal | Coated Metal, Metal | Steel, Plastic | Coated Metal, Metal | Coated Metal, Metal |
| Features | Feeder Included | Chew-resistant | — | — | — |
---
About This Item
The deep base helps keep bedding and litter inside where it belongs.
Features multiple levels to encourage plenty of exercise.
Comes with three comfort shelves for resting, three safety ramps and a food dish.
Suitable for ferrets and other small animals.
Provides your sidekick with a safe and comfortable environment to eat, sleep and play.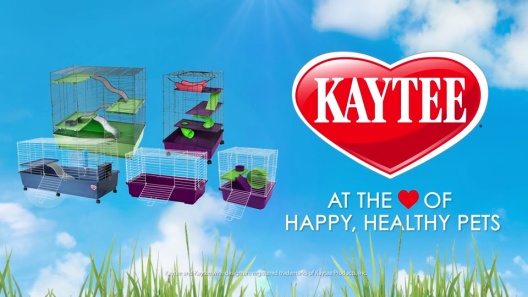 Learn More About Kaytee From Our Team of Experts
---
---
Questions & Answers
13 Customer Questions
---
Would this be suitable for one- (maybe eventually two) rats?
Answer by • Apr 02, 2020
This cage would not be suitable for rats, as it has 1 inch bar spacing. It is generally recommended to house rats in a cage with bar spacing no bigger than 1/2 inch.
---
Is this suitable for two ferrets?
Answer by • May 04, 2020
This cage is suitable for one ferret.
---
Can a degu live in this?
Answer by • Jan 14, 2021
This cage is suitable for ferret, chinchillas, sugar gliders, degus and guinea pigs.
---
would this be okay for a syrian hamster? could they get out?
Answer by • Feb 14, 2020
This cage is specifically designed for ferrets and the bar spacing on this cage is approximately 1 inch.
---
---
---
By Renn on Sep 9, 2021
Don't Waste Your Money
Bought this as a quarantine/temporary cage and I regret wasting a dime on this thing. The plastic ramps do not stay attached to the platforms if anything heavier than 1.5 lbs is placed on it. My four month old male is constantly falling in it because the ramps collapse from under him. The doors are easy to push open from inside, so easy escapes. And it's a PAIN to clean. Having to take this thing apart twice a day to scrub it is not worth the money you save by buying this piece of junk. Spring for a Feisty Ferret or Ferret Nation, you and your fur babies will be glad you did.
---
By Rosies on Oct 21, 2021
Happy Camper
I love it! I have a 1.3lb female ferret, it works perfectly for my young ferret! She loves the space it provides for her space
---
By Rowena on Apr 18, 2021
It'll do, I guess
I recently bought this for my 6 year old ferret after moving and wanted to get him a new space. This is gonna work just fine since he's gonna have the full house to explore 24/7 and he just needed his own space he can be territorial about and know it's his. The ramps don't seem to want to bend down all the way to the floors unless he steps on them. I know he's gonna use this to annoy me because he's been slamming down the ramps since I put him in there to get used to his new home. He's a little angry that I downsized him to this but like I said he's gonna have the whole house once he settles down and explores his space. You can tell the materials are cheap and I'm gonna be watching to see if the ramps break off or anything because it seems entirely possible, but for right now its working out.
---
By Carol on Feb 11, 2021
Not good for ferrets that escape
Ok so space is good. I have two ferrets. They both manage to have enough room. However, I have a ferret that has learned that she can bend the wires and escape. Which is really a problem.
---
By Royal on Sep 24, 2020
Perfect Rat Cage
This cage is perfect for rats, I have 2 female rats housed in it. Main issue is the ramps, they're horrible and very cheaply made and breaks/bends almost immediately after you put it on for the first time. I wouldn't recommend this for you rats as the spacing is too wide and they can get out.
---
By FerretMommy on Sep 5, 2020
To small!!
Anyone who knows ferrets, knows they need a large, multi story cage. And need cage free time ATLEAST 4-6 hours a day. This cage is barely good enough for 1 ferret let alone multiple. Before wasting your money, please look into the double ferret nation or even the fiesty ferret cage which is the same price but WAY bigger and safer for your babies cage time ❤
---
By Ahf1982 on Mar 1, 2021
Awesome cage
The cage is awesome for our little guy he loves it
---
By GIANT on Oct 4, 2020
Great price!!!
Must Buy!!! all levels can be used For different things liike food bed etc. Again must buy.
---
By Anna on Mar 2, 2020
Great for small ferrets
Overall this is a great ferret cage. What I like is how it is lightweight and easy to clean. I remove the upper wire portion once a week to wipe down and replace the paper shavings at the bottom once a week and it's super easy. I like how the blue levels can be moved. Every week I will change where they are and move the ramps a little, and put his food on a different level, change where his hammock is and whatnot and it seems to excite him. What I don't like are the instructions - they were not very easy to follow so it was a bit frustrating to assemble. The next are the ramps. The latch on one broke the first time it was installed and my ferret slides down and slips trying to go up them. I feel the ramps could have been made better. Also, I wish one of the blue levels was a bit larger in space. Size-wise, this is great for one small or young (maybe two young) ferrets but not multiple adult or large ferrets. Overall this is a great cage for the price and I do recommend.
---
By CavyCrazy on Apr 23, 2020
Ramp and platform issues
The ramps fall off too easily where they connect to the platforms, the platforms are too small, and the ramps are too steep. I would not recommend this for more than a temporary cage for your pet.
---