K&H Pet Products Thermo-Kitty Fashion Splash Cat Bed
---
About This Item
Soft micro fleece bed that every cat will be sure to love.
Includes a dual thermostat 4‐watt heating unit to make this the perfect warm and cozy hide away.
When your pet lies in the bed it warms to your pet's normal body temperature to keep them cozy warm.
Features a 5.5-foot cord that's MET listed for safety for indoor use. Easy-to-clean, just remove the heater and wash on gentle cycle with cold water and hang to dry or use the no-heat cycle on your dryer.
Available in 2 different colors for your cat's inner fashionista.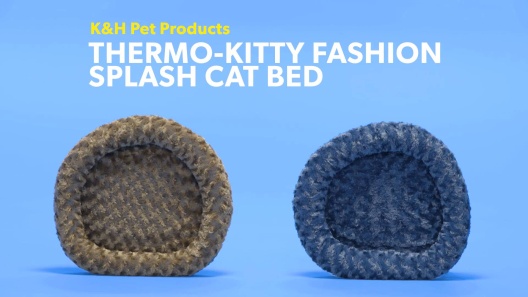 Learn More About K&H Pet Products From Our Team of Experts
---
---
About K&H Heated Cat Products
K&H Heated Solutions
K&H offers a variety of products designed to make your pet more comfortable. Their wide range heated products are all MET certified, making them a safe and comfortable solution for keeping your furry friend warm, indoors or out.
Safety
Safety for your pet is K&H's number one priority. They work closely with MET Laboratory to ensure their products are safe for your pet and home.
Soothing, Eco-Friendly Warmth
K&H products provide therapeutic warmth for your best friend, and they are energy-efficient and easy to care for, too. Your pet will love the muscle and joint relief they provide and you will love knowing they are green and easy to clean!
Green & Energy Efficient
Many K&H products cost less to run than a night light. They use foam from bio-based materials and poly fill made from recycled bottles.
Machine Washable
K&H beds are either machine washable or made with a machine washable cover, to make keeping your pet's bed fresh convenient and easy.
Vet Recommended
Veterinarians and pet experts use and recommend the traditional K&H bed line as well as their heated line of bed products.
Therapeutic Relief
K&H beds and mats provide warmth to relax the muscles of active pets, and to soothe the joints and muscles of aging and arthritic pets.
About K&H Pet Products
K&H has over 20 years of experience making products for pets with the goal of making their lives—and yours—better and easier. They know how much you care about your pets and are dedicated to designing innovative, quality solutions that enhance their comfort and well-being.
Shop K&H
Compare Similar Items
| | | | | | |
| --- | --- | --- | --- | --- | --- |
| | | | | | |
| Customer Rating | | | | | |
| Price | | | | | |
| Cover Material | Fleece, Synthetic Fabric | Fleece, Synthetic Fabric | Fleece, Synthetic Fabric | Cotton, Natural Fabric | Polyester, Synthetic Fabric |
| Bed Feature | Machine-washable, Heated | Machine-washable, Heated, Orthopedic | Machine-washable | — | Machine-washable, Heated |
| Fill And Frame Material | Memory Foam, Foam | Memory Foam, Foam | Fleece, Plush / Fiberfill | Plush / Fiberfill | Plush / Fiberfill |
| Bed Type | Bolster | Bolster | Bolster | Bolster | Covered, Bolster |
| Pattern | Solid | Solid | Solid | Solid | Solid |
| Bed Shape | Round | Round | Round | Round | Round |
| Assembly Required | No | No | No | No | No |
---
Questions & Answers
15 Customer Questions
---
How fast does it heat? I bought one, but after 1 hour, I find that the bottom is warmer than the top of the bed. Is it normal? How high should the temperature go for the top?
Answer by • Dec 21, 2017
The surface of the bed will be about 15°F above ambient air temperature until the pet lies on the bed. Then it will warm to about 102°F, which is the natural body temperature of dogs and cats.
---
when we wash it in the machine, do we also remove the foam on the Inside as well?
Answer by • Oct 30, 2019
Unplug and remove the internal Pet Bed Warmer. Wash on the gentle cycle with cold water. Line dry or use the no-heat cycle on your dryer.
---
If the heating pad stops working where can I reorder that part from ?
Answer by • Feb 25, 2020
The replacement bed warmer for this product is listed on Chewy's website as "K&H Pet Products Pet Bed Warmer, Small".
---
What kind of liner should be used when placed on a soft surface?
Answer by • Nov 18, 2019
No liner is required under the K&H Thermo-Kitty Fashion Splash, even when placed on a soft surface. You are welcome to place a towel or other materials under the heated cat bed to help protect the fabric of the item you are placing this bed onto if desired.
---
---
---
By AmberG on Sep 22, 2022
Wonderful!
My kitty wanted nothing to do with it when we first showed it to her. But later that day (when we weren't looking) she tried it out and realized she loves it and now uses it all the time. This is perfect for her because she's always cold. We will be getting another one for the living room as she won't use it if we aren't in the same room.
---
By Cali on Jul 19, 2022
Senior kitty loves it
My 16 year old girl with kidney disease (makes her very skinny) and arthritis is obsessed with this bed. She hasn't left it since I took it out of the box 4 hours ago. In the past she's rejected other plushy beds so it's definitely the heating pad feature that's sold her on it. I was worried the pad would get too hot on our dining chair but the pad just feels warm, not hot. For reference she's about 7-8 lbs and has plenty of room to turn around in it and not fall out, and the lip is just high enough for her to rest her little chin on the edge which she loves
---
By ColoWoman on Feb 21, 2022
Works, but she wont use it
The design, appearance and fabric seem to be great. I have placed a pillow on it, and it does get warm - so it seems to function ok. My biggest issue (and the reason for 3 stars) is that she has yet to lay on it. In fact, she avoids it. She walked on it 1 time, and I dont know if it was the crunch or just the way it felt on her paws, but she wont even go near it. I am trying all sorts of things to get her on it, but so far it is a no go. May be giving this one away unfortunately.
---
By tjw12 on Jun 19, 2022
disappointment
It doesn't really get warm at all . I bought this for my kitten and it's really a waste of money
---
By Melissimaus on Mar 5, 2022
Check the questions/measure your pet
This is far too small for my cat. I assumed because it's also recommended for dogs that a small size would fit him, but it's not even close. The small is kitten sized. On the plus side, he was immediately curious about it and checked it out, so I'm going to order a bigger one for him and hold on to this one for when I do get a kitten.
---
By Liza on Feb 22, 2022
A bed they will actually use
Got this for my girl cat, but my boy has taken it over from her. He is a bit big for it, but he loves curling up in spaces that are too small for him so I guess it is perfect. Very soft, squishy, and warm. The third and biggest cat who I definitely thought would not be interested, also tries to steal it any chance he can get. Guess I'm gonna have to buy another!
---
By Jane on Apr 11, 2022
Cats love it
So far, so good, cats love it, especially my older cat. It is on the smaller side so may not work well for larger cats - although my large cats try to fit in it!
---
By leigh on Mar 5, 2022
Purrrrrefect
I bought this for my senior cat, and he's barely left it since. The bed doesn't get too warm, so it feels nice and cozy for the cat. My cat is also pretty fat, and the bed is still large enough to hold all of him
---
By Sybil on Mar 11, 2022
Great bed for all size cats
I got this bed for my small cat sybil. She loves it and also my older smaller cat and 2 of my big 13lb cats. The cats like round bed for some reason. It's nice and soft and easy to clean.
---
By catmama on Feb 14, 2022
great bed!
Bed much loved by grandma cat of unknown age with a bad back who loves a warm lap and had been sleeping on the hard furnace vent to get warm. Heated up the bed with a pillow to test it per instructions and put her in it once it was warm. She's been in it most of the day.
---