KONG Refillable Feather Top Carrot Catnip Cat Toy
Temporarily Out of Stock
Get notified when this item is back in stock.
Compare Similar Items
| | | | | | |
| --- | --- | --- | --- | --- | --- |
| | | | | | |
| Customer Rating | | | | | |
| Price | | | | | |
| Material | Polyester, Synthetic Fabric | Polyester, Synthetic Fabric | Polyester, Synthetic Fabric | Polyester, Synthetic Fabric | Polyester, Synthetic Fabric |
| Toy Feature | Catnip, Feather | Catnip | Catnip | Catnip | Catnip |
| Toy Type | Plush Toys | Plush Toys | Plush Toys | Plush Toys | Plush Toys |
| Lifestage | Adult | Adult | Adult | Adult | Adult |
---
About This Item
KONG refillables have a compartment to hold fresh catnip securely in place.
Comes with a vile of KONG's Premium North American Catnip that can be stored in the freezer to keep it fresh.
Irresistible scent, texture and shape your cat will go head over paws for.
Soft plush catnip toy is washable with the catnip removed.
If the scent starts to fade, simply add more fresh catnip for another round of fun.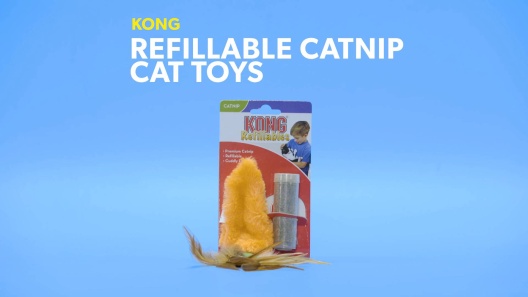 Learn More About KONG From Our Team of Experts
For Refill Catnip: [Click here][]
---
---
Questions & Answers
4 Customer Questions
---
These are my calico cat's absolute favorite toys. I have ordered them twice before and now I see that they're unavailable, temporarily? Any idea when they will be back in stock? Would you be able to notify me when they are back in stock please?
Answer by fatcatmom • May 30, 2021
Still out of stock as of 5/30/21 - also would like an ETA regarding when they may be available. My senior calico loves them too, and I keep an emergency stockpile!
---
What is the size of this? length? width? there is no description and you cannot tell from the packaging
Answer by • Nov 22, 2017
The size of the KONG Refillable Feather Top Carrot Catnip Cat Toy is 6.8 inches long x 1 inch wide x 5.5 inches high.
---
Does this toy have catnip in it already or can you choose not to use catnip?
Answer by • Oct 10, 2020
The catnip comes in a separate, refillable compartment, it can be removed if you like.
---
Do you have this toy in purple
Answer by • Sep 26, 2019
At this time, this carrot cat toy is only available in orange.
---
---
By vdawg on Jul 2, 2022
Cat loves it
My cat loves this carrot! But with heavy hunting and chewing, it falls apart in a couple of weeks and the orange fabric is everywhere in the room. Wish it's made more durable.
---
By ARosePerson on Jun 10, 2022
Oh the carrot, how he loves thee
This carrot is one of the only catnip toys that my boy loves. We have gone through many of them, I think there is still a thread bear one around somewhere.
---
By Jena on Mar 4, 2022
LOVED EVEN WITHOUT THE CATNIP
I bought this toy particularly for one of my cats, Chunky, who LOVES feathers (seriously, she just sits and licks the feathers until they eventually get destroyed or fall off.) She's never really responded to catnip, so I didn't even put catnip in this toy since it was specifically for her. Regardless, her sister Nova kept coming over to play with the toy! The first week or so, one of them would always be crouched near it, as if guarding it. Now, its all Chunky's (Nova has moved on and is back to her jingly balls and bottle caps) and she's always rolling around with it in her paw, licking the heck out of the little feathers. Plus, it's a carrot so of course it's cute as heck to watch. 10/10!!!
---
By Kat1 on Feb 5, 2022
Perfect Catnip Toy for All Ages, Exceptional Quality & Refillable!
From the moment the package arrived my 3 kitties were very excited & couldn't wait to find out what was inside. It was a race to see who could get the carrot out of the box (I hadn't added the catnip at this point) and run off in the other direction before anyone else took the 1 they picked. My patient kitty (#3) did wait for the catnip to be added & went off to enjoy his new toy. After adding the catnip to the other toys, it's a wonderful sight to see them interact with their KONG carrot catnip toy. The quality is excellent and being refillable will allow me not only to save money but I can refresh when needed.
---
By Jeannie on Apr 1, 2022
Cats Love This!
My 4 cats love this toy and it's great because you can refill it with fresh catnip. The only problem is that one of them hid it and we can't find it. May have to order another one.
---
By RoadHazard125 on Jan 6, 2022
Cats' Favorite Toy Ever!
We have three cats and I ordered three of these carrots as their Christmas gifts. We were surprised and delighted with how big a hit they were! One of my older cats grabbed one and took it to a corner and growled at the other two if they even approached. The kitten played with them literally all day, carrying them from room to room. Right now, as I write this, one of the carrots just sailed through the air past my peripheral vision, with a cat pouncing on it before it hit the floor. They have ripped the feathers out and then played with the feathers! I'll definitely be ordering more of these.
---
By Cricketshuman on Mar 11, 2022
This one was a dud
Usually, my cats go crazy over these little catnip toys, but they both had zero response to this one. I suspect it came with a bad batch of catnip. Maybe it was oregano.
---
By KrazyKatMom on Feb 8, 2022
Cats go nuts!
I have never seen Henry go crazy for a toy. He hides it from his cat brother! Super easy to change the catnip and the feathers are holding up well. Excellent size for them to toss, kick, and roll around with.
---
By Ulrike on Dec 19, 2021
Instant hit!
My cat tried to run off with this toy while it was still in the package. After it was removed from the package, he carried it around for quite a while, playing with it periodically. Then, he noticed the catnip and tried to steal the whole canister. I don't know how long the Feather-topped Carrot will last, but I do know I will have to replace it when it dies.
---
By Lily74 on Mar 17, 2022
My kitty loves this toy
My kitty loves this toy and tosses it up in the air rolling around playing with it. I would recommend this
---