Nature's Miracle Just For Cats Advanced Hooded Corner Cat Litter Box
Frequently Bought Together
---
About This Item
Hooded litter box cover keeps your kitty's litter from finding its way out of the box.
Convenient corner design allows you to save space and keep your furry friend's litter box tucked away.
Replaceable charcoal filter included with odor-block technology to help eliminate foul feline odors for up to 3 months.
Antimicrobial coating prevents bacteria from forming inside your cat companion's litter box.
Non-stick surface eliminates litter caking and buildup and makes cleaning fast, simple, and hassle-free.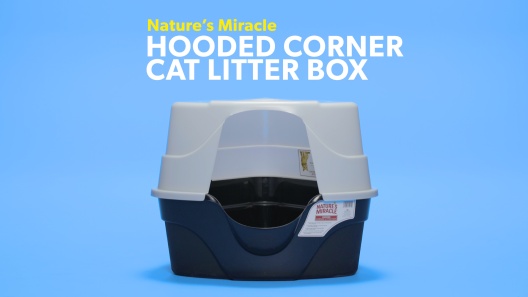 Learn More About Nature's Miracle From Our Team of Experts
Related Items
For Odor Control Charcoal Filters:[Click Here][]
---
---
Solutions You Can Trust
Because pet ownership comes with its share of messes, cleanups and challenges, Nature's Miracle is the answer to your prayers. Offering everything from products that keep both your home and your furry pal clean, to sprays for common behavioral issues, Nature's Miracle is rooted in solutions that are safe, effective and gentle.
Home Sweet-Smelling Home
Nature's Miracle proves that you can have a pet and a clean, fresh-smelling home too. While accidents are inevitable, whether it's a new pup that's training or a kitty that ate something disagreeable, they offer a variety of odor and stain removers that quickly work to save your furniture and floors—as well as your nose.
Well-Groomed
Since a clean home starts with a clean pet, Nature's Miracle has everything you need to keep your little buddy's skin and coat in tip-top shape.
LATHER UP
Working to clean, condition and even soothe the skin, there are plenty of shampoos suited to your pet's needs.
SAVE WATER
Skip the bath and freshen them up with Nature's Miracle's deodorizing sprays and wipes. It's perfect for dogs who prefer to stay dry!
Mind Their Manners
Sometimes your little angel needs a little help in the training department, so consider Nature's Miracle your obedience school in a bottle. From sprays that discourage marking and scratching to sprays that help calm and control anxious behavior, you're just a few spritzes away from a peaceful home.
FOR THE CATS: Give the ruler of your kingdom a worthy throne with the best selection of litter boxes. Including disposable, covered and even corner options, Nature's Miracle is equipped to meet both of your needs. They also have an impressive lineup of litters, plus a litter caddy and liners to keep it all fresh.
FOR THE DOGS: Keep your yard—and your neighbor's yard—clean with Nature's Miracle's handy poop bags and poop scoopers. They're designed to make cleanups quick and mess-free, so you can go back to focusing on the fun stuff.
About Nature's Miracle
Nature's Miracle has a motto that whatever your pet can do, they can undo it. Recognizing the importance of giving pet parents a safe and effective way to clean up after their furry children, they started with just a single carpet-cleaning product. After great success, they expanded their lineup, and today they're a go-to source for keeping your home and your pets spotless.
Shop Nature's Miracle
Compare Similar Items
| | | | | | |
| --- | --- | --- | --- | --- | --- |
| | | | | | |
| Customer Rating | | | | | |
| Price | | | | | |
| Litter Box Type | Corner, Covered | Pan, Corner | Covered | Top Entry, Corner, Covered | Top Entry, Covered |
| Material | Plastic | Plastic | Plastic | Plastic | Plastic |
| Lifestage | Adult | Adult | Adult | Adult | Adult |
---
Questions & Answers
48 Customer Questions
---
Does this litter box need a liner?
---
How many pounds of litter should it take to adequately fill this amazing box? We have two kittens and this box is huge. Thank you.
Answer by • Sep 07, 2017
While every box and litter granules are different in size, we always encourage pet parents to fill the litter box with approximately 3 inches of litter.
---
How can the dimensions be 27x23x20 and fit in a corner?
Answer by • Mar 31, 2018
This Litter Box is triangular in shape to fit well in corners. The sides running along the wall will be approximately 23 inches in length and the front with the opening is close to 27 inches.
---
How often should I replace these filters for 2 (12week old) kittens??
Answer by • Jun 28, 2017
The filters help eliminate odors for up to three months.
---
---
---
By SisterSmile on Sep 29, 2022
One Little Flaw
I have a fairly large tall male cat who prefers to pee standing up. lol He aims right for that spot where the lid snaps on to the box and, if I don't have that spot covered with something, it goes right through and leaks onto the floor. So I have been using painters tape and it works well. Of course I have to replace it every time I wash the lid but it does the job. I'd love to see an improvement on this design just for that reason. Otherwise, it's a pretty great litter box.
---
By Kimmy on Aug 28, 2022
Great Kitty litter box for extra large cats
Our cat Moe is a very big cat at 19 lbs. Kinda the size of a medium dog. He's very tall and needs a lot of room to work. So this is the perfect potty for him. And of course his side kick likes to use his litter pan too. And loves this one. And yes we used to have another pan besides this but neither used it. So they can fling litter all they want and very little ends up outside the potty. And that makes us all happy!
---
By Barb on Aug 25, 2022
UGH. WHAT IS UP WITH NEEDING TO HAVE 4 PLACES WITH COMPANY NAME
SO NATURES MIRACLE NAME IS EMBEDDED IN THE PLASTIC in two places, thats fine, BUT WHY DO THEY NEED TO PUT TWO MORE LABELS THAT ARE IMPOSSIBLE TO GET OFF One of which is terribly visible and Ive been at. It for an hour and its leaving behind a sticky mesS UGH UGH UGH This is a fabulous litter box why why why the labels cant you use the easily removable ones?
---
By Reba on Jul 15, 2022
Tricky corners
I decided to buy this corner litter box as I now have 3 cats and no longer get by with only one box. Just moved to a new apartment with limited space so I decided to try this corner shaped one. It fits nicely in a corner, and the size is spacious. However, cleaning wet litter out of those corner spots is hard to do compared to the square ones I'm used to. I'm sorta sorry I got this style now, but I'm gonna make it work, as all three cats seem to like it and that they have an extra box to use
---
By Cassie on Jul 20, 2022
Durable Design
I have 2 of these litter boxes, and have had them for almost 5 years. Just recently the hood has started getting cracks, but I know it's from being used so much. My only complaint is that I wish it was a taller box for my cats that stand up as they go. When I open each of the latches, there is urine on them, as well as some drippage down the outside of the box. Compared to other boxes though, this is my favorite
---
By Cabitz on Jul 15, 2022
Flummox the Flying Flinger
If you have an overly zealous feline that enthusiastically goes for a home run over the outfield, chances are the litter piles up past the bleachers and into VIP areas reserved for humans. Litter should be in the box, all the time, no exceptions. Short of building retaining walls around the areas where it flies over the sides of the box, there's only one way to deal with it, and that's to cover up the box. Even with the lid on, my once-feral male manages to fling it out the door. But I don't know how I'd handle it if it weren't for this extra large, extra deep, nicely constructed, covered box. The top fits the bottom as it should. No struggles getting it on or off, and I just flip it off to clean the box. Takes two seconds. There's a nice charcoal filter pad in the top that's easy to replace and/or clean. The box is easy to scoop out and easy to wash out. It's big enough for a big guy – even an exuberant one. I've just purchased the third one for my third feral feline. They've all adapted to it immediately. Whether their natural affinity for boxes, or just liking the privacy, they all take to it right away. I've never had a problem with them looking elsewhere (knock on the proverbial wood). So yes, this box gets an enthusiastic 10. I do recommend it.
---
By Jamie on Aug 19, 2022
Would be a lot better with a door/flap
My big cat needed more space than the large litter box I had, so I tried out this jumbo box. He has plenty of space to do his business now, but the lack of a door means litter goes flying out when he cleans up, giving me more mess to clean up.
---
By Step on Sep 25, 2022
Awful stickers not worth your time
I was misled by other reviewers claiming the stickers had improved. They have not! These are awful to remove, I wish I had gone with something else.
---
By Mimi on Aug 11, 2022
Nice and big
Tall ceiling, very large. Big enough for my 15 lb male cat to move around and use. Even my picky, female cat who doesn't like enclosed spaces likes and uses this. I dont think charcoal filter is useful and just threw out. Won't be replacing that part
---
By CrzyCatLady on Jun 29, 2022
One of best hooded boxes around
This is replacing an old one of same make and brand. The old one is around 10 years old. Nothing wrong with it, just time to get a fresh new one. This box is huge. It fits nicely in a corner or not in a corner. The first one I got did not have a hood. I got a hooded one this time because I now live in a small condo where my dogs have easy access to the boxes. The sides are very high and with added hood facing more towards a wall, it stops them from getting in the box to have a snack.
---