Nature's Miracle Just For Cats Advanced Hooded Corner Cat Litter Box
---
---
Try This Similar Item By Chewy
---
Frequently Bought Together
---
About This Item
Hooded litter box cover keeps your kitty's litter from finding its way out of the box.
Convenient corner design allows you to save space and keep your furry friend's litter box tucked away.
Replaceable charcoal filter included with odor-block technology to help eliminate foul feline odors for up to 3 months.
Antimicrobial coating prevents bacteria from forming inside your cat companion's litter box.
Non-stick surface eliminates litter caking and buildup and makes cleaning fast, simple, and hassle-free.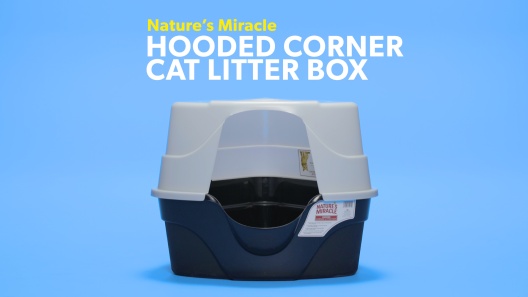 Learn More About Nature's Miracle From Our Team of Experts
---
Related Items
For Odor Control Charcoal Filters:[Click Here][]
---
---
Solutions You Can Trust
Because pet ownership comes with its share of messes, cleanups and challenges, Nature's Miracle is the answer to your prayers. Offering everything from products that keep both your home and your furry pal clean, to sprays for common behavioral issues, Nature's Miracle is rooted in solutions that are safe, effective and gentle.
Home Sweet-Smelling Home
Nature's Miracle proves that you can have a pet and a clean, fresh-smelling home too. While accidents are inevitable, whether it's a new pup that's training or a kitty that ate something disagreeable, they offer a variety of odor and stain removers that quickly work to save your furniture and floors—as well as your nose.
Well-Groomed
Since a clean home starts with a clean pet, Nature's Miracle has everything you need to keep your little buddy's skin and coat in tip-top shape.
LATHER UP
Working to clean, condition and even soothe the skin, there are plenty of shampoos suited to your pet's needs.
SAVE WATER
Skip the bath and freshen them up with Nature's Miracle's deodorizing sprays and wipes. It's perfect for dogs who prefer to stay dry!
Mind Their Manners
Sometimes your little angel needs a little help in the training department, so consider Nature's Miracle your obedience school in a bottle. From sprays that discourage marking and scratching to sprays that help calm and control anxious behavior, you're just a few spritzes away from a peaceful home.
FOR THE CATS: Give the ruler of your kingdom a worthy throne with the best selection of litter boxes. Including disposable, covered and even corner options, Nature's Miracle is equipped to meet both of your needs. They also have an impressive lineup of litters, plus a litter caddy and liners to keep it all fresh.
FOR THE DOGS: Keep your yard—and your neighbor's yard—clean with Nature's Miracle's handy poop bags and poop scoopers. They're designed to make cleanups quick and mess-free, so you can go back to focusing on the fun stuff.
About Nature's Miracle
Nature's Miracle has a motto that whatever your pet can do, they can undo it. Recognizing the importance of giving pet parents a safe and effective way to clean up after their furry children, they started with just a single carpet-cleaning product. After great success, they expanded their lineup, and today they're a go-to source for keeping your home and your pets spotless.
Shop Nature's Miracle
Compare Similar Items
| | | | | | |
| --- | --- | --- | --- | --- | --- |
| | | | | | |
| Customer Rating | | | | — | |
| Price Per Unit | | | | | |
| Price | | | | | |
| Litter Box Type | Corner, Covered | Pan, Corner | Covered | Covered | Covered |
| Material | Plastic | Plastic | Plastic | Plastic | Plastic |
| Lifestage | Adult | Adult | Adult | Adult | Adult |
| Furniture Frame Material | — | — | — | — | Plastic |
| Height Range | — | — | — | — | 30 inches & under |
| Assembly Required | — | — | — | — | Yes |
---
Questions & Answers
44 Customer Questions
---
How many pounds of litter should it take to adequately fill this amazing box? We have two kittens and this box is huge. Thank you.
Answer by • Sep 07, 2017
While every box and litter granules are different in size, we always encourage pet parents to fill the litter box with approximately 3 inches of litter.
---
How can the dimensions be 27x23x20 and fit in a corner?
Answer by • Mar 31, 2018
This Litter Box is triangular in shape to fit well in corners. The sides running along the wall will be approximately 23 inches in length and the front with the opening is close to 27 inches.
---
Does the lid overlap the pan on the inside to prevent leaks when cats stand against sidewall to urinate?
Answer by • Jan 31, 2018
The hood of this Litter Box will overlap along the outer edge of the bottom pan and snaps will keep it in place.
---
How long does the antimicrobial coating last on the cat litter box?
Answer by • Nov 29, 2017
The coating will last for several years.
---
---
---
By Carolyn on Nov 3, 2022
My cat likes it. Me, less so.
The box itself is fine - I like that it sits in the corner and I can turn it enough that the cat has access but the dog doesn't. However, in addition to having "Nature's Miracle" embossed on the lid and the base (which is fine, it's discreet), it came with huge, gaudy "Nature's Miracle" stickers, outside and in, that I could not remove. Dang, I read reviews that said that. I emailed Nature's Miracle and asked about the issue. They assured me it wasn't. They lied. Even after total removal of the stickers, a sticky residue was left that I couldn't get off with any ideas I found about removing sticky residue. I covered them with contact paper. The person who designed how the stickers go on should be sent to some remedial user experience training. Really . . . It's weird. No more Nature's Miracle for me - I'll use Roxio for issues that happen in the house.
---
By Panda on Dec 1, 2022
Greatest Litter Box
Requires limited floor space, easy for daily cleaning, and roomy for cat to move around. This is the second purchase of this same litter box. The paper stickers don't come off easily. A bit fragile... I cracked my first one. Applied black tape and used it until it was worn out.
---
By Gamof5 on Nov 17, 2022
A whale of a litter box
This box is HUGE. Not sure how litter is to stay in the box as the entry is 4 times larger than any cat. If you have cats that like to do their business enmasse, then this is for you. Also, Nature Miracle obviously is so proud of themselves that their labels won't come off. Wish I'd looked further.
---
By zind on Nov 17, 2022
good design
got this for my six month old kitten because he was kicking litter out of his original box, but he adapted to this one very fast!! a lot less stray litter in my carpet and the carbon filter that comes with it is also very effective at odor control
---
By NKNK on Oct 4, 2022
Great size and shape
I haven't had any problems with this. I have one cat who's very meticulous about covering her waste, and this gives her plenty of room to do her thing while still fitting comfortably into a corner. It's also easy to clean and easy for her to get in and out of (and, sometimes, to just get halfway into so she can survey her poop situation before leaving again). I don't understand the complaints about the stickers, because I don't personally care about removing them and don't know why anyone would. I have better things to do with my time than gripe about harmless stickers on my cat's toilet.
---
By chitown76 on Nov 3, 2022
it is HUGE
This was beyond HUGE. Walked it immediately to the dumpster and went to the pet store to buy one that is a much more reasonable size. Felt like too much work to repackage and return. For what its worth - my cat is 11lbs and this was still ridiculous!
---
By disappointed on Oct 12, 2022
disappointed
Unfortunately although this cat box does have great height inside, the manufacturers made it have a ledge a bit below midway up where the join is that just pools urine if your cat is a high pee-er which is really the only reason you might try this cat box. Standing urine in a cat box is a no so this one is a dud from my perspective.
---
By Katie on Nov 30, 2022
Big Litter box
Our family loves this litter box for our 4 cats. It fits perfectly in the corner. Is VERY big to suffice 4 cats. (Yes we have other litter boxes also). Our cats love it.
---
By Kaire on Nov 7, 2022
Big litter box!
It is big. Even the opening is quite big and leaves it quite open when they are using it. Not the traditional dark private place. It has a deep pan and a high spacious lid that locks down pretty tight.
---
By Vegojay on Nov 11, 2022
Great for tight areas!
This worked out great for us, our litter is placed in the laundry room so it was a tight fit with our last large one. This one would work for two adult 10-15lb cats.
---