---
About This Item
Litter box uses charcoal filter to absorb odors and keep area smelling fur-esh.
Built-in odor neutralizers combat litter box smells.
Makes cleaning up quick and easy with snap latches and a flip-top front.
Prevents litter buildup caused by spraying with non-stick surface.
Measures 25.25 x 18.75 x 16.5 inches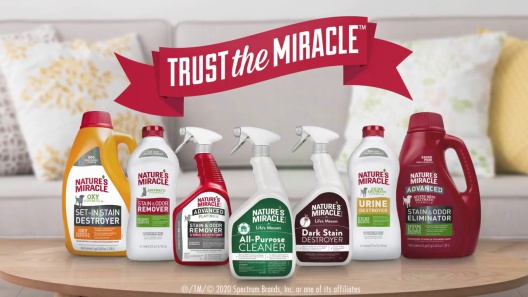 Learn More About Nature's Miracle From Our Team of Experts
---
---
Questions & Answers
43 Customer Questions
---
Is this litter box "really" non-stick so nothing sticks to the sides??
Answer by • Oct 02, 2019
This litter box has an interior smooth, flat surface that makes it easy to wipe, clean, and disinfect while also helping to prevent litter buildup caused by spraying.
---
Does lid snap on to the base of box. Or just lay on it?
Answer by • Dec 28, 2019
The hood to this litter box features four snaps to ensure it stays on securely.
---
Will this box fit comfortably for cats up to 13lbs?
Answer by • Sep 24, 2020
In general, the litter box should be one-and-a-half times the length of the cat from tip of the nose to base of the tail. To find out if this litter box will work for your cat we suggest measuring the cat from the top of their nose to the base of the tail then comparing that to the litter box dimensions (25.25 x 18.75 x 16.5 inches).
---
Is it possible to replace just the pan and keep the hood?
Answer by • Jul 31, 2019
The manufacturer does not offer replacement pans for this litter box.
---
---
---
By kittecat2 on May 10, 2022
Horrible litter box
I bought 2 of these and they're terrible. I wish I would have returned them, it's been about 4 months now In the thing to get worse as time goes on. This was the biggest one I could find At the time.However it's not really as big as it seems Because it's rounded and the back is skinnier than the front. The bottom is rounded so they can't dig in a corner. There is also a ridge around The middle inside that urine and poop sticks to. In the description it's not supposed to stick. Worst litter boxes I've ever had, I unfortunately bought 2.
---
By Squeaky on May 6, 2022
Not really non-stick
We liked the idea of the non-stick surface for easy clean-up. But Nature's Miracle places a sticker inside the box to remind us it has a non-stick surface. Only problem is, their promotional sticker proves it isn't non-stick. The sticker simply does not come off. We will find a way, but, frankly, this is a big hassle. This was not the best choice litter box. We took a picture and tried to upload the pic, but Chewy sure does not make this easy, so after 10 tries, gave up. Should have ordered something else. Returning something this large: another hassle.
---
By KLF26 on May 9, 2022
Best Litter Box!
The size is just right and works well for bigger cats. The higher back seems to prevent urine seepage outside the box. Minimal litter is kicked out and easily cleaned up. I really like that the front part lifts up and makes scooping the litter more convenient without having to lift the whole lid.
---
By Marsha on May 15, 2022
Best litter pan ever!
We bought this for our two cats. All the other pans we have ever bought were garbage. This one is easy to put together and super easy to clean. We use Fresh Step Crystals in it. Almost all of the crystals stay in the pan. Much less messy than any other litter pan.
---
By DrgnLdy77 on May 15, 2022
Not easy to scoop
The rounded shape of this box made it very difficult to scoop. I don't know about you, but my heavy duty metal scoop has a squared edge and the urine would stick to the wall. What a pain. Gave it away. Big enough for maybe a 13# cat or less.
---
By Kathy on Apr 4, 2022
Cats love it
Ordered two of these litter boxes to see if the cats would take to them while keeping the others nearby. One kitten thought it was so great she wouldn't come out for a long time. My old fat cranky senior cat has a little bit of a struggle getting up into the box because it is a bit high for a senior cat but she is managing. I like that there are 4 snaps and that the flip up hood also snaps down into place so the cats don't freak out over moving parts.
---
By easymac on Apr 15, 2022
Great Choice!
I ordered this a month or so ago. My cat is an gray 18lb domestic shorthair. He's a tall guy, and wears the weight evenly throughout his body. We've always gone with a larger litter box, but the previous one had a ton of wear and tear from being used the last three years. This was the perfect replacement! The front hood is perfect for scooping, optional ventilation sheets, and easy for him to get in and out of. Perfect height from the ground. So very impressed with how well this worked for us, especially ordering online and not seeing it in a store before buying. It was shipped in two separate pieces. Everything was intact. If you're on the fence, don't be. This is a perfect choice!
---
By Barbara on Mar 21, 2022
My Cats Love This!
I have two Maine Coon cats who are very large. I have several litter boxes for them, but the one I had for them upstairs, near their water, was never the right size. I was continually brushing up litter they kicked out of the box, and one of my Maine Coon cats is so large, he sometimes leaked a bit over the edge of the box. I spent time trying to find a box that would fit him. I did not think he would use a covered box because it would remind him of the crate I use to take him to the vet. I decided to try this box anyway. It is large, but fit perfectly in the spot I picked for it. It took a few days of both cats warily checking it out before one of them went in to check it out...and promptly jumped back out. Finally, I left the lid up in front, and they were more curious. I waited another day, and finally one of them was brave enough to use it. It has been a few weeks now, and both cats are using this litter box more than the other boxes. It fits my big boy perfectly, and there is no spillage of litter on the floor. I have now put the front lid down, and they are still using it. I highly recommend this litter box, especially if you have large cats, or a multi-cat household. The area around the box has never been cleaner, it just took time for them to adjust to it. Some litter sprinkled from their older box also helped.
---
By Julia on May 4, 2022
Perfect for your litter box digger
My cat loves to play in the litter box and this one keeps all of her digging adventures contained. I never have any unpleasant smells coming from this box ever. I have two in the house and you would never know.
---
By Catmom on Apr 5, 2022
Perfect litter box
My cats love this litter box & so do I. The plastic is slick so that the soiled litter does not stick to the box making it easy to scoop. The box is very roomy and accommodates my multi cat family. The flip top means you can easily scoop without removing the entire lid. Great design.
---