---
About This Item
2-in-1 unique and durable design.
Both the scoop and the caddy have an antimicrobial coating that keeps bacteria from developing on its surface.
The two units attach to the litter pan for easy storage and convenient access.
Makes cleaning litter boxes quick, easy, and hassle-free!
Non-stick surface for better cleaning.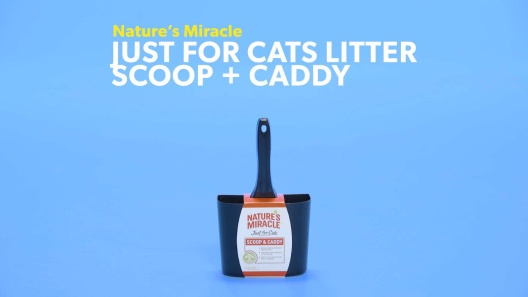 Learn More About Nature's Miracle From Our Team of Experts
---
---
Solutions You Can Trust
Because pet ownership comes with its share of messes, cleanups and challenges, Nature's Miracle is the answer to your prayers. Offering everything from products that keep both your home and your furry pal clean, to sprays for common behavioral issues, Nature's Miracle is rooted in solutions that are safe, effective and gentle.
Home Sweet-Smelling Home
Nature's Miracle proves that you can have a pet and a clean, fresh-smelling home too. While accidents are inevitable, whether it's a new pup that's training or a kitty that ate something disagreeable, they offer a variety of odor and stain removers that quickly work to save your furniture and floors—as well as your nose.
Well-Groomed
Since a clean home starts with a clean pet, Nature's Miracle has everything you need to keep your little buddy's skin and coat in tip-top shape.
LATHER UP
Working to clean, condition and even soothe the skin, there are plenty of shampoos suited to your pet's needs.
SAVE WATER
Skip the bath and freshen them up with Nature's Miracle's deodorizing sprays and wipes. It's perfect for dogs who prefer to stay dry!
Mind Their Manners
Sometimes your little angel needs a little help in the training department, so consider Nature's Miracle your obedience school in a bottle. From sprays that discourage marking and scratching to sprays that help calm and control anxious behavior, you're just a few spritzes away from a peaceful home.
FOR THE CATS: Give the ruler of your kingdom a worthy throne with the best selection of litter boxes. Including disposable, covered and even corner options, Nature's Miracle is equipped to meet both of your needs. They also have an impressive lineup of litters, plus a litter caddy and liners to keep it all fresh.
FOR THE DOGS: Keep your yard—and your neighbor's yard—clean with Nature's Miracle's handy poop bags and poop scoopers. They're designed to make cleanups quick and mess-free, so you can go back to focusing on the fun stuff.
About Nature's Miracle
Nature's Miracle has a motto that whatever your pet can do, they can undo it. Recognizing the importance of giving pet parents a safe and effective way to clean up after their furry children, they started with just a single carpet-cleaning product. After great success, they expanded their lineup, and today they're a go-to source for keeping your home and your pets spotless.
Shop Nature's Miracle
---
Questions & Answers
19 Customer Questions
---
What are the dimensions of the scoop? This question has been asked before, but it was answered with the dimensions of the caddy, not the scoop. 1) How wide is the scoop and 2) how wide are the slots?
Answer by • Oct 21, 2018
The dimensions of this scoop are 11 inches by 6.4 inches with an approximate ¼ inch slot size.
---
Will this work with hooded litter boxes?
Answer by • Jul 31, 2018
This product is compatible with any litter box that allows the unit to attach to the side.
---
Is the bottom of the scraping part of the scoop flat or does it have "teeth"?
Answer by • Jun 14, 2018
This litter scoop does not have teeth and would have a flat surface.
---
what is the color?
Answer by • Jul 11, 2018
This set is available in black.
---
---
---
By Veronica on Apr 16, 2022
Basic sturdy scooper
The scooper is sturdy and picks up clumping litter well. It doesn't catch the smaller used litter bits, but that's understandable. The caddy has a hook on it, but my litter box doesn't have an edge that pairs with it. That being said, the caddy stands just fine on its own on a linoleum laundry room floor.
---
By JTP2 on May 5, 2022
Litter scoop
The sharp edges on the backside the handle hurt my hand when I grasp it. I'd prefer a handle that's "solid" all the way around. I'm looking for scoops with more comfortable handles.
---
By LucyPeanut on Feb 17, 2022
Convenient Scoop!
I love this scoop design - I threw away my old litter box and scoop and bought a new set from Nature's Miracle because of the material they use. The "stuff" you pick up doesn't seem to stick to the material. I also like to replace my box and scoop once a year or so and keep it clean throughout the year. It just feels like the right thing to do for my furry family! I highly recommend this scoop caddy as it hooks right over the litter box side - so convenient!
---
By Monroe on Mar 12, 2022
Works well
Really like this. The scooper is a little flimsy but I have a small cat and I don't need it to be super strong. Works well with hooded litter boxes and I really like that it doesn't let bacteria grow on it.
---
By ZoeandOzzy on Apr 7, 2022
Great, convenient
Highly recommend, put it on the litter box or litter box cover or even stand it up against the wall so the scoop doesn't have to rest on the floor
---
By RusBluMom on Jan 26, 2022
Awesome scoop + holder!
This is still something you should clean weekly or as often as you need along litter boxes and its holder too! It works great! The hook on the back allows us to hang it from our cat box enclosure. This is smaller in size for those who are looking for a larger scoop!
---
By judithscats on Feb 20, 2022
Undersized
Nice concept: scoop and holder clip onto the cat box to keep things tidy and handy. I found the small scoop capacity and short handle to be inadequate for a large 2-cat litter box, though.
---
By missruby on Apr 21, 2022
Best product for.....
.....an unpleasant job. Sturdy handle and wide scoop surface. AND it hooks onto the litter pail!
---
By MSB113 on Jan 18, 2022
The opposite of non-stick
This has to be the worst scoop ever made. It feels flimsy, the slots are bigger than expected so smaller pieces of used litter slip through, and worst of all everything sticks to it like glue. I replaced an old scoop with this one and the difference is night and day in a bad way.
---
By Indy on Feb 24, 2022
Very handy
The pocket is very convenient for holding the scoop. The plastic is a little better than the cheap scoops but it's still plastic. We are very happy with this product.
---