Petstages Buggin' Out Puzzle & Play Cat Toy
By Petstages
---
About This Item
The purr-fect toy for curious cats, since it helps encourage their natural foraging instincts.
You can even replace your cat's bowl with this puzzle to help slow down her eating habits.
Helps keep your furry BFF busy with 14 hidden treat compartments.
Made from only food safe materials and 100% free from BPA, PVC and phthalate.
There are no removable parts for safer play.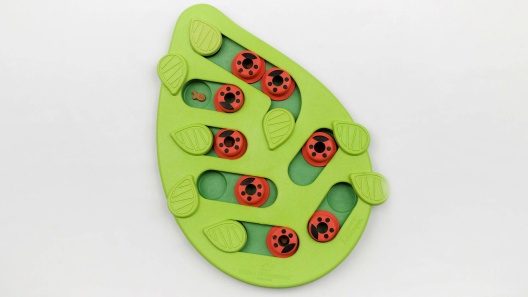 Learn More About Petstages From Our Team of Experts
---
---
About Petstages Toys for Cats
Play Helps Cats Thrive
Cats love to play, and playtime is essential to your cat's health at all life stages. Felines also need to exercise their brains to prevent boredom. You should provide your cat with a healthy amount of attention and stimulation to help avoid bad behavior and unhappiness. Petstages can help keep your cat happily playing. Choose from active toys, calming toys, scratchers, catnip and dental toys!
A World of Fun for Your Cat
Let your cat chew, bat, chase and scratch her way to happiness with Petstages cat toys and products. They can help keep your kitty active and feeling her best.
Catnip And Dental Toys
Great to bat and carry, these toys have catnip and unique netting that helps floss teeth and remove soft tartar as your kitty chews.
Tracks And Chaser Toys
Designed to satisfy your cat's hunting instincts, Petstages ball and track cat toys a fun and interactive way to get indoor cats moving.
Scratchers And Hunting Toys
Scratching is natural for cats, and Petstages offers a variety of scratching and hunting toys to keep cats entertained and nails healthy.
Tower of Tracks
Toys like Petstages' Tower of Tracks are the perfect way to give your curious kitty the mental and physical exercise she needs. Watch your cat paw at the balls and try to dislodge them—but don't worry, the balls won't come loose! Your cat will love the Tower of Tracks no matter how she chooses to use it. It's perfect for solo play or interactive play with you or other cats!
Easy Life Hammock
The Easy Life Hammock doubles as a lounger and a scratcher. Cats stretch their paws to leave their scent and when they stretch, their claws come out and leave their mark. Scratching can also help remove the dead outer layer on your kitty's claws. This lounge scratcher will not only help keep your cat's nails tidy, but it can also help keep her feeling nice and relaxed.
Purr Pillow
If your cat likes to cuddle soft and cozy things, the Purr Pillow may be just what she needs. It has a touch-activated, integrated module that makes a gentle purring noise every time your cat cuddles it. The purring sound lasts for two minutes and can soothe and calm cats of all ages. It is ideal for separation anxiety or any time your feline needs extra comfort.
About Petstages
Petstages is made up of passionate pet lovers. Their mission is to create innovative products that solve everyday problems—whether your dog eats too fast, your cat is scratching something she shouldn't, or you need a little help getting your pup in the water. Whatever you need to make life with your pet a little fuller, Petstages has something for you!
Shop Petstages
Compare Similar Items
| | | | | | |
| --- | --- | --- | --- | --- | --- |
| | | | | | |
| Customer Rating | | | | | |
| Price | | | | | |
| Toy Feature | Outdoor, Training, Exercise | Outdoor, Training, Exercise | N/A | Crinkle | Training |
| Toy Type | Games & Puzzles | Games & Puzzles | Games & Puzzles, Treat Dispensers | Games & Puzzles | Games & Puzzles |
| Material | Wood | Wood | Cardboard | Polyester | Plastic |
| Sport Team | N/A | N/A | N/A | N/A | N/A |
---
Questions & Answers
6 Customer Questions
---
Does this puzzle use only dry food. Is there any that can use moist canned cat food ?
Answer by • Oct 09, 2020
This toy works best with treats or dry kibble. Using canned cat food would result in a sticky mess that is hard to clean.
---
Is this dishwasher safe?
Answer by • Aug 16, 2021
It is recommended to clean using warm running water and a mild soap. Rinse thoroughly.
---
Would a large cat be able to reach the treat in the little hole?
Answer by • Mar 15, 2021
This Cat Toy is suitable for cats of all ages and sizes. A large cat can reach into the hole.
---
Where is this toy made?
Answer by • Oct 25, 2021
This toy is made in China.
---
---
---
By SmartKitties on May 14, 2022
Still Engaging Even When Figured Out!
I wasn't sure how long this toy would stay interesting for my cat because he often gets bored with toys as soon as he figures them out. While he did figure out each level of this puzzle pretty quickly, we've used it for about 2 months and he still loves it. If you have a smart cat, I recommend this toy to increase the engagement level at mealtimes! On the flip side, I have an incredibly dumb cat, and while I love her for exactly who she is, she will never be able to figure out this toy. So if you have a dumb cat, I do not recommend this toy.
---
By FigsPerson on May 9, 2022
she loves it!!
Figgy adores her lunch/treat puzzle! She's a little over a year old and so smart she gets bored easily and frustrated when I'm not available for interactive play. I've been making little "piggy puzzles" by hiding toys and treats for a while now to keep her engaged but this is next level. She gets excited and lovey every time I refill it and is so satisfied and happy when she finishes a puzzle meal. She figured out how it works pretty quickly but it still keeps her so happy. I'm looking into similar puzzles to put in rotation so she doesn't get bored with it, but I don't suspect she will anytime soon
---
By Zora on May 11, 2022
Just not for my cat
I'm sure other cats out there love this puzzle. My cat, however, is frustrated with it. He can't get the treat out. I followed the directions diligently, but it was so frustrating for my Col. Mustard Mojo that I ended up scooping the treats out and giving them to him. It's probably a great puzzle for cats who have perseverance and are on the higher end of the cat intelligence scale. My Mojo, not so much. I plan on giving it to a friend's cat.
---
By Madison on Apr 17, 2022
Not bad but not amazing
It took my cats a while to show any interest in this. Once they did, it was good for a couple days but by the end of the week, it wasn't a challenge at all to them. I might as well just be handing them treats because it's too easy now. Definitely a good beginner puzzle so I would recommend it for a first one, but I wish it would have entertained them for a little bit longer for the price. I also knocked off one star because I believe it may be difficult for some cats to get the treats out of the pockets in this puzzle. My cats aren't even a year old yet and one of them struggles to get the treat out of the pockets, so he has lost interest. They should make the pockets shallower to make it more friendly to larger breeds or breeds with shorter muzzles.
---
By Bee2022 on May 10, 2022
Does what it needs to do
My cat isn't CRAZY about it. She's really picky about her toys and activities and this is only acceptable to her when there are treats involved. If I try to use it with regular food, she ignores it. That said, it does get her brain working when I give her the treats, so I'm definitely happy with it.
---
By None on Apr 4, 2022
Wonderful for both cats
Great, wonderful. Easier for my older cat to get her treats out of so she's happy to use it often. She likes it. My younger cat Ferrari Tucci solved it straight away. Both cats Sylvyie and Ferrari use it at the same time because there is enough distance between the moving pieces for one of them to feed at the top while the other is at the bottom. Great puzzle. Thank you.
---
By acat on Apr 23, 2022
Works ok for intent
The toy is sturdy enough. Although my cat learned fairly quickly how to access the food, it does help entertain her, as well as eat in a more timely fashion. The only downside, and maybe it's simply her food, but there is enough of a gap in the sides that some of the food gets trapped in between the sides. I still haven't figured out how to get the food out!
---
By Miko on Apr 20, 2022
Not the puzzle I was hoping for
When I saw the photos I thought the cat had to do two actions, move the leaf first, then the bug, to get the reward. I was aiming for something the could capture more attention. After 5 minutes each slot and reward are empty on the first day. If you're just looking to make your fat cats work for their food, we need to build something that burns more of their time or calories :)
---
By CatMom on May 8, 2022
Cute Food Toy
This is a cute & well made toy. My cat figured out how to get the food quickly (even the "hardest" version). She seemed to think this was a fine activity. I use it with her to slow down her food intake or remind her there is always more than "just" a food bowl.
---
By WileysMom on Mar 27, 2022
Biggest success ever.
I can put his regular cat food (dry) in this bad boy, and he thinks it's the best treats ever. It took a little while for him to figure out how it worked, but he can clean it out in very little time now regardless of how the leaves and ladybugs are configured. Great if you need to slow your furry wonder down from wolfing his food, but also to distract while you're trying to do something else (like write a review).
---