iPrimio Cat Litter Trapper EZ Clean Mat
By iPrimio
---
About This Item
This mat is made from two layers that work together to trap litter stuck to your cat's paws or thrown out of the box.
Extra-large honeycomb-shaped openings on the top layer are round and soft on your cat's paws, and allow litter to easily fall below onto the second layer.
The two layers are attached on just one side so you can effortlessly dump caught litter back into the box or in the trash.
The entire pad is water repellent and the bottom layer is plastic which deters urine odors and is easy to clean.
If your cat is known for making messes, you can put a puppy pad in between the mat's layers for effortless cleanup.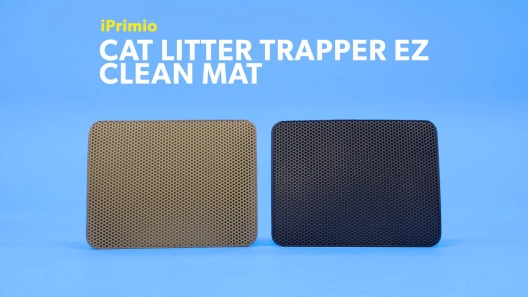 Learn More About iPrimio From Our Team of Experts
---
---
Questions & Answers
18 Customer Questions
---
What happens if you use a clumping litter and it gets wet?
Answer by • Jan 15, 2018
If the litter happens to get wet we do recommend that you removed the pad from the area and clean it outside so it doesn't get on the floor. To clean the mat please rinse in warm soapy water and air dry.
---
Where is the product made?
Answer by • Apr 16, 2020
This mat is made and shipped from the United States.
---
Is it non toxic material
Answer by • Feb 05, 2020
This mat is made of EVA foam and nylon thread that is around the edges. There is also a thin polymer film on the bottom that is the water proof barrier. These materials are very safe and used in many household items however may be toxic if ingested.
---
Is this mat safe for luxury vinyl plank (LVP) flooring?
Answer by • Jun 23, 2020
This mat has a bottom plastic layer that will not damage luxury vinyl flooring.
---
---
---
By Mainelady on Apr 18, 2022
Works as intended
This mat does actually work to trap litter, and I like the fact that that you can easily dump the litter back into the box. However, the jumbo sized mat that I purchased is still not big enough to catch the litter that is strewn outside of the perimeter of the mat. My cat has a tendency to carry litter on his big, furry Maine Coon paws. I may order more mats since the cat uses an extra large litter box. The jumbo size is the one I'd recommend, even for a regular sized litter box. Especially if your cat is a digger or litter kicker.
---
By AKJules on Mar 22, 2022
Best litter mat I've found. Excellent quality. Does what it's designed to do.
I love this litter mat! I just purchased a second one. I bought beige which camouflages nicely with my flooring. The quality is excellent. All 4 sides are straight and even. (Crooked litter mats are the worst!) The materials are very good quality and the stitching is flawless. Thank you iPrimio for understanding that these items for our pets are permanent fixtures in our homes. Appearance matters. They've hit all the the sweet spots with this design. This thing really traps the litter. They're tall enough that I can walk across them without touching any litter but not tall enough to trip on. Being able to lift the top all the way is a game changer. It's designed to lift and pour but I like to leave it in place and use a small broom and dustpan. While vacuuming is not recommended by the manufacturer, I have had success using a desk/keyboard vacuum which has just the right amount of power to remove litter without suctioning to the mat. They were each delivered in a large box, not folded or rolled up. And if all that isnt enough, they're comfy to walk on too.
---
By aml7069 on Mar 25, 2022
Reduces tracking
We have a Cat Genie automatic litter box and those plastic granules just get tracked everywhere! This reduces the problem pretty well. There is still some tracking but not nearly as much as without a mat. I don't really have anything to compare it to since this is the only mat I've tried. I chose it because it was available in brown which is closer to my tile color. The top of the mat rolls back easily to pour the trapped granules back into the Genie. The description says that it is soft foam on the top which is a bit of a stretch! However the cats don't seem to mind it. Super fast shipping :)
---
By Naya on Apr 8, 2022
Excellent cat litter trapper!!!
Our 16yr.old cat has diabetes which is causing him to use the bathroom ALOT more. Some times he doesn't make it to the litter box, so this trapper definitely comes in handy (we put it right in front of the litter box). We also bought chuck pads to go inside the trapper, it's very easy clean up instead of a huge mess.
---
By DMamafor4cats on Mar 6, 2022
Convenient design/Nice size
This mat is larger than one I ordered like it before. It is also only attached on one side, which makes cleaning a snap. It cuts down on tracking, and the cats seem to tolerate it instead of avoiding it when they get out of the box. I love that I can dump the trapped litter back into the box. Less work for me and for my vacuum as I have the box on a carpeted area. Great product. I plan to buy one more for the two boxes I have downstairs.
---
By BlazerStar on Apr 14, 2022
Best litter mat yet!
I have tried numerous litter mats and this is probably my favorite so far. The ease of flipping it open to dump out excess litter and I really like being able to put the potty pad inside of it for any accidents on the mat. Easy to clean too.
---
By JBird on Mar 20, 2022
Trapper Works Great
This cat litter trapper works great. I kept looking at it for a long time. Had a friend said she loved it so I ordered one. I love it too so ordered a couple more. It really works. Helps contain the litter in one area. Falls thru the holes so you only have to lift up the top and sweep, shake or vacuum off the litter. Love it.
---
By Elizabeth on Mar 3, 2022
The kitty litter tracks are gone!
I tried everything - sweeping, vacuuming, dust mopping, you name it - to keep the kitty litter tracks outside my little kitty's box from extending all over the room. Nothing worked - until I bought this mat. The top of the mat helps brush the litter off her paws and traps it before tracks appear. The room is much cleaner and I'm very pleased.
---
By Liberator on Apr 14, 2022
Best matt for cats
I have small and large ones. These track the litter and the day I placed I had 99% of litter around the house. Easy to clean up and walking up on a matt is awesome
---
By Julie on Feb 24, 2022
You won't regret this purchace
But I bought this mat because my cat always carries litter onto my kitchen dark tile floor. It has helped immensely. At first one of my cats was scared to step on it so I had to put the cat on it a few different times and petted on there and then it got used to walking on it. Would have defeated the purpose of the cat just jumped over it. Love this big size
---