Koller Products Tropical Aquaview Corner Aquarium Starter Kit, 2.5-gal
---
About This Item
Everything you need to start a freshwater aquarium
Energy-efficient, seven-color LED lighting — amber, aqua, blue, green, purple, red and white
Internal power filter cleans and purifies tank (20 GPH flow rate)
Filter cartridge removes discolorations, odors, and more
Compact 2.5 gallon, corner-style aquarium, measuring 9.4" x 11.4" x 8.3"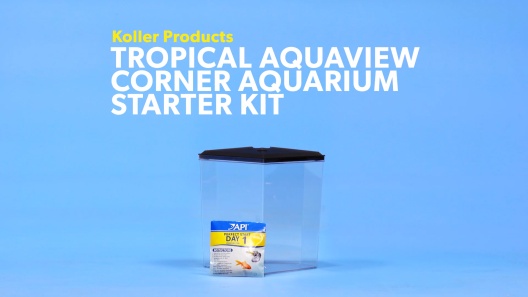 Learn More About Koller Products From Our Team of Experts
---
Compare Similar Items
| | | | | | |
| --- | --- | --- | --- | --- | --- |
| | | | | | |
| Customer Rating | | | | | |
| Price | | | | | |
| Fish Type | Tropical Freshwater, Betta, Cichlid, Goldfish | Tropical Freshwater, Betta, Cichlid, Goldfish | Betta, Tropical Freshwater | Tropical Freshwater, Betta | Tropical Freshwater, Betta |
| Capacity (Max) | 2.5-gallon | 2-gallon | 3-gallon | 1.6-gallon | 3-gallon |
| Material | Plastic | Plastic | Plastic | Plastic | Plastic |
| Aquarium Type | Freshwater | Freshwater | Freshwater | Freshwater | Freshwater |
---
Questions & Answers
15 Customer Questions
---
Is it safe to put real plants in the aquarium?
Answer by • Jan 23, 2018
It's safe to put real plants in this aquarium.
---
Does this include gravel and other items that other tanks say are needed?
Answer by • Oct 23, 2017
The starter kit includes the 2.5 gallon tank, full hood, LED light, Perfect Start start-up program, SUPERCLEAN 10 internal power filter, Crystal Bio-Chem Zorb 10 cartridge, sample of API Tropical flakes food but not the gravel, rocks and plants.
---
Does the lid have a hole in it so that you can feed the fish without having to remove the lid?
Answer by • Nov 22, 2017
There is one hole about the size of a dime.
---
What is the shape of this aquarium? It looks almost hexagonal in the main picture, but round in the other 2 pics. I'm looking for a 2 - 3 gallon tank with straight sides. Thanks.
Answer by • Nov 24, 2017
This is a diamond shaped corner tank, with straight sides.
---
---
---
By Kyia on Mar 15, 2022
Not Happy With This Purchase
I was super excited to get my new tank for our batta fish. Fist things first. The description says starter kit. There wasn't anything to "start" my tank out with. (Food water treatment) I have the xtra stuff from before but being its s a STARTER kit everything should have been included. There is a small leak in the bottom of the tank but there's isn't any cracks( I'm thinking I got a defective tank). I do like the size of the tank and the shape.
---
By Nothanks on May 5, 2022
I wouldn't purchase
Led stopped working 3 days in. Filter sits funny. I can't find a good heater for it.
---
By anna on Aug 16, 2021
disappointed
i woke up one morning to my beta fish caught behind the filter. she didn't die but she was obviously struggling. and yes i set the tank up the proper way (and it wasn't running around the time she got stuck)
---
By Crumbly on Jan 18, 2021
Disappointed in this, although I wanted it to work
I was really excited about this tank when I ordered it. I figured it would be a good quarantine tank for new fish, or rehabbing sick/injured fish. I was really disappointed in the light which is run by 3 AAA batteries. The light went out in about 2 weeks. Kinda silly to have a fishtank light that's battery operated in my opinion. The batteries end up costing more than the tank! - The light when it did work was ok. Not as bright as I had hoped, and the settings on it are wonky. I also had a problem with the filter. It seems way to small to be able to filter a 2.5 gal tank. It didn't come with any extra replacement cartridges. The tank itself is ok. It's small, which is fine. I don't need a huge quarantine tank, as I only have small fish. All the parts arrived in the box, undamaged and not missing anything. I was just so.... Underwhelmed... By this tank.
---
By LuAnn on Jan 6, 2020
Battery operated??
I was disappointed that the light is battery operated. It requires three AAA batteries, that last no time at all. Whether or not it was in the description, I don't know. I've never had lights that were battery operated so I would not even have expected it!
---
By Terrible on Mar 2, 2020
Not Happy with Conditions
I got this tank a month ago, the light already doesn't work and I've changed the battery 3 times. It also has cracks down 2 sides. Very disappointed.
---
By Jennifer on Jul 13, 2019
Missing LED light
So I opened my kids aquarium to set it up and the LED light portion was missing ! I had the instructions and clips but no LED light , this is there first fish tank and now we are all bummed .
---
By lovemybeta on Jan 28, 2019
Great Tank!
I've had my tank for over a year now and it is great. I have a beta her name is Rosey and she loves it! Very easy to keep clean and it is so pretty with the lights. I give this 5 stars. :)
---
By Madz on Sep 1, 2018
Great tank
This tank is amazing, it is NOT made to fit in the corners of rooms. It is just simply an angled tank. I love the color changer . It's worth the money.
---
By EDED on Apr 19, 2018
Not what I envisioned
When I saw "corner tank" I thought this was the perfect new home for my betta that lives on a corner shelf. In my mind, I pictured the 90 degree angled corner to fit into the 90 degree angle of the wall, and the filter would be housed on either of sides. I guess this is my fault for not paying attention to the photo better, but it wasn't until I opened it and went to test it on the shelf that I realized the filter is housed on the long side of the tank. I could just be backwards, but to me I want to look at the nice flat surface without a large black filter and cords hanging out of it, rather than looking at a sharp corner which they consider the front. Posting this for the other people out there who had the same design idea as I did. The quality of this is good, but the flakes and additive packets it came with were all expired. I bought this mid-April 2018, and the packets ranged in expiration dates between 11/2017 and 03/2018.
---