Litter Champ Premium Odor-Free Cat Litter Waste Disposal System, Grey
By Litter Champ
This item can't be shipped to CA.
---
---
---
About This Item
Sturdy, durable, non-porous ABS resin canister and triple-seal system locks in litter odor to help keep your home smelling fresh.
Childproof locks on the lid and side door keep kids and pets away from the discarded litter.
Convenient hands-free foot pedal and included litter scoop make clean-up hygienic, easy and convenient.
Economical, zero-waste continuous bag technology lasts up to 10 weeks; can be emptied whenever you like with no wasted bags.
4-gallon capacity canister is compact and elegantly designed; unit measures 9.45 x 9.45 x 18.82 inches.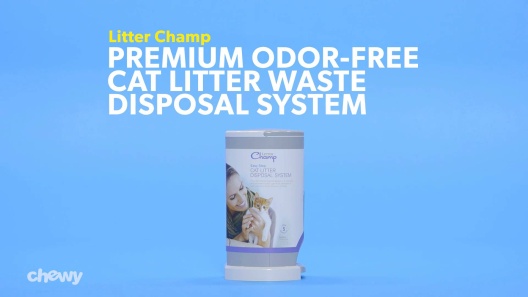 Learn More About Litter Champ From Our Team of Experts
Keep your system working as designed with Litter Champ Cat Litter Waste Disposal System Scented Refill Liners.
Shop Prescription Medications from Chewy Pharmacy
---
---
Questions & Answers
24 Customer Questions
---
Does this work with regular garbage bags or only with the Litter Champ refills?
Answer by • Jul 19, 2018
It's recommended to use the Litter Champ Cat Litter Waste Disposal System Scented Liners with this product.
---
Does the newest version of the litter champ really have a handle to move from room to room?
Answer by • Mar 01, 2018
The newest version of the Litter Champ comes with a handle.
---
Are these bags biodegradable?
Answer by • Jun 06, 2018
The Litter Champ Cat Litter Waste Disposal System Scented Refill Liners are 100% biodegradable and features 18-micron thick film for strength and durability.
---
Is there an unscented refill liner available? What is the scent made from? We are sensitive to synthetic fragrances.
Answer by • Aug 22, 2018
The scent is made from synthetic fragrances. However, it is very lightly scented for extra odor control.
---
---
---
By Sureee on May 7, 2022
Keeps smells hidden
So my husband and I were on the hunt for a diaper genie for our puppies waste however all of the reviews were bad and for the price, it was not worth it. I know this is for cats but if you are thinking about your puppies, it totally works for them too! And half the cost!
---
By Sophie16 on Mar 19, 2022
Better than others
I have been using Litter Champ for about a year...before that, I used Litter Genie. Litter Champ is way better for several reasons. There are some "cons", but definitely don't outweigh the "pros"... 1. Litter Champ, you get more for your money. The receptacle itself holds more, as do the bags that come with it. For two cats, cleaning their litter box 2-3 times a day, one bundle of bags lasts me easily 30 days. With Litter Genie, I had one cat. I would clean her box just as often and wouldn't get a full month out of a refill. 2. The bags are mildly scented...it's hardly noticeable, so it's not obnoxious, but I feel like it helps. 3. More efficient system - scoop/step/drop, opposed to Litter Genie where you scoop, open the lid, slid the trap door, and drop. The trap door built in the Champ opens downward rather than out. 4. There's a carrying handle if you need to take it to other locations in the house. 5. Does a better job containing odor, and the bags are better quality and value. 6. There's a lock mechanism for the trap door if you have pets that could potentially get into the litter locker - this will prevent that. There's also a lid that closes on top. 7. Cutting mechanism seems more effective. As for the cons... 1. At first, it seemed like it wasn't built as sturdy as Litter Genie. Whether that's relevant or true or not, I have no idea. But it hasn't broken and I haven't had any quality or performance issues. It could be built better, more solid - specifically where the access door is for retrieving/exchanging the waste bag. 2. You pretty much have to buy replacement bags online. I haven't found any in-store, ever, anywhere. 3. Installing a whole new refill can have a learning curve, and may take a few times to get use to.
---
By shellknit on May 5, 2022
This is great!
We love this system. It makes it a lot easier to clean the cat box as you don't have to take the dirty litter out to the garbage each day. It keeps the smell down quite well.
---
By Boolink on Mar 13, 2022
Champ litter box Disposal
I babysit cats so I've used many different kinds of disposal systems.Many of them have special bags I use tall kitchen bags in mine very much cheaper then special bags Just make sure you tuck them in well at the top.
---
By Doris on Mar 1, 2022
Litter Champ
If you have an inside cat, you need the Litter Champ!! My sister didn't want to buy it so I bought it for her.. that's how much I love this invention!! Easy storage, decreased smell, quick disposal, easy peasy...
---
By Karman on Feb 15, 2022
Great product
Best way I have found to take care of 2 senior cats' litter boxes! Good quality plastic controls odor and is lightweight to move between boxes. Scented bags are easy to use and pleasantly helps with odor as well. Wish I would have purchased the litter waste disposal system sooner!
---
By CatMammaP on Mar 20, 2022
Great system
I have 2 cats and this is a great way to disposed of litter waste. I check and clean out boxes when I pass by them and empty Litter Champ every few days. Sorry I didn't get one sooner
---
By lsbp on Jan 13, 2022
It's all about the foot pedal
I love that I don't have to touch the unit every time I use it! It contains the smells just as well too. I also love that it's a nice neutral color so it blends into the area I have it in. I would love it if the scoop was just a bit narrower than the trap door for the waste to go through though. As it is, there is always some litter that spills off onto the surface under the top lid.
---
By Becky on May 9, 2022
Litter Champ
Great product! Helps me keep the litter box clean and I don't have to touch any dirty litter
---
By VICKI on Jan 13, 2022
AWESOME HELP
LOVE LOVE LOVE this litter disposal system.... it is a life saver.... I clean my two kittens litter boxes twice a day, sure makes it easier, than having to empTy my garbage can almost every other day... this holds up to two weeks of litter, and probably more... for 2 kittens... love this item... thanks so much, and the price is GREAT!!!
---