Oster Sunny Seat Cat Window Perch, Brown
By Oster
Compare Similar Items
| | | | | | |
| --- | --- | --- | --- | --- | --- |
| | | | | | |
| Customer Rating | | | | | |
| Price | | | | | |
| Furniture Features | N/A | Removable Bed | Removable Bed | Removable Bed | N/A |
| Furniture Covering Material | Faux Fleece | N/A | Faux Fur | Faux Fleece | N/A |
| Height Range | N/A | N/A | N/A | N/A | N/A |
| Tools Included | No Tools Required | No | No | No Tools Required | No |
| Furniture Frame Material | Steel | Plastic | Plastic | Plastic | Plastic |
| Furniture Mount Type | Suction | Suction | Suction | Sill Mounted | Suction |
| Assembly Required | Yes | No | No | Yes | No |
---
About This Item
Easily mounts onto your window so your cat can enjoy the views of the great outdoors from a comfortable bed, keeping them warm and sunny.
Space-saving design provides the perfect napping spot without taking up space in your home.
Simple, no-tool installation: can be fixed to glass windows or doors within seconds.
Industrial strength suction cups support up to 50 pounds.
Durable, removable cover is machine washable for an easy clean.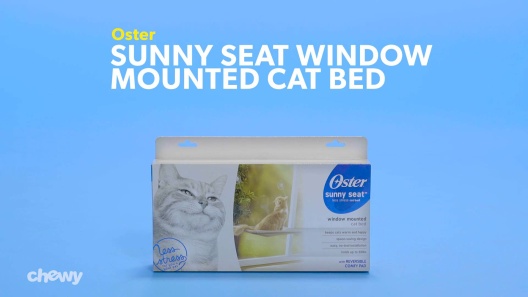 Learn More About Oster From Our Team of Experts
---
---
Questions & Answers
41 Customer Questions
---
is this a good window perch for an 18 lbs cat
Answer by Curlylocks • Apr 12, 2022
Yes two of my fat cats sit in it together 22 lbs & 13 lbs
---
Has anyone used this during Winter? I'm concerned with the suction cups becoming cold, and then becoming detached.
Answer by • Sep 21, 2017
This Bed will stay put in both warm and cold weather. If having any difficulty with the suction cups, it is recommended to clean both the window surface and the surface of the suction cup.
---
Why do some of the reviews mention problems with velcro? This window seat is held up with suction cups, and I don't see velcro in any of the pictures or the product description. Are those reviews possibly referring to an earlier version of the product?
Answer by • Nov 15, 2017
The velcro used is on the sides to reinforce the cover. Attached is an instructional assembly video.
---
The window I want to mount this on has panes, will the bed fit to the window properly?
Answer by • Mar 12, 2018
This product will not mount correctly if the windows have panes.
---
---
---
By CatLady on May 12, 2022
My cats won't sit in it
It assembles fairly quickly & sticks to the glass like it is supposed to. Unfortunately my cats have zero interest in sitting in it. I've tried treats, cat nip, a soft towel, putting them up in it over and over, Not even our adventurous, acrobatic cat will go near it. So, it was a fail at my house. (And I have 5 cats - all of whom LOVE to look out the window and bask in the sun.) :(
---
By MinMin on Apr 21, 2022
2nd time around
The first window seat i got , the suction cups would not work, so I emailed Chewy, and the very next day I got another one. This 2nd time around was the answer. it worked perfectly. My girl calico cat named MinMin, was the smart one, she is always upstaging my 3 male cats, Mutt, Punky, and Panther. As soon as I sit her on the window seat, something lit up inside of her, like turning on a light bulb. It was great. I love it.
---
By Brandi on Mar 17, 2022
Suction cups arrived warped! Wouldn't stick to window without extra work.
When I first unboxed this window perch, my immediate thought was "There's no way this flimsy piece of plastic is going to hold my 15lb cat!" But sure enough, after some additional "adjusting," it shows no signs of slipping anymore. (And by adjusting, I mean having to take my heat gun to 3 of the 4 suction cups and then sticking them to the countertop to cool and set up straight.) Poor Archie immediately knew what this new gizmo was for and excitedly jumped onto the seat after I attempted to put it onto the sliding door as soon as I put it together, straight out of the box, only to be dumped onto the floor less than a minute later. Now he's pretty iffy about being on it because of the prompt eviction from his new favorite perch, even though I sat him on it and reassured him that it won't fall anymore. Maybe with some additional coaxing and plenty of treats, he'll trust it again.
---
By Courtney on May 1, 2022
Suction Cups Won't Seal
I have tried every known trick on the internet to get the suction cups to stick. I cleaned my window with cleaner and rubbing alcohol. I cleaned the cups. I used moisture. I tried every window in the house. I can get all but one to stick, I don't know if the cup is faulty but it refuses and it has made the whole perch useless.
---
By Perch on May 16, 2022
Cat seems to love it
Not a bad option if you're looking to spoil your cat on a budget. I recommend measuring your window to make sure it fits correctly. I ended up having to make some modifications to make sure it fit. Overall, it's a great product for my cat!
---
By SamJ on Apr 8, 2022
DO NOT BUY. WASTE OF MONEY.
The suction cups do not work. I cleaned the window, tried Vaseline, tried oil, tried cleaning the windows again, CLEANED THE WINDOWS AND SUCTION CUPS AGAIN, and 1 out of the 4 would not work, rendering the product inoperable due to SHODDY CRAFTSMANSHIP AND QUALITY CONTROL. The fabric cover is rough and scratchy. Construction is CHEAP. Cheap PVC pipes, cheap scratchy plastic cover. Waste of money. Waste of time. Deeply aggravated and disappointed that this is what I waited for. It was garbage. Buy something else. DO NOT BUY. DO NOT BUY. DO NOT BUY.
---
By spookster on Mar 20, 2022
My cat loves it!
I was excited to find a window perch for one of our windows that my cat wouldn't otherwise have access to in the winter (because with the windows shut she has no room to sit on the sill) and she loves to look out windows. It was very affordable. When I took it out, it took a little bit to get it together, but it wasn't hard. It does seem flimsy, but it has held together wonderfully so far! My cat is around 10 lbs, I think, but it hasn't slipped or fallen once. At first, she had to warm up to it, but after she did, she now loves laying in the sun and looking out the window on it.
---
By maddie on Apr 5, 2022
its alright
My palms are bruised after trying to get the suction cups to work on my windows. They were warped coming out of the package and no amount of cleaning the windows and cups worked. The solution to this is to boil the suction cups in water prior to trying to stick them to the windows. It was annoying as heck and my hands are in pain but its up now. Not sure how much I trust it yet, but time will tell
---
By Allie on Apr 25, 2022
Suction cups wonky
My set arrived with a warped suction cup that wouldn't suction to the window. Chewy replaced it and some of the section cups were wrapped in the second set, too. Between the two sets I found four working suction cups. I don't think the quality control is very good on this product.
---
By CatMaTo2 on Apr 13, 2022
Window Perches Are The Best
Needed another perch in one particular room because the 2 boys were constantly fighting for the seat! Works great now that they each have their own perch to watch the birds or just to pass out. The only drawback was the space on this one, it's smaller than the first one I bought.
---