Catit Jumbo Hooded Cat Pan
By Catit
---
About This Item
Provides privacy while retaining the litter inside the pan.
Bag anchors keep bag and litter in place.
Includes disposable carbon filter to remove litter pan odor.
Ideal for large cats or for multi-cat households.
Removable clear plastic door allows easy access.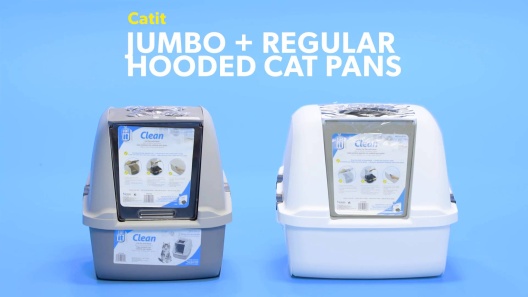 Learn More About Catit From Our Team of Experts
---
---
Questions & Answers
51 Customer Questions
---
Does a portion of the top of the hood lift up (for cleaning ease)? or is it only accessed through the door area?
Answer by • Oct 20, 2017
The top half of the litter box does detach from the bottom for super easy cleaning! Just slide the handle on the sides towards you to unlock it.
---
Does this work for high peeing cats or does the this allow the pee to get between the middle where the hood and bottom join?
Answer by • Apr 23, 2019
The bottom pan itself measures approximately 9 inches, along the backside and gradually tapers down to 6 inches toward the front. The hood of the pan will fit securely over the bottom pan to keep messes inside.
---
Ca the door be removed
Answer by • Nov 22, 2017
The clear plastic door can be removed.
---
Does this box have a locking lid?
Answer by • Sep 28, 2018
This lid can be locked in place with the latches located on the side.
---
---
---
By SmokPea on May 9, 2022
Spacious for 2
This cat pan is the right size if you have 2 cats like I do. The body quality is good for the money that you pay for but if you are attracted to this product because the front cover door, DO NOT BUY IT. I had this product replace already and 5 months later the flimsy front door is broken again. The front cover has little plastic hangers that easily break even if you reinforce it, like I did on my 2nd one. Pretty disappointed because I do have a 2nd Cat Pan, same style, and made by a different manufacturer purchased at the same time and it hasn't break not even once. My cats like the inside of this one because is spacious inside for them. Hopefully the manufacturer's makes improvement on this issue.
---
By judi on May 11, 2022
Just what we needed
It's working out great. It's larger then the old, open pan and the enclosure helps the scattered litter stay in the box rather then all over the area and the dust is way down. It has a convenient hook type shelf in the front to secure the collection bag and helps keep the litter where it needs to be. The height of the bottom opening is just right too. Some of the covered boxes have openings where the cat has to climb in and out very slowly. I'm not using the door flap at this time but I imagine it would be okay except that I found the exit side a bit stiff. Other than that it's great.
---
By CatMomma on May 14, 2022
Durable and Great Size
I was impressed with this litter box! It's a compact but large box meaning you get a large litter box that can fit into smaller spaces. This item is sturdy, no flimsy plastic. There's a ledge that helps keep litter in the box (nothing is perfect but it helps a little). Our larger cat is just fine using it, which is great because he likes a roomy box but we hate litter boxes that take up a lot of space. There's a top flap that flips up to make box cleaning easier too!
---
By Eveie on May 7, 2022
The perfect size litter box!
Like many have mentioned that their tops won't close properly, I say this is not the case with me! It closes tight. You don't have to take the top to scoop either, just lift the door opening and scoop! My cats do not like the swinging door, so we took it off. With this jumbo box I would need more litter, but it's perfect, size and all. After purchasing a smaller one prior to this one, I had to look for a larger one and this was it for me! I have 2 cats one larger than the other and perfect room to move around for both!
---
By Makayla on Apr 21, 2022
It worked almost perfectly
I bought this litter box for my 16 lb cat because we were having issues with him not going into his uncovered box enough and peeing half in the box and half on the floor. Overall I love this box becuase it is large and fits my cat with extra space and the door did not defer him. The only bad part, There is a 2 inch long flat plastic lip at the bottom of the door and my cat kept thinking he was far enough in the box but would pee on top of the plastic lip, which would then go on to the floor. Once we cut the plastic lip off the box, it solved all of our issues!
---
By Jami on Apr 19, 2022
Adequate but lacks quality
Pros: high sides, locking lid, easy to scoop using top hinged lid. Cons: thin hard plastic construction (rims cracked first time I picked it up), not sturdy - top hinged lid won't sit all the way down as box easily warps (mine came misshapen and the top has never closed correctly). Bottom line: I needed to replace two litter boxes and these were the best I could find. Unfortunately no one currently seems to make a box from anything other than cheap, thin plastic. I miss the thicker, more rubberized version of a litter pan.
---
By CCCCCC on Apr 12, 2022
this is a lifesaver
We were looking for a litter box that would smell less and came across this. It has honestly been a lifesaver! The lid works so well at keeping in all the smells. And the box is huge which works so well for us with two kittens. The lid did scrape a bit along the sides which one of our smaller kittens struggled with. So we put two small pieces of cardboard into the holes in the top of the box under where the door flap rests to raise it up just a tad and it swings super easy now for our kittens. We ended up not being able to use the air filter thing because they wanted to chew it, which was unfortunate, but the box still works really well.
---
By Varmint on Mar 21, 2022
Almost perfect
Love the Lrg. size (a 15 lb. fluffy cat) and the way the door flips open for scooping. Only 4 stars as the Jumbo liners I buy from my local store very barely fit. It is strrretched and there are raised pockets in the corners due to the stretching of these liners. So this gets more torn up from the cats, creating more clean-up for me. Also, the lid clips on; it's a push and slide and this has to push into the liner to then slide to lock on. I made it work. This does nothing for litter tracking, as cat owners should know, litter gets into the paws so you need a mat or something to help catch all that. The lid attachment area (on the top) seems flimsy, as in, I'd assume this could break easily, but so-far so-good. Overall, this works well with our cats, one is a sprayer, so the covered box is a must.
---
By EMAT on Apr 10, 2022
Not convenient for clean up
this box has a great lid for scooping. However even the jumbo liners don't fit the box well enough for a functional experience. Also, the side locks do not securely attach (with or without a liner) making carrying the box by its handle during clean up very risky of dropping and making a big mess. This box is lovely to look at but not very thoughtfully assembled when it comes to functionality. I give it a 2 star.
---
By Cashmere on Apr 6, 2022
Nice a big maybe too big
This is a great box it's just a little too big for my liking. The lock feature also doesn't secure like it should so I have to hold the bottom when transporting. My cat likes it and used it immediately but she's only 6lbs and I prefer something a bit smaller for her. It's a great box otherwise, especially for chunky cats. You can lift the door up and scoop away without having to remove the lid which is always nice.
---