DurAnimals DuraScoop Original Cat Litter Scoop, Color Varies
Frequently Bought Together
---
About This Item
Patented design is a real tool that's made to work and made to last for years.
The world's first cast aluminum cat litter scoop features a hand-polished, all-metal design.
It's made to dig, not just sift, and it will not bend, break or rust; soft, ergonomic grip fits easily in your hand.
Sturdy construction will never recoil under strain so it will not flick litter or waste out of the box.
Durable design is ideally suited for multi-cat homes with frequently used litter boxes.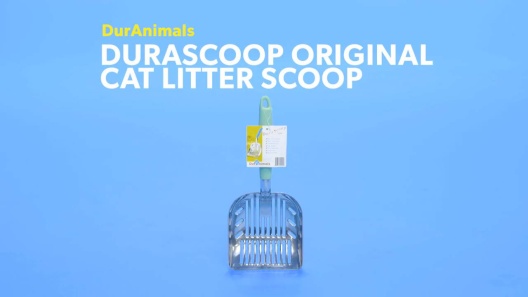 Learn More About DurAnimals From Our Team of Experts
---
Compare Similar Items
| | | | | | |
| --- | --- | --- | --- | --- | --- |
| | | | | | |
| Customer Rating | | | | | |
| Price | | | | | |
| Autoship | — | — | — | — | — |
| Material | Aluminum, Metal | Coated Metal, Metal | Plastic | Steel, Rubber, Metal | Plastic |
| Lifestage | Adult | Adult | Adult | Adult | Adult |
| Litter Box Type | N/A | N/A | — | — | N/A |
| Cleaner Type | — | — | N/A | N/A | — |
---
Questions & Answers
18 Customer Questions
---
Is this scoop made in all one piece or is there a weld holding the handle to the scoop? I once had a metal scoop that broke at the weld that held the handle to the scoop. I only had that scoop for about a year! Thanks in advance.
Answer by • Jul 14, 2017
The handle and scoop part of this scoop are one complete piece, not welded together.
---
Does the scoop come with a cover? If not, are there litter scoop covers I can buy separately?
Answer by • Aug 17, 2017
The DurAnimals DuraScoop Original Cat Litter Scoop does not include a cover for the scoop.
---
Hi , i.ve never used metal scoopers before but was wondering. Does the metal scratch off and get in the litter where it will get stuck on the cats paws. Is it safe for cats ,the metal i mean. Thanks
Answer by • Feb 21, 2019
This litter scoop is made to dig, not just sift, and it will not bend, break or rust; its soft, ergonomic grip fits easily in your hand.
---
does this work well with low tracking litter? (larger litter granules)
Answer by • May 07, 2020
The slots are precisely 5 millimeters wide. This was based on use testing as well as the standard size slots of many sifting scoops DurAnimals reviewed during product development. Thinner slots cause litter to stay in the scoop longer causing the user to then shake the scoop more vigorously to initiate the sifting action resulting in wrist fatigue. It becomes even more of an issue as the litter becomes soiled. But any wider and slots allow too many clumped bits to get through the slots making for less than satisfactory cleaning.
---
---
---
By Robbie on Jun 7, 2022
way better than our old flimsy plastic one!
well made, good size on slots (only the smallest crumbs fall through and that is fine - if the slits were any smaller it would take longer to use). Feels sturdy and isn't too big to fit into the scoop holder that the old plastic scoop sat in. The grip is comfortable - I didn't realize how comfortable a scoop's grip could be! A great price for a great product.
---
By Catmama on May 22, 2022
Nice big scooper metal
I tried this scooper out and I did like it, didn't love it. I also bought the petfusion and ended up keeping that one. Both are big but per fusion seemed to have more slits on the side so it made shaking out the big pellet litter I use to fall right out. It took a little more effort with the metal scooper.. this metal one is also heavier so if u are like me and clean the litter box couple times a day it can get tiring.
---
By Pagemaster216 on May 7, 2022
Why so big?
I hate my cheap flimsy plastic scoop I was using I saw a few different metal scoops and this one had the best reviews. The biggest complaint I saw about this scoop was the size of the holes in it but holy cow no one said how huge this thing is I could scoop horse poop with this thing! Don't get me wrong it makes scooping clumps of pee super easy but seems excessive for one little cat and her little cat poops in her two little litter boxes. Either way a nice scoop I just wish it was a little smaller.
---
By SavedByFurbabies on May 6, 2022
Sturdy but typical
I should have looked more closely at the dimensions of this scoop. It is a big one! Unfortunately it won't fit in the scoop holder on my old litter genie. It is definitely sturdy and would likely last a long time but... why do they make the spaces in the scoop so wide?! I've gone back to the broken plastic scoop for now. I'm changing litter for my cat in hopes he'll stop sneezing so much. Maybe the scoop will work with a different litter but if it doesn't, I'll probably donate it to a shelter.
---
By LisaInCa on Apr 20, 2022
Works well but beware it's very heavy
This scoop works fairly well but since it's metal, it's very heavy. I wish the slots were narrower to catch the smaller fragments, but they can be picked up with the edge of the scoop. Unlike the plastic Litter Lifter scoop I've been using, this tends to pick up a lot of extraneous litter, which makes it even heavier. Also, it does not seem to penetrate into the litter as well, possibly due to the more rounded contours of this scoop. Since the plastic scoops tend to break after a while and this had good reveiws, I decided to try it. Unfortunately, with the metal construction and the way it picks up additional litter, it's just way too heavy for me to use. I have tendinitis and arthritis so others with similar issues may also have this problem. Just something to be aware of. Even without the weight issue I would still give it 4 stars based on functionality.
---
By MoMo on Apr 6, 2022
better than plastic, but not perfect
When the handle on my third plastic litter scoop broke (in exactly the same manner as the previous two) I decided it was time to upgrade to metal. Chewy really came through, as usual, with a great deal and super fast shipping. While the Durascoop is certainly stronger than its plastic predecessors, I don't care for its design quite as much. I find the slats to be spaced a little too wide so I still need a different tool to fish out smaller crumbles, and the handle is strangely short for my grip.I don't think I have particularly large hands for an adult woman but the end of the Durascoop handle pokes into the heel of my palm; it's not painful per se, but if the rubber coated loop ever tears, the sharp end would be. TLDR: quality product, just not a perfect fit for me. Recommended for folks with small hands and chunky litter.
---
By Dexter on May 13, 2022
Made well, but difficult to use...
Beautifully made...appreciate that the handle is all metal. But a little difficult to use in heavier litter becomes straining on hands/wrists. Also openings just a tad too large for those little bits. Pet caregiver didn't even like. Will be donating this scoop to charity.
---
By CatMom on Jun 1, 2022
Won't Ever Need Another Scooper
After one scoop broke and the next was too flimsy to actually scoop anything, I invested in this scooper. As the name suggests, it's durable and strong. I seriously don't think I'll ever need to buy another scoop.
---
By YoDave on May 6, 2022
Can't believe I'm reviewing a CAT SCOOPER!
I always pass on writing reviews unless it's a scathing one, but I HAVE to tell everyone this purchase changed everything for the better in our apt. I'm 76 and have arthritis in nearly every joint. Our 2 aging cats pee much more and it's gotten more n more difficult to scrape up. I was in pain from wrist through my shoulder using the old plastic scooper This scooper is HEAVY DUTY with sharp metal scooping edge. I now do ALL the scooping. May have saved our marriage Don't let that comment dilute the seriousness of my review.I meant everything I said
---
By Oscar on May 17, 2022
You need this
If you scoop litter, get this. You'll be surprised but how much better it is than a plastic scoop. My cats chewed off the loop at the end so be aware, the metal does not go through that part and keep it out of reach if you have chewers.
---