K&H Pet Products Bucket Booster Pet Seat, Grey
Frequently Bought Together
---
About This Item
Booster seat can be used in either the front seat or back seat of your car.
Elevated bottom gives your pet the chance to look out the window and enjoy the view.
The back of the seat is contoured for a better fit inside of your vehicle.
Adjustable security tether keeps your pet secure and safe.
Zippered cover is easy to remove and machine washable.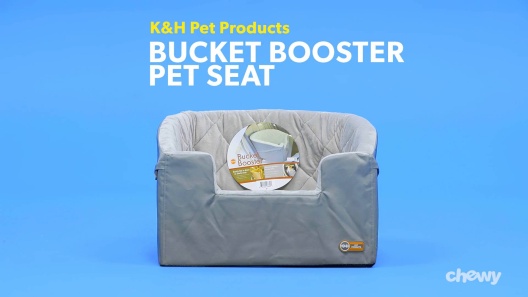 Learn More About K&H Pet Products From Our Team of Experts
---
---
About K&H Travel & Safety Products
K&H Travel Solutions
Give your dog or cat a cozy, safe place to relax while you're on the go. K&H offers innovative pet carriers designed to high-quality standards. They help protect your vehicle while also making your pet feel comfortable while on the road.
Vehicle Protection
K&H pet accessories can protect your vehicle from damaging dirt, moisture, pet hair and more.
K&H Products for Comfort and Convenience
Help your best friend feel right at home anywhere with a bed, mat or travel pet carrier from the K&H line. Their sleep and travel solutions offer warmth and soothing comfort for pets and a go-anywhere convenience you will love.
Green And Energy Efficient
Made from green, bio-based foam and polyfill from recycled bottles, many K&H products use less energy than the average nightlight.
Machine Washable
All K&H beds are either machine washable or made with a machine washable cover for cleanliness and convenience.
Vet Recommended
Veterinarians and pet experts recommend both traditional and heated K&H pet beds for their reliability and comfort.
Therapeutic Warmth
Every K&H bed and mat provides soothing warmth for muscles and joints—perfect for active or aging and arthritic pets.
Safety
K&H prioritizes safety and works closely with MET Laboratory to ensure all their products are safe for your pets and home.
About K&H Pet Products
K&H has over 20 years of experience making products for pets with the goal of making their lives—and yours—better and easier. They know how much you care about your pets and are dedicated to designing innovative, quality solutions that enhance their comfort and well-being.
Shop K&H
Compare Similar Items
| | | | | | |
| --- | --- | --- | --- | --- | --- |
| | | | | | |
| Customer Rating | | | | | |
| Price | | | | | |
| Material | Polyester, Synthetic Fabric | Polyester, Synthetic Fabric | Polyester, Synthetic Fabric, Natural Fabric | Polyester, Synthetic Fabric | Polyester, Synthetic Fabric |
| Features | Interior Tether | Interior Tether | Machine-washable | Collapsible, Removable Pad, Pockets... | Removable Pad, Interior Tether, Seat Belt Loop |
| Breed Size | Extra Small & Toy Breeds, Small Breeds | Extra Small & Toy Breeds, Small Breeds, Medium Breeds | Extra Small & Toy Breeds, Small Breeds, Medium Breeds | Extra Small & Toy Breeds, Small Breeds, Medium Breeds | Extra Small & Toy Breeds, Small Breeds |
| Cover Material | N/A | N/A | N/A | N/A | N/A |
| Assembly Required | N/A | N/A | N/A | N/A | N/A |
| Fill And Frame Material | N/A | N/A | N/A | N/A | N/A |
| Bed Shape | N/A | N/A | N/A | N/A | N/A |
---
Questions & Answers
32 Customer Questions
---
Does the car seat tip forward if you stop short? (Because it is strapped down at the bottom/back of the booster.) I'm just worried it could fall forward.
Answer by • Jun 11, 2019
Customer's have reviewed this booster seat very highly and have not reported that it tips forward.
---
Can the seat go in the middle of the backseat of an SUV? (for a longer upcoming trip, need my two kids to have a spot too!)
Answer by • May 29, 2018
This seat can also be secured the the center of your back seat using the seatbelt.
---
Will this seat be able to protect my dog from injury or death in the case of a crash? Has it been tested?
Answer by • Nov 10, 2017
The Bucket Booster has not been crash tested by any federal agency.
---
can 2 dogs be secured
Answer by • Apr 11, 2021
This booster seat can accommodate 2 dogs, depending on their size. Both the Small and Large bucket booster seats feature two (2) tethers, one for each pet. To determine if your pet(s) will fit into the seat, we recommend comparing their length to the sleep surface of the pet seat (Small is 13 x 12.5 inches and Large is 13 x 18 inches).
---
---
---
By Nicole on Jun 20, 2022
Also great for cats!
I got the large size and both of my 10 lb cats, Cal and Carmyn, fit perfectly. Once I got the seatbelts adjusted to the right length they were totally secure in the booster seat. It held them up to the perfect height to see out the window and they also loved snuggling up for a nap. It was very easy to install and seems to be very secure. It fit perfectly in my VW Tiguan. Would definitely recommend!
---
By JCmom on May 17, 2022
Booster seat for small to medium dogs
This booster seat is big enough for my big lengthy Frenchie (32 lbs) to sit comfortably but not to lay down and put her head down entirely. But with that being said , I didn't necessarily look for something that is spacious as my dog is very frightened of car rides and shakes and hyperventilates the entire ride. I wanted something that can hold her in place and be snug on her. I was hoping this booster will help her anxiety. I only used it twice- a short ride and a one hour ride. So far it does somewhat help. She still hyperventilates and is super anxious but she stopped shaking. I think prompting her up to see outside the window is helping her with motion sickness and to get air. The quality is good but the price tag is not. As you can see by the picture I also have the k&h non booster seat that I got which is great but didn't help her anxiety. I have multiple products from this brand including the elevated cot and the quality does not disappoint.
---
By PetSeat on Jun 22, 2022
Very Nice Pet Seat
This is an easy seat to use and hooking up via the seat belt. Our little one seems very comfortable in the seat, even on a long drive. We replaced an older seat that attached differently and was a pain to hook up. We just wish it had an onboard tray/drawer to place misc things in.
---
By Sadie on May 4, 2022
Great Buy!
This car seat was the 7th I have tried. The other seats didn't fit my car well and my poor pup was squished down and uncomfortable. I barely got this seat out of the box and Sadie (19 lbs) was inside trying it out! It's just her size to lie down comfortably and the cushion is very plush. Sadie is a Westie, extremely curious and wants to see EVERYTHING! This car seat allows that. She can still put her nose out the window or sit up and get a clear view out the windshield. When she is tired of checking out the view, she rests her head on the side of the plush seat. She seems very content and happy when we run our errands, or just out for a ride. Another feature that this seat allows is that I don't have to worry about her slipping and sliding on my leather car seats. Now, she is safe and secure with the straps provided and sewn into the seat. I'm a single "parent", so the seat is strapped to the front passenger seat. If you're going to be taking it in and out of the car, I would recommend installing it in the back seat. Installing it was a little more difficult than I had anticipated, so read the instructions carefully. Had I paid closer attention to the instructions, I'm sure it would have gone more smoothly for me and without assistance. I highly recommend this car seat and would definitely buy again, if the need ever arises.
---
By Littlegotz on Apr 2, 2022
Wonderful Booster Seat
Just received my booster seat today and my girls love it! The whole seat is firm and can withstand the weight of my dogs leaning against the sides. The seat cushion (where they lay) is squishy and comfy too. Love the harness attachment that come with or can tuck under the cushion to hide, so they aren't in the way. The height is good too, so my girls can see out the window just fine. Took a little longer to assemble in the car than other booster seats, but that's ok.
---
By ChgoFamPets on Jun 13, 2022
Pup approved
Our pup loves riding in the car so this booster seat is perfect for quick trips to the park or long distance driving. Super easy to install and wash. This product is endorsed by our pup!
---
By Goldendoodlelover on Mar 31, 2022
First car seat for my puppy and it's PERFECT!
I have a 6months old mini Goldendoodle puppy and he had a very bad car sick if the drive is over 30minutes. This car seat was a successful buy because 1) It's so secured to the seat. Doesn't move at all. 2) My puppy is able to seat and stand to look out the window. He's able to relax in his seat and get some sleep. 3) He doesn't get car sick anymore and enjoys the ride!! If you have a small dog or a puppy, this is a must-buy!!
---
By Arielle on Apr 5, 2022
Perfect Comfy Pet Seat
Love this Pet Seat for our little guy. He is too little to see out the window in my car so this gives him a good sturdy boost to see out. I also love that the seat can be secured by the car's seatbelt and then I can clip his harness into the pet seat keeping him safe as we travel. I ordered a medium for him to ensure he had enough room to lay down or stretch out and it's more than enough for him, he is an 8lb Yorkie. This seat is very comfortable and Chewy seems to love it. I keep it inside when it's not in the car and will snuggle up inside of it.
---
By Cooper on May 14, 2022
excellent purchase
This is a high quality product. It is so much safer than allowing a doggo free roam of the car. In the unlikely event of an accident, I know he will not be able to run off. Each year I read about dogs running off after a collision and don't want to deal with that.
---
By Happydriver on May 31, 2022
Perfect Booster for Chihuahua Mix
This works perfectly for our dog who wants to look out the window, but flies off the seat whenever I brake in traffic. She's secure and happy! Solid cushion elevates her to the right height. Thanks!
---