Drinkwell 360 Plastic Dog & Cat Fountain, 128-oz
By Drinkwell
---
About This Item
Dishwasher-safe (excluding pump).
Ideal for multiple cats and dogs under 60 pounds.
The free-falling, 360-degree access stream keeps water fresh, encouraging pets to drink more.
Receiving ramp and adjustable flow control reduce splashing.
Submersible pump for nearly silent operation. Dishwasher-safe (excluding pump).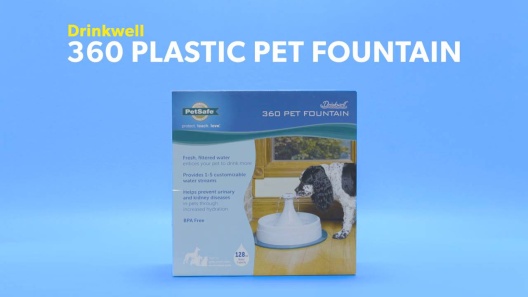 Learn More About Drinkwell From Our Team of Experts
---
---
About PetSafe Drinkwell Pet Fountains (for Large Pets)
Fresher, Cleaner Water
PetSafe Drinkwell pet fountains are designed to encourage your furry friend to drink more water. A continuous circulation system helps prevent bacteria growth so they're a safe oasis of clean water for your pet. They come with replaceable carbon filters that help remove bad tastes and odors. Plus, with a variety of styles and sizes available, you are sure to find the one that's right for your pet and home.
Sized for Larger Pets
PetSafe Drinkwell pet fountains are available in larger sizes, which means they're perfect for bigger pets including large breed dogs—and homes with multiple cats, too! Because every pet loves a clean stream of fresh drinking water on demand. The larger sizes range from 192 ounces to 450 ounces to satisfy even the biggest thirst-quenching needs.
The Classic Style in Plastic
Plastic fountains are a great addition to any home because they can be easily cleaned with the fountain cleaning kit or a non-abrasive cloth or sponge. Most fountains are top-shelf dishwasher safe, too, which means a cleaner fountain with less hassle. Plus, they're all made with BPA-free plastic, so they're completely safe for everyday drinking for your best friend.
The Modern Look in Stainless Steel
Stainless-steel fountains look sleek and stylish in your kitchen, bathroom or anywhere in your home, which is why people love them—and thirsty pets, too. These modern-looking fountains are sturdy and rust-free, while also being easier to clean and keep sanitary. And the best part is, stainless steel is recommended by vets as one of the safest materials for your pet.
Oh, So Chic Ceramic
With elegant designs to match any home decor and colors to brighten your home or blend in, the stylish and chic ceramic fountains keep your pet hydrated and look great anywhere. Plus, they're made with hygienic ceramic that's easy-to-clean and top-shelf dishwasher safe. What more can you ask for in a pet fountain?
About PetSafe
Since 1991, PetSafe has been keeping pets safe and making pet owners happy with quality, reliable products. PetSafe is devoted to innovation with a range of products to help you and your pet share the best moments. They make it a point to consult with top trainers, veterinarians and behaviorists and listen to feedback from pet parents so they can continually improve their designs and processes.
Shop PetSafe
Compare Similar Items
| | | | | | |
| --- | --- | --- | --- | --- | --- |
| | | | | | |
| Customer Rating | | | | | |
| Price | | | | | |
| Breed Size | Large Breeds, Giant Breeds | Large Breeds, Giant Breeds | Medium Breeds, Large Breeds | Medium Breeds, Small Breeds | Large Breeds, Giant Breeds |
| Bowl & Storage Feature | N/A | N/A | N/A | Dishwasher-Safe, BPA-Free, Lead-Free, Tip-Resistant | Non-Skid, Dishwasher-Safe, BPA-Free, Lead-Free, Tip-Resistant |
| Capacity (Max) | 128-oz | 168-oz | 64-oz | 67.6-oz | 192-oz |
| Material | Plastic | Plastic | Plastic | Plastic | Plastic |
| Assembly Required | Yes | Yes | Yes | No | Yes |
| Compatibility | Plug-In Power | Plug-In Power | Plug-In Power | Plug-In Power | Plug-In Power |
| Tools Included | No Tools Required | No Tools Required | No Tools Required | N/A | No Tools Required |
---
Questions & Answers
47 Customer Questions
---
It looks like the fountain might get a small pet's head wet while drinking from the bowl part. Has anyone noticed that being a problem with skittish cats/small dogs?
Answer by • Aug 24, 2017
This product provides 1-5 changeable free-falling individual streams that encourage your pets to drink more. It's perfect for pets of all sizes.
---
We have owned our fountain for approximately 5 months and now there is foam that forms along the edge of the bowl. I skim it off and it appears to be slimy. Do you have any suggestions or a solution?
Answer by • Aug 19, 2018
Build up can occur depending on the amount or type of pets you have that drink from this fountain. If you have many pets or an extra-drooly pup, their saliva can cause that slimy buildup. We'd recommend replacing the filter more often to prevent this foam to form frequently.
---
Is the pump removable since gunk gets clogged inside of it?
Answer by • Nov 21, 2017
The pump can be removed so that the fountain body can be washed by hand or in the dishwasher. The pump can be disassembled for deep cleaning.
---
Is this BHP free?
Answer by • Jun 16, 2017
All Drinkwell plastic fountains and plastic parts are BPA-free, including cords, pumps, and filter housing.
---
---
---
By SamIam on Mar 2, 2022
Works Great - But Is Messy
So I've had this over a year, and loved the fact filters and replacement parts were cheap, and it's huge so my dogs and cats could all use this ( and they all love it). Problem lies with my dogs being messy drinkers, water gets EVERYWHERE no matter what. I've tried putting it on things and tried leaving water level lower, but my Husky really enjoys drinking and then sticking her face in it under fountain. I'd recommend for use with cats or dogs that aren't messy drinkers. Imma have to switch to one that just filters motion instead of fountain. Also - most complaints about "pump not working" - probably havent cleaned their actual pump since they bought it. I bought a replacement pump cause I thought mine had given out. Nope! Just really needed to take it apart (easy) and rinse all the parts off. So if you clean your pump every few months, change the spongey filter every month or so (mine was pretty frequent due to 4 animals), and change the charcoal filter (tube thingy) every 2-3 weeks - fountain will continue to work fine unless it's defective.
---
By DonnaO on Apr 16, 2022
Great fountain!
I purchased this fountain to replace the Dog Mate fountain I purchased 4 months ago that just quit working. The water flow on this fountain is great vs the Dog Mate which was not even when brand new. The Drinkwell 360 was easy to assemble and I can tell will also be easy to clean.
---
By Catmom7 on Apr 7, 2022
Love it and so.do they
I'm owned by 7 felines. The fountain, I thought, was a little bigger than I wanted however, the cat's took to it right away. I was replacing a different style and this one is so easy to see when to add water. The filters do a good job with my irony water. It is easy to unplug and clean too!
---
By dontgothere on Mar 24, 2022
Very disappointed
I ordered two. One immediately started leaking from somewhere. Drinkwell replaced it. Now the SECOND one has started leaking from somewhere. It's a good thing I had deep trays underneath them. I'm replacing with a ceramic one. Hopefully THESE don't leak.
---
By Amazin on Feb 15, 2022
I wish I kept the box
This simple fountain came with ridiculous and incomplete instructions. It never mentioned where to put the "filter", which was merely a circle of crunchy foam. It leaks and splashes so my kitties just stare at it wondering what the contraption is. I had to sit it on a towel and unplug it just to use it as a big water dish. I wish I kept the box so I could sent it back.
---
By frustrated2 on Apr 25, 2022
Nice try but no
Worked great for the 1st month took it apart cleaned everything thing we put it back together And it still didn't work well.
---
By Gina on Feb 16, 2022
If used correctly works great had mine for 12 years
If you use spring water is works best it won't leave pink or black muck on the components I luv it and so does my cat thankfully she is not allergic to plastic it's big and needs to be cleaned often but it works well all my cats enjoys it
---
By Geeee on Feb 9, 2022
meh is my opinion
So we have this for our cats and the filter doesn't even seem to work after maximum 2 weeks. Our water is filtered and reverse osmosis system so I can't figure out why we have to constantly have to change the fountain filter.
---
By Reecee on Jan 17, 2022
My cat is not sure of it
My cat has always had to drink water from the spigot running in the tub. My brother in law had one of these and I saw it and thought wow maybe now I won't have to get up and turn the water on for her to drink (my cat). Wrong! She has not taken to this yet, but sure do hope she will soon!
---
By Genna on Dec 31, 2021
Love…but pumped stop working
We had one of these before at my moms house for my dog and she absolutely loves it, she'll only drink out of a fountain. When I moved I purchased one for my apartment, this was in August, and it is now December and the pump seems to have stopped working. But we never had an issue with the other one. Filter replacement is a bit tedious, but it's not very expensive.
---