Petlibro Automatic Dog & Cat Feeder
Temporarily Out of Stock
Get notified when this item is back in stock.
Compare Similar Items
| | | | | | |
| --- | --- | --- | --- | --- | --- |
| | | | | | |
| Customer Rating | | | | | |
| Price | | | | | |
| Breed Size | Small Breeds, Medium Breeds | Extra Small & Toy Breeds, Small Breeds | Small Breeds, Medium Breeds, Large Breeds | Extra Small & Toy Breeds, Small Breeds | Small Breeds |
| Lifestage | Adult | Adult | Adult | Adult | Adult |
| Bowl & Storage Feature | Automatic, Portion Control | Automatic | Automatic | Non-Skid, BPA-Free, Lead-Free... | Non-Skid, Dishwasher-Safe, BPA-Free... |
| Material | Plastic | Plastic | Plastic | Plastic | Plastic |
| Capacity (Max) | 17-cup | 18-cup | Food Storage Reservoir - 20-cup | 26-cup | 4-cup per bowl |
| Assembly Required | No | No | No | No | No |
| Compatibility | Plug-In Power | Plug-In Power, Battery Powered | N/A | Battery Powered | Battery Powered |
---
About This Item
Help make sure your fur-iend gets fed when you're sleeping in, working late, or on a short vacation.
Feed your pet up to four meals each day with up to nine customizable portions per meal.
Simply allot the time, meals, and portions on the LCD screen—and even record a personalized voice message for your furbaby!
Open by using two hands to press on both sides—and help keep your furry family from breaking into his food stash.
Includes a desiccant bag, which helps keep kibble fur-esh. Just make sure to change the bag each month.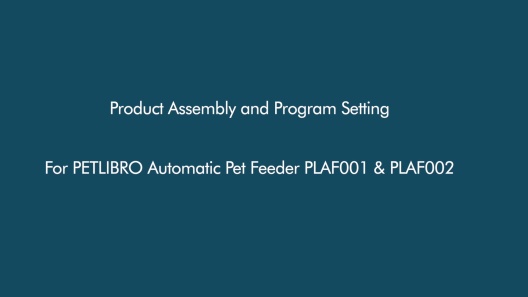 Learn More About Petlibro From Our Team of Experts
---
---
Questions & Answers
22 Customer Questions
---
Can this feeder be used outdoors where there is no power source? If yes, can the backup battery option last for 4 days and 3 nights (a typical getaway weekend)?
Answer by • Aug 08, 2021
This feeder is not designed to be used outdoors. It is intended for indoor use only.
---
Can a cat stick their paws up the dispenser to get more food out?
Answer by • Aug 24, 2021
This feeder is equipped with the lock design, it can prevent the pets from sticking their paws up the dispenser to get more food out.
---
Do this device use batteries? If so what type?
Answer by • Aug 06, 2021
This feeder has a 5v power supply and it also takes 3 alkaline D batteries in case of power outages.
---
is the bowl detachable?
Answer by • Nov 27, 2021
The bowl can be removed from the feeder.
---
---
---
By maggiemay84 on Jun 24, 2022
One annoying problem
Ordering from Chewy is always easy, and I saw in some reviews that the cat food sometimes doesn't fully dispense from the chute. I thought perhaps people were using the wrong size kibble or just exaggerating the problem. And honestly, this one seemed like the best option available. My cats are on an expensive urinary tract food and one of them needs to take off a pound or two (not judging, just saying), so I can't just leave food out anymore. When I go out of town, I'm not paying a cat sitter to come over twice a day to feed them. I always have someone come once a day, but by the time they came the next day, the fat one would have killed and eaten the skinny one, and it would be Lord of the Flies in here! So, i needed an automatic feeder, and this one had good reviews. It was really easy to set up, it has a battery backup in case the power goes out, the lid snaps on securely so the cats haven't knocked the lid off to get to the treasure trove of food. I have it set up to feed them every six hours and they're actually eating less food. Maybe it's because they're confident there will always be food, whereas being fed every 12 hours seems like a lifetime? I dunno, who knows what lurks in the minds of cats. BUT it is true that about every third time, the food just doesn't completely clear the chute. At first I noticed that the bowl was just a wee bit higher than the edge of the chute, so i fixed that. Nope, still happens. Then I thought perhaps it was that there was too much food in the bowl from the last dispensing. But no, that doesn't seem to be it either. It's a minor annoyance while I'm at home, it'll be a little more than that when I'm traveling. I will certainly add "check the automatic feeder" to the fairly short to-do list for the cat sitter. But having to check it a couple of times a day does seem to make it somewhat less than "automatic", doesn't it?
---
By Joan on May 1, 2022
Great idea, not as great in actuality
I love the idea of a way to feed the cats automatically. However, setting up the programming of this is very complicated, for me anyway. It feels like you need an engineering degree to get it right the first time and I didn't. Now I can't figure out how to change the programming. Another issue is the tiny amount the servings are measured in - 2 teaspoons each. I am trying to feed 2 feral cats who come by twice a day. You can adjust how many servings it releases at each timer setting and many time settings a day are possible. But 8 servings is maybe a half a cup. Not enough in this situation and that appears to be the limit at one time. I'm not sure this is going to work for us at all and that's disappointing. Maybe it can be made to work but I'm not sure I'll figure out out.
---
By Claire on Jun 6, 2022
Perfect for my cat
I needed something to feed my cat his daily dry food portion. My cat is not the brightest so I've had no issues with him trying to break the feeder to get more food. Instead he seems surprised every day when food magically appears. Very reliable.
---
By theEDGE on Jun 11, 2022
Works good
I bought this for my fur baby When going on vacation. My son was not completely reliable for on time feeding. Set up was fine, screen could be bigger. For my chocolate lab, enough food for one week.
---
By daria200 on Apr 20, 2022
Awesome for long days at work
Love this pet feeder! One of the reasons my cat gained weight was because I would leave his kibble out all day for him to graze on while I spent long days at work. This is a great way for me to ensure that he gets smaller portions at each feeding and spreads out his meals so that he doesn't gorge at any given time. It's pretty easy to set up and the price point is very reasonable. Bonus is now my cat has learned the sound of his kibble being dispensed and happily runs to the feeder. It's like a little slot machine! :-)
---
By daria200 on May 2, 2022
Great For The Busy Cat Owner
This feeder is easy to set up and looks nice. I had been allowing my cat to free feed while I was at work and he ended up gaining some weight because of this. This feeder has allowed me to portion out his meals 4 times a day so he is not scarfing all of his kibble in one sitting. It's also a lot of fun to watch my cat bolt to the feeder when the kibble comes out like the winnings in a slot machine!
---
By Wendy on May 15, 2022
Does a great job feeding the cat
This is only my second feeder, but it is a great improvement. The food holder is airtight with a filter that helps the food stay fresh. Our cat is eating much better! And this one has an electric cord which is a vast improvement over batteries. I only wish the cord was longer, but we are dealing with it.
---
By MelbyCatMom on Jun 7, 2022
Excellent!!!
We had already purchased this feeder last December for Jack. It worked so well that we decided to get another one for BoogerRoux who also needed to lose some weight. I would highly recommend this feeder.
---
By Lisa on Apr 24, 2022
scheduled feedings..
I have never seen Lucy move so fast as when she hears the food dispensing. We bought this because we work out of town a lot and we can't just leave unlimited food down for our little porker. My only complaint is having to get on the floor to try and program it with kitty face in my way. And no, I'm not going to feed her on a counter, just wish the controls were facing up.
---
By Brittany on Mar 19, 2022
Easy to use!
We've been using these feeders for about a month now and I only have good things to say. We took a risk and bought two, one for each of our cats. I'm so glad we did! First of all, the feeder is SUPER easy to program. The manual is very clear and also the design is intuitive. It's easy to change the settings at any time. I love that it can both plug into an outlet OR use batteries, so great for any situation. The feeder itself is a great design, it lets out dry food in pretty small portions so you just need to measure it out and determine the right amount of portions to dispense for your kitty. My cats love the voice message too. They hear my "Time for dinner" voice message and the clatter of food falling into the metal dish, and they bolt over to get their meal. I love using this for the early morning while I'm getting ready for work, and midday when I'm out of the house.
---